Africa, the "Mother Continent," is all about biological wonders and incredibly varied cultures.
From the extraordinary wildlife, ethereal geographic features, and thriving arts and crafts, to its pharaohs, tombs, and pyramids, with some facets of adrenaline-pumping activities, everything will leave you in awe exploring the region.
If it's your first time going to Africa, and you don't know which places are worth it, here is the list of the top 10 tourist attractions in Africa!
Key Takeaways:
Some of the top tourist attractions in Africa include Victoria Falls in Zimbabwe, the Pyramids of Giza and Nile in Egypt, and Cape Town in South Africa.
African countries with some of the best scenic landscapes are found in Tanzania, especially at Mount Kilimanjaro and Zanzibar.
African places to enjoy the best wildlife are in Okavango Delta in Botswana, Kruger National Park, and the Maasai Mara National Reserve in Kenya.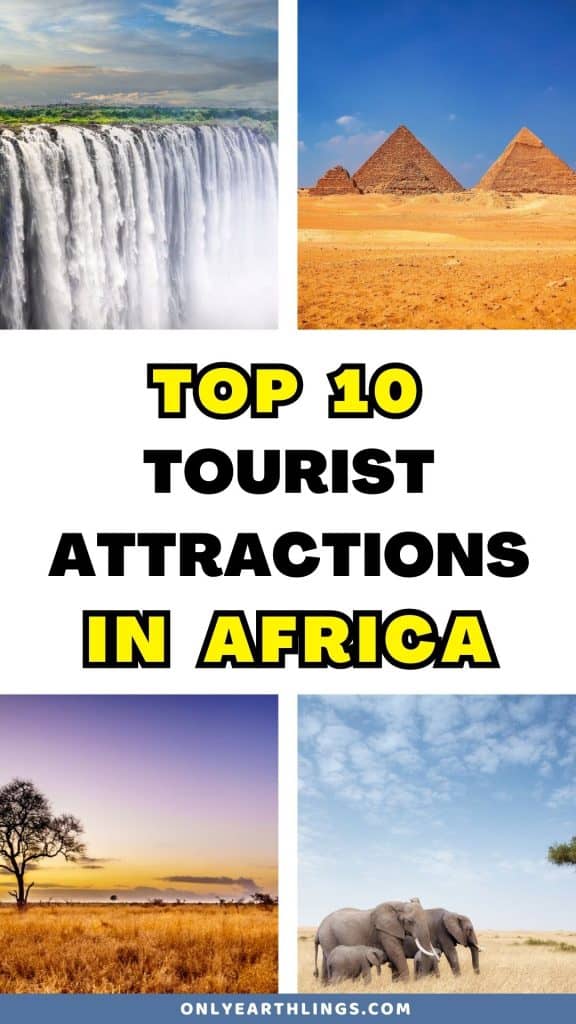 Top Tourist Attractions in Africa
1. Victoria Falls, Zimbabwe, and Zambia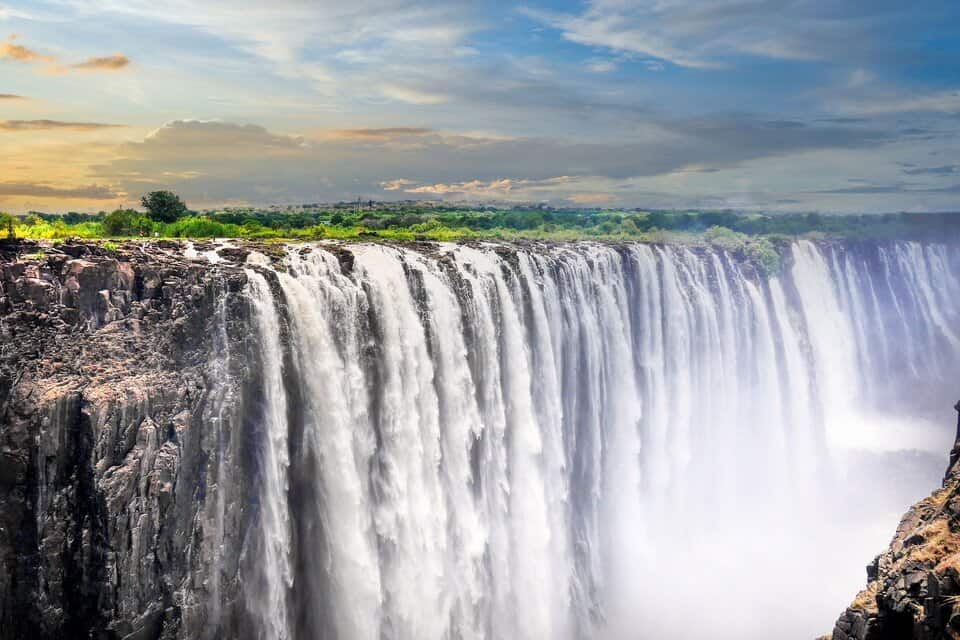 One of the most beautiful places to visit in Africa is the Victoria Waterfalls! Believe it or not, Victoria Waterfalls is not just a waterfall but a tourist town positioned along the borders of Zimbabwe and Zambia, brimming with natural beauties.
As might be expected, there is nowhere else in the city to have a good start but with the main attraction and a UNESCO World Heritage Site, the smoking waterfalls, Victoria Waterfalls! Not like any other, there are countless activities you can engage in in the area, including riverboat cruises, picnics at the edge, and helicopter flights over the waterfalls.
If you're brave enough and want some adrenaline rush, jump into the open air at the Victoria Falls Bridge with bungee jumping 111 meters above, the 95-m long gorge swing, the 425-m high zip lining, and the flying fox.
The city hailed as Africa's 'adventure capital,' speaks a lot about what to explore more than its highlight waterfalls— there's the infinity pool-like Devil Pool on top of the falls, the cinematic Rain Forest, and the National Park's close encounter experience with its wildlife, especially the rhinos, birds, and elephants.
If you love to experience the best of the Victoria Waterfalls, visit between February and May. January is also workable if you like cheaper and discounted travel deals.
2. Capetown, South Africa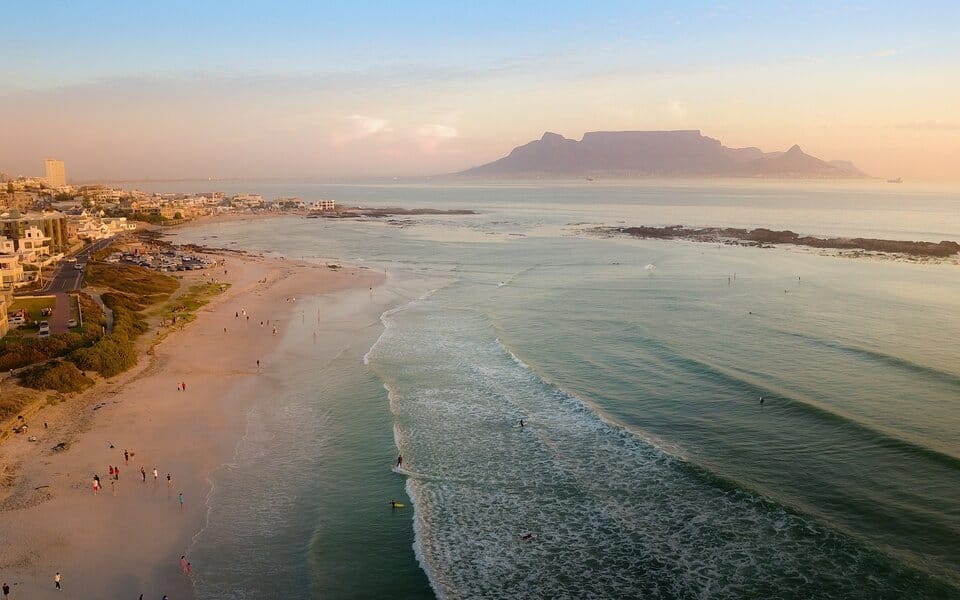 If you have seen African tourism posters over the internet, it must have been the magnificent and astounding Table Mountain of Cape Town, situated on the coastline of South Africa.
The city is one of the best places to visit in Africa for first-timers as you can immerse yourself in a little bit of everything—from African food, culture, and architecture to its wildlife, beaches, and outdoor activities.
Start by exploring the city's most prominent one, the table-like Table Mountain! Take the hiking trails, explore the flora and fauna, and take beautiful photos when you reach the top. Going down, I bet you'd like to try out the cableway to get the best 360-degree view of Cape Town.
To experience unique seascapes, take kayaking adventures on the Atlantic Sea and watch the wild African penguins flock together at Boulders Beach. You may also try aquatic playground activities like water biking at False Bay, water-skiing, tubing, and canoeing at Elgin River Lodge.
Cape Town is also a molder of African arts and creativity with its Zeitz Museum of Contemporary Arts, Norval Foundation, and Robben Island Museum, just waiting for you to explore.
Experience the beauty of Cape Town from March through May and between September and November, when weather is favorable and tourist places are not as crowded as during peak seasons.
3. Mount Kilimanjaro, Tanzania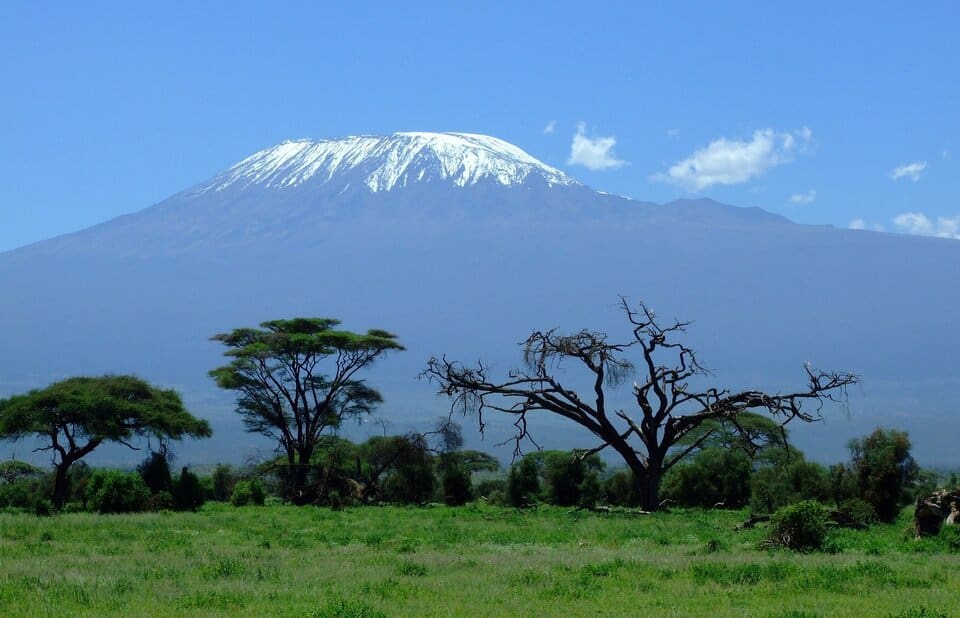 If you're a venturer, it's time to hit the African mountain trail! An African trip wouldn't be complete without a hiking or trekking experience at Africa's tallest mountain at 5895 meters above ground, Mount Kilimanjaro.
Along the trails, take the opportunity to experience a lot of hot springs and waterfalls like the Chemka and Kikuletwa Hot Springs and the Materuni Waterfalls, and admire the beauty of the Chaka Crater Lake.
At Mount Kilimanjaro National Park, prepare to stumble upon various bird species, hyenas, baboons, elephants, blue monkeys, black-faced monkeys, and more. Just beware of these playful monkeys, as they may snatch your food or your bags.
Hike Mount Kilimanjaro during September, when the weather is best, so you can admire the best and the clearest view from above.
4. Okavango Delta, Botswana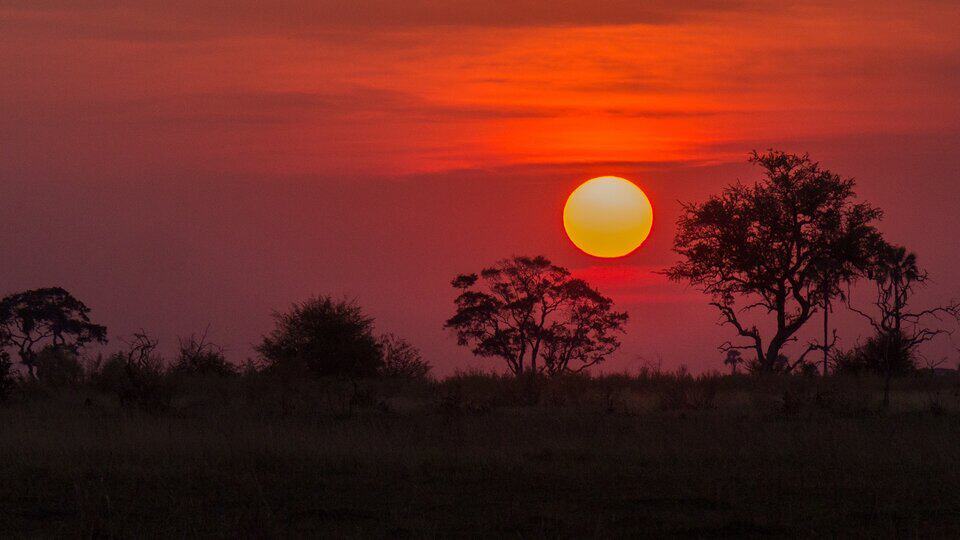 Unlike the usual savannahs or national parks in Africa to sightsee the wildlife as their highlight, the Okavango Delta is a stunning freshwater wetland rich in fauna and flora!
A few highlights of visiting Okavango would be the Mokoro ride sailing the wetlands of Okavango, the motorboat safari, and the game drives in Botswana, all while seeing thousands of mammals and their fights.
You can also try out some bush walks around the delta while looking at the animals using your binoculars, especially the lions and herds of elephants.
The Okavango Delta is best for wildlife viewing from July to October, even though these months have higher accommodation rates.
5. Kruger National Park, South Africa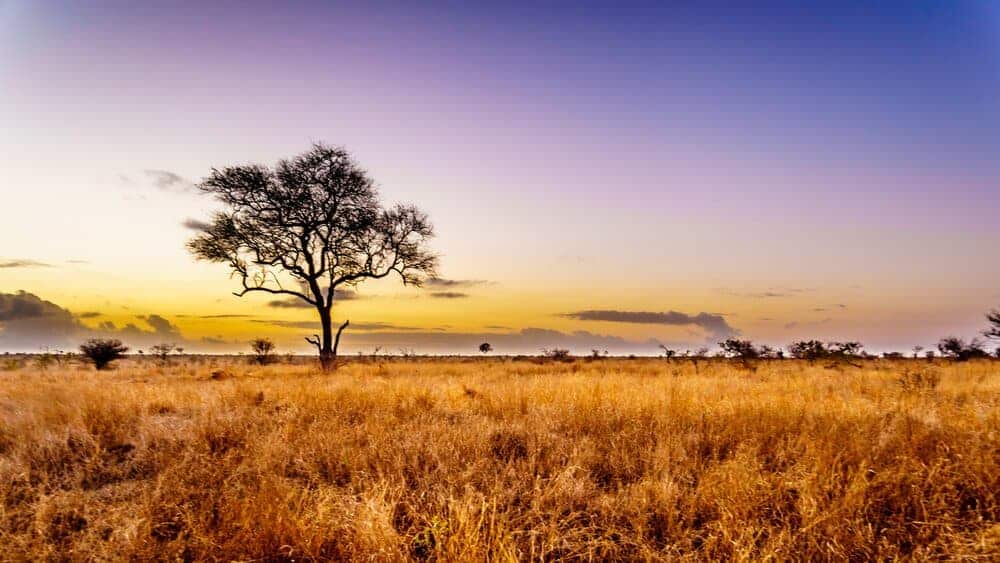 If you haven't seen a leopard before, Kruger National Park in South Africa will never fail you! With an estimated 1000 leopards in the park, there's a high chance of seeing these animals along with thousand others like zebras, elephants, lions, buffalo, and over 500 species of birds.
You can take on the wilderness trails by driving around the savannah and parking to view the animals, guided walks, game drives, mountain biking, 4×4 adventure trails for the rarely seen areas, and much more.
The best time to visit Kruger National Park is between May and October, when the bushes are thinning out for a better view of the wildlife.
6. Maasai Mara National Reserve, Kenya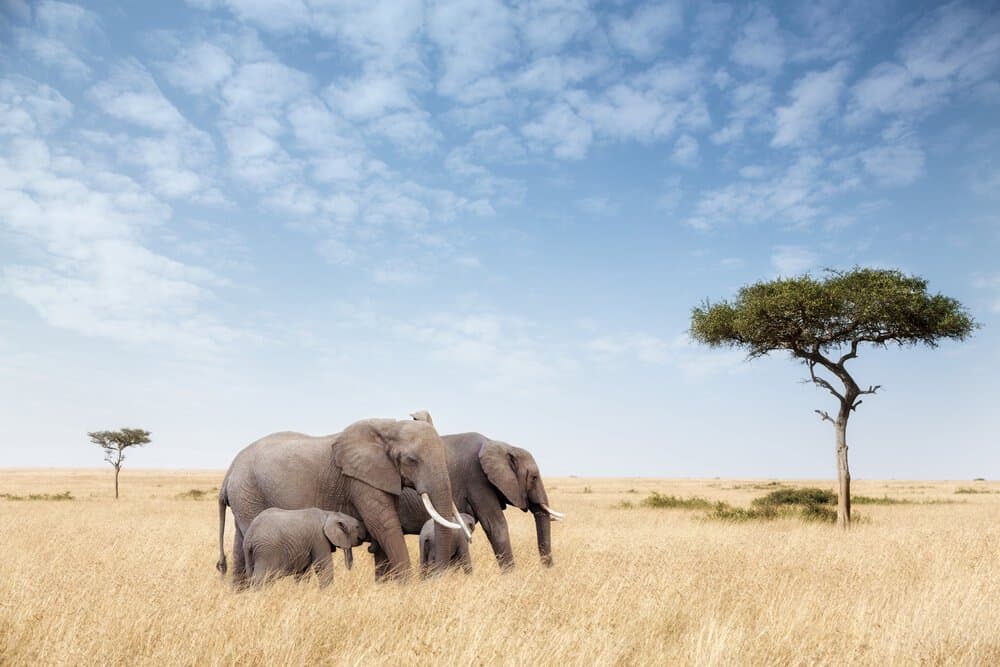 It's time to wear your desert camouflage outfit and safari pith helmet for a wild experience at Africa's most prominent wildlife conservation, the Maasai Mara National Reserve in Kenya! It's incredible how you can see wild animals up close, including those elephants, giraffes, lions, buffalos, zebras, white and black rhinos, and so much more.
As Kenya's most extensive wildlife viewing site, it is one of the main tourist attractions in Africa with lots of safari activities you can engage with—from nature walks, photography, and game drives, to riding horses, 4×4 jeep, and hot-air balloons.
If you want something to slow down the pace and loosen up, you may bring your own tents and camp in the middle of Kenya's wilderness and meet some of the ethnic groups in Maasai.
Sadly, the peak seasons of July to October are uncontrollably higher in price. Still, it is where you can witness the Great Migration, so I suggest you save money for this!
7. Zanzibar, Tanzania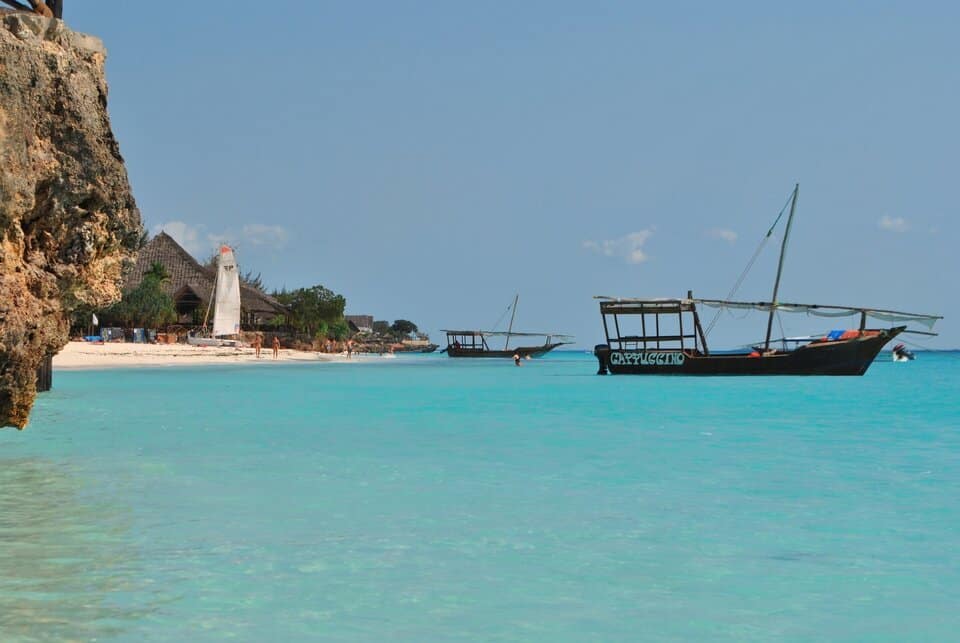 Your Zanzibar island trip will be your best bolt of freedom away from the hustle and bustle of urban life! This island in Tanzania across the Indian Ocean is a land paradise mixed with the old city splendor, wildlife, and white sandy beaches you have been dreaming of.
In the town proper, you can take some walking and biking tours. The Stone Town Walking Tour is the most popular, and you get more in love with well-known sites like the House of Wonders, the Old Fort, and the Freddie Mercury Museum.
As you explore life outside the town, you'll see the beauty of the Zanzibar coastlines. Take a soak and sunbathe in the crystal clear turquoise waters of Nakupenda Beach Nature Reserve and Kendra Beach, or just relax by the fine white sands of Nungwi and Paje beaches.
Of course, your stay at Zanzibar would be complete with the Safari tour for a close-up wildlife experience! Expect to see many land animals like elephants, lions, buffalo, crocodiles, red colobus monkeys, cheetahs, and sea creatures like dolphins and marine turtles.
Want something extreme? Many tourists are trying out the Skydive Zanzibar, and you should try it too! For $445 per head, you can have the best skydive of your life, looking at the magnificent view of Zanzibar from above. The package includes a long video, photos, and a 30-second Instagram reel, so it's worth the bucks.
To experience the best of Zanzibar, head over during June through October, when the skies are clear, perfect for exploring the beaches, the safari, and the thrilling skydiving.
8. Pyramids of Giza, Egypt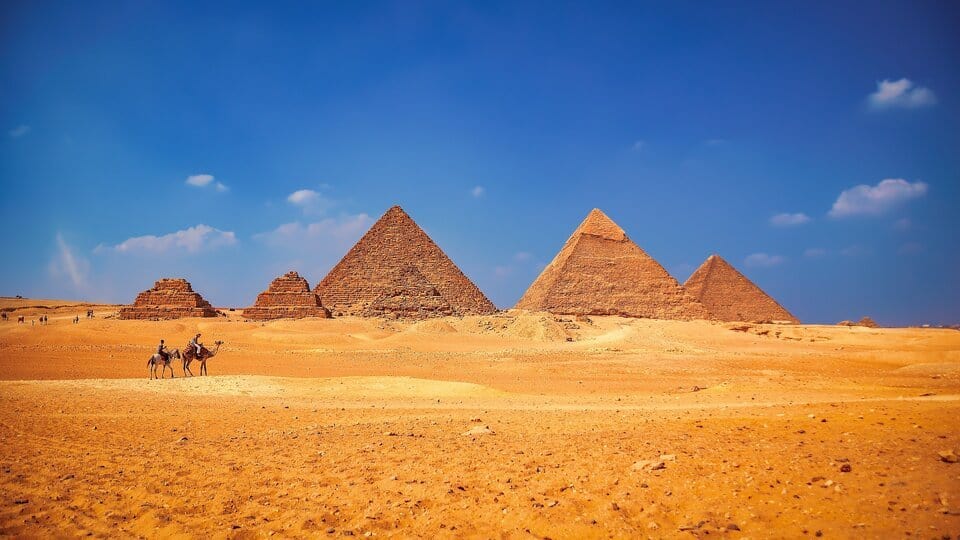 If you're traveling to Africa, don't miss out on the chance to roam around one of the top tourist countries in Africa, Egypt, and witness the immaculate pyramids believed to be for aliens!
Your top priority when you go to the Giza Plateau is to position at the "panoramic point" and witness the beauty and take a snapshot of all pyramids — the Guinness World Record Pyramid of Giza and the two other Menkaure and Khafre.
For a better experience, consider going inside the pyramids for at least three hours and visiting the famous Sphinx and the Valley Temple. There are various tour packages available, so you have a professional guide you around the Necropolis.
To end your day with a bang, watch the whole Giza Plateau covered in rainbow lights at night with their sounds and lights show!
Visit the pyramids of Giza during the mornings between December and February for more comfortable weather.
9. Marrakesh, Morocco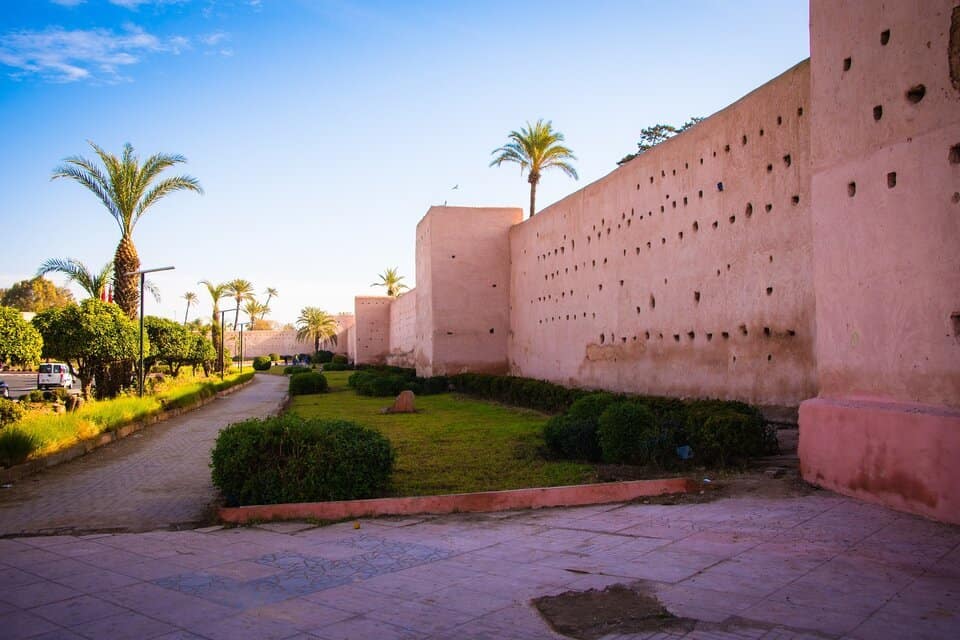 With warm weather, lively markets, Moroccan monuments, palaces, hammams, and stunning landscapes, Marrakech is a treat to both eyes and taste buds!
Beyond question, you'll get astounded by the beauty of the surrounding landscapes of Marrakech. There are the Agafay and Jbilets deserts, where you can ride a camel, a buggy, or a hot air balloon; the famous Atlas mountains, where you can hike, bike, or try canyoning;
Of course, a trip to Morocco would be complete with trying out their mouth-watering flavors at Jemaa El-Fnaa, especially their street foods like kefta, snail soup, bastille, sheep's head, and orange juices. In fact, CNN Travel mentioned Marrakech as one of the best Moroccan cities for street food, along with Fez and Essaouira.
10. River Nile, Egypt
Going to Egypt is truly a highlight of your African trip because more than its pyramids, there's the mythical Nile river you can see.
Wouldn't it be a remarkable feat to swim or dip in the longest river in the world? Absolutely, yes! The Nile is a beauty, although it is not 100% safe to swim, as aside from reptiles sleeping behind these waters are parasitic worms that can cause Schistosomiasis.
But don't worry! You can try other amusing activities on the Nile River, like a full-packed 4-day Nile Cruise from Aswan to Luxor. During this trip, you'll tour many historical landmarks like the Temples of Philae and Queen Hatshepsut, the Valley of the Kings, the High Dam, Colossi Memnon, and many more!
There are also thrill-seeking outdoor recreations like jet boating, bungee jumping, white water rafting, quad biking, and horse riding.
What Are the Best Places to Visit in Africa For First-Timers?
Africa is a continent of UNESCO World Heritage Sites and Guinness World Record attractions. And if you're a first-timer, you'll surely fall in love with the Mother Continent!
If you're looking for some laid-back places in Africa and want to spend the days relaxing and sightseeing, head to Tanzania! It has many geological wonders where you can detox from the city rush with its pristine white beaches, a large concentration of wildlife, mountains, waterfalls, and charming old towns.
Moreover, if ancient structures and historical artifacts interest you, Egypt is the place to be! In this desert state are the ancient pyramids of Giza, the Sphinx, famous Egyptian pharaohs, and the Nile Valley.
For National Geographic fans, take on the brave and wild experience at South Africa's most famous game reserves like Kruger National Park, Madikwe Game Reserve, Sabi Sand Game Reserve, Hluhluwe-iMfolozi Park, and others.
FAQs
What is the best time to visit Africa?
The best time to visit Africa is from June to October or the warmer season, when many places are dry and the wildlife experience is at its peak. But it is advisable to research the country you plan to stay in to make the most of your vacation.
Which African country should I visit?
South Africa is the best contender if you are looking for a great experience with wildlife, majestic sceneries, and breathtaking landscapes. It is also home to vibrant cities like Cape Town.
What is the most visited attraction in Africa?
The Great Pyramid of Giza is considered one of Africa's most visited tourist attractions Because of its mystical civilization and unique architectural structures. The Great Pyramid of Giza Continues to captivate tourists with its historical and yet mysterious history.
Where is the most beautiful place in Africa?
Africa is fortunate to possess numerous awe-inspiring locations that capture the world's attention. Still, none quite compare to Delta in Botswana. With stunning vistas and vibrant waterways supporting abundant wildlife, Delta Botswana provides an unforgettable adventure and an exceptional destination.
Related: