Imagine if every year starting today, you dedicate time and travel to the most beautiful places in the world. It sounds thrilling, right?
Envision going to the beautiful cities of the Azores and Barcelona, swimming at Bora Bora of French Polynesia, hiking the Rainbow Mountain of Peru, or wandering around the Pyramids of Giza in Egypt.
Don't let guilt from spending linger; remember that money returns, but time doesn't, so I suggest you spend the following years of your life visiting the 30 most beautiful places in the world in 2023!
Key Takeaways:
The Azores in Portugal, Banff National Park in Canada, Machu Picchu in Peru, and Cape Town in South Africa are a few of the most beautiful natural places in the world.
Some of the most beautiful places in the world to visit are the Amalfi Coast and Venice in Italy, the Rainbow Mountain in Peru, Santorini in Greece, and the Pyramids of Giza in Egypt.
The most beautiful countries in the world are Portugal, Italy, Peru, Canada, New Zealand, and the US, all offering different experiences.
Most Beautiful Natural Places in the World
1. The Azores, Portugal
The Azores are an archipelago considered one of the most beautiful natural places in the world, loaded with fun and exciting activities. It consists of 9 inhabited islands, each of which has unique and unrivaled beauty.
You can enjoy several activities on the island like visiting its top attractions like Poco da Ribeira do Ferreiro, Caldeira das Sete Cidades and Terceirense shipwreck. While in the relaxing Ponta da Ferraria, you'll experience the most exceptional thermal pools believed to relieve pain and have various cardiovascular benefits.
2. Banff National Park, Canada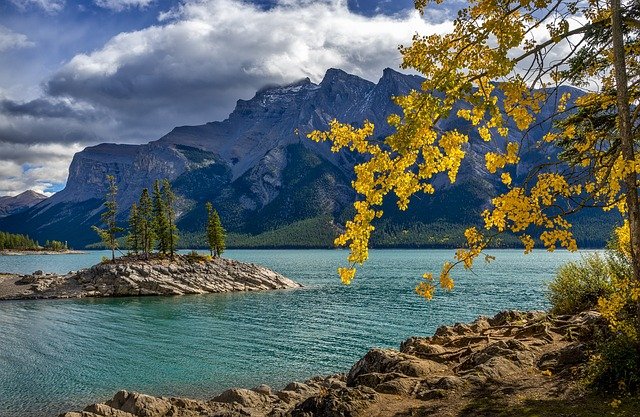 If you love adventure and outdoor activities, Banff National Park is the perfect place to be! You can enjoy leisurely activities like visiting different malls and restaurants in Banff, or if you are into a more adventurous side, I am sure you will love hiking in the Canadian Rockies. You can also enjoy skiing and snowboarding at Banff Ski Resort and end your long busy day watching the Northern Lights over coffee.
3. Machu Picchu, Peru
Travel back in time while exploring the surreal beauty of Machu Picchu! Make sure to hike early to witness the breathtaking sunrise and take your time to appreciate the beauty of the ancient ruins. A visit to Machu Picchu is complete with visiting the Temple of the Sun, which displays intricate stone works that serve as an astronomical observatory. Finally, you can also meet their famous friendly cute llamas.
4. Victoria Falls, Zimbabwe and Zambia
Victoria offers a lot of fun and fantastic activities—a great combination of adventure and relaxation. Start your journey by visiting certain parts of Zambia: dip in Devil's Pool while in Livingstone, or have a romantic sunset boat cruise in the Zambezi River. Roam around Victoria Falls National Park and experience their heart-pumping activities like bungee jumping, water rafting, and ziplining.
5. Bora Bora, French Polynesia
Bora Bora is a place that glimmers with beauty and adventure. Get your skin tanned over the white and sandy shore of Matira Beach and swim in its crystal clear blue waters. Go straight ahead to Bora Bora Lagoonaruim and swim together with its diverse marine life. Try snorkeling or diving in the Leopard Rays trench and experience swimming together with majestic rays.
6. Great Barrier Reef, Australia
It is undoubtedly true that the Great Barrier Reef is one of the most beautiful natural places in the world, where tons of aquatic activities are waiting for you! Snorkel or dive in the area to get a closer look at its diverse marine life. You can also go on a boat tour to explore the reef's beauty. Finally, you can also book a helicopter ride to see the perspective of the barrier reef from a bird's eye view.
7. Plitvice Lakes National Park, Croatia
Embark on an unforgettable trip to Plitvice Lakes National Park and tour its breathtaking wonderland. It is home to cascading waterfalls, deep green forests, and luculent lake waters. Go for a hike alongside the well-marked trails and see the up-close beauty of the lake through a boat ride. No doubt Plitvice Lakes National Park's unique beauty will capture your hearts!
8. Monteverde Cloud Forest Biological Reserve, Costa Rica
Monteverde Cloud Forest Biological Reserve has diverse wildlife and lush green forest, and there are plenty of activities that you can do. One of the best ways to explore the reserve is through hiking, supervised by kind and multilingual tour guides. You can also visit their hanging bridge and take stunning photos.
For coffee lovers out there, did you know that Monteverde Cloud Forest Biological Reserve is famous for coffee tours? Indulge and learn the process of making the best coffee in Costa Rica.
9. Galápagos Islands, Ecuador
A unique and wild adventure awaits you on Galápagos Island! Encounter wildlife like blue-footed boobies, marine iguanas, giant tortoises, snorkel with sea lions and sharks, and marvel at the volcanic landscapes. Lastly, be mindful and responsible in handling your waste to maintain the pristine beauty of the islands.
Ecuador is one of the best countries to visit in South America.
10. Antarctica
Are you looking for a remote and peaceful place for vacation? Well, Antarctica is the perfect place for you! You can enjoy plenty of fun activities in Antarctica, like kayaking, penguin watching, and skiing. You can also visit their Science Research Stations to learn the vital work being studied on the continent. Finally, if you have the guts, you can also go scuba diving on their frozen seas to glimpse marine life under a frozen sea.
11. Kauai, Hawaii, USA
Kauai, Hawaii, is one of the best places that offer many water activities you can indulge in. Snorkel in the crystalline waters of Tunnels Beach to see the beautiful vibrant underwater life, or you can sit back and relax at Poipu Beach Park while enjoying the bright sunny weather. After experiencing all the tiring activities, you can go for a relaxing boat tour or kayak ride while admiring the lush deep green forest of the area.
12. Blue Lagoon, Iceland
The Blue Lagoon is one of the most beautiful natural places in the world, known for its geothermal spa, which you will surely enjoy. Soak yourself in the lagoon's warm milky water while enjoying the bizarre views. It is highly advisable to try their Silica mud mask, which is known to have healing properties for different skin conditions.
13. Fiordland National Park, New Zealand
Fiordland National Park is perfect for those who love outdoor activities and adventures. You can enjoy different activities in the area, like hiking, kayaking, and cruising. Fiordland National Park is also a great fishing spot to catch salmon fish. There are also available farm tours where you can learn some farming techniques.
14. Cape Town, South Africa
When you visit Cape Town, there are many fascinating things to do. Start appreciating the stunning views from Table Mountain, tour around Victoria & Alfred Waterfront, take a historical tour around Robben Island, and enjoy the beautiful beaches like Camps Bay. Lastly, do not leave the city without savoring or experiencing the delicious local cuisine.
Learn more about the top tourist attractions in Africa in this article.
15. El Yunque National Forest, Puerto Rico
El Yunque National Forest in the northeastern portion of Puerto Rico is known to be the only tropical rainforest in the National Forest System of the United States, featuring so much biodiversity and natural beauty. It is one of the most beautiful natural places in the world, with many incredible beauties, including the La Mina Waterfall, the Juan Diego Creek, wildlife, and natural pools. Head to their observation decks, like Mount Britton Tower and Yokahu Tower, for the best panoramic forest views.
16. Lofoten Islands, Norway
The Lofoten Islands are included in House Beautiful's 30 Most Beautiful Places in the World at #6, but what's unique about these islands? The island's main attraction is its distinctive scenery, with beautiful mountains, stunning sea views, and untouched beaches capturing the hearts of many photographers and hikers worldwide. Moreover, since the island is near the Arctic Circle, you can also witness the stunning phenomenon of the Northern Lights and Midnight Sun, leaving you in awe.
Most Beautiful Places in the World to Visit
17. Venice, Italy
Venice, Italy, the "City of Water," is one of the world's most recognizable and beautiful places to visit because of its romantic-picturesque canals and fine architecture. Head over to the famous 1092 religious building, the St. Mark's Basilica, and the Venice Lido beach, and climb the Campanile di San Marco for panoramic city views.
One of the highlights of your Venice trip would be the iconic Grand Canal, where you can see St. Mark's Square, Ponte Di Rialto Bridge, Doge's Palace, and all other iconic buildings lining up the canal.
18. Amalfi Coast, Italy
For the best beach experience or scenic road trip in Italy, go beyond the stunning Amalfi Coast! Did you know that Amalfi Coast is a 1997 UNESCO World Heritage Site and has been featured in Megan Star Travel blog and CN Traveller? Yes, thanks to its 13 outstanding seaside towns with rainbow-colored houses, picturesque sea views, and steep, dramatic cliffs. Trust me, more than a few minutes are needed to take in the natural beauty of this seaside town!
19. Cherry Blossoms in Japan
Whenever you think of Japan, cherry blossoms are the first thing that comes to mind. Cherry blossoms represent so many things about Japan, whether it's about spring, the beauty of life, customs, rituals, art, literature, and many more.
To witness the most beautiful cherry blossoms, head to Yoshino, Kansai, and explore the 30,000 Sakura trees, Hirosaki Park, and Arakurayama Sengen Park at the foot of Mt. Fuji.
Discover these other must-visit destinations in Asia.
20. Bagan, Myanmar
One Buddhist temple or pagoda is enough to mesmerize you, but what more with thousands of them! Witness that in the UNESCO World Heritage ancient city of Bagan with 2500+ stunning cultural temples, monasteries, and pagodas with intricate carvings and designs, all dotting the plains of Myanmar. Besides the architectural showcase, you'll feel the solid spiritual atmosphere in the place.
21. Marrakesh, Morocco
If you want to experience and indulge intensely in Moroccan culture, the ancient city of Marrakesh is the perfect spot! Aside from it being a UNESCO World Heritage Site, it has a lot of exciting areas that will provide you the best Moroccan experience—the Koutoubia Mosque, the Bahia Palace, Saadian Tombs, and the souks or markets selling a lot of products unique to Morocco.
22. Railay West Beach, Thailand
Railay West Beach is one of the most beautiful places in the world to visit and one of the most outstanding beaches in Thailand, having been recognized by the Tourism Authority of Thailand. The beach stands out because of its white sand, shallow turquoise waters, surrounding limestone cliffs, water outdoor activities, and several beach-hopping trails. Once you get there, you can feel Railay West Beach's untouched beauty because it is a boat away from the mainland.
23. Halong Bay, Vietnam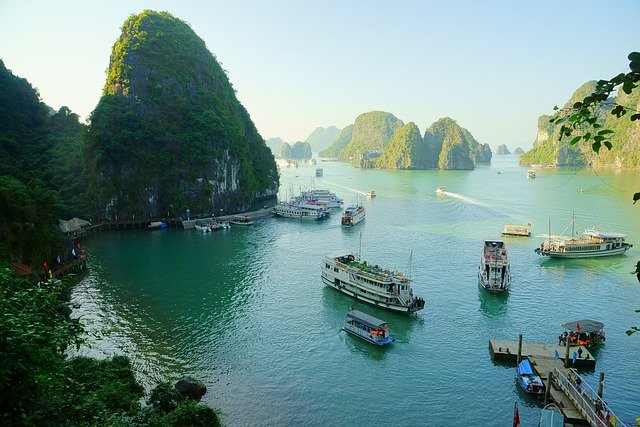 The legendary place of Halong Bay in Vietnam is a natural wonder of the world that you should see! They say that Halong Bay was formed by a dragon from the heavens creating the limestone landscapes and islets floating in the emerald-green waters. Not only is it a majestic site, but you can enjoy several outdoor activities, like snorkeling, swimming, kayaking, and enjoying the biggest and most colorful festival of Halong Carnival.
24. Marble Caves, Chile
As spectacular as it sounds, the Marble Caves are unique wave-like structures formed from limestones heated up combined with water erosion from Lake General Carrera, dated 6000 years ago. What's stunning about this natural wonder is the vibrant splashes of color dominated by greens, blues, and grays, reflected by sunlight off the water giving the luminous effect. It is a photocard-worthy natural wonder, indeed!
25. Rainbow Mountain, Peru
Typically, mountains are green or brown in color, but it's a different scenario with the Rainbow Mountain in Peru! Rainbow Mountain is one of the most unique places to visit because of its unique rainbow colors ranging from red and gold to green and lavender. To further appreciate the place, you can also try outdoor activities like trekking, hiking, and horseback riding to enjoy the scenery.
26. Santorini, Greece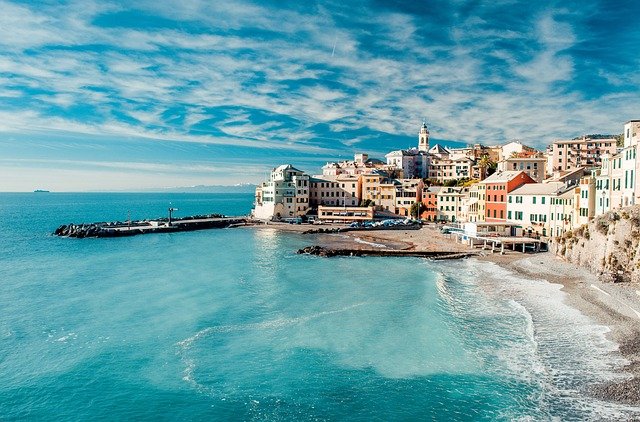 Known to be the best place in the world to watch the sunset, the beautiful island of Santorini offers the most romantic getaway for couples. It features the seaside white-washed houses and an abundance of dome-shaped structures. Some of the most popular destinations within Santorini are the picturesque villages of Oira and Amoudi Bay, the Caldera, Red Beach, Kamari Beach, and the Akrotiri Archaeological Sites.
Santorini is just one of the many places to visit in Greece.
27. Pyramids of Giza, Egypt
No other tourist spots worldwide are as beautiful and iconic as the Pyramid of Giza in Egypt! This unique stone-block architecture hailed as one of the Seven Wonders of the World, houses the tombs of pharaohs who believed in eternal life.
Some of the best tourist attractions in Giza that you shouldn't miss are the Great Pyramid of Cheops, Khafre's Pyramid, the Great Sphinx, and the Pyramids of Dahshur. For a unique experience, visit the pyramids at night for some sound and light show, or take a camel ride.
28. Tamil Nadu, India
Tamil Nadu is one of India's culturally rich, eco-rich, and exciting cities to explore. You'll experience the natural beauty through its untouched beaches, greens, forests, mountains, and the fun through some of its festivals like the Pongal and Jallikattu. To be indulged in India's culture, heritage, and history, head over to the Great Living Chola Temples, the Meenakshi Temple, and the Brihadeeswara Temple.
29. Lisbon, Portugal
Lisbon, the capital of Portugal, is a city of many beautiful things. Everything is worth seeing, from its architecture and scenery to its notable historical sites. Explore first all the UNESCO World Heritage Sites like Belem Tower and Jeronimos Monastery, with striking architecture.
If indulging in the culture is something in your mind, head to the oldest neighborhood Alfama or shop and dine at the trendy LX Factory. Finally, for stunning city views, take the famous Tram 28 or try out the renowned elevator in the city, the Santa Justa Lift.
30. Barcelona, Spain
Barcelona is one of the most beautiful places in the world to visit, known for its over-the-top and intricate architecture. It's shown in its La Sagrada Familia, the Barcelona Cathedral, Casa Batlló, and Placa Reial. More than these towering and beautiful Roman structures, Barcelona is also famous for its natural scenery, evident in the stunning views of Montserrat, Parc de Montjuic, and Parc de la Ciutadella.
Related: