Ready for your upcoming winter travel? Wondering how to pack for a 2-week winter trip without overloading your luggage? Fret not.
We've compiled the top packing tips for winter travel to keep you warm and cozy during your journey.
From mastering the art of packing light for winter travel to knowing what to pack for a week-long trip in winter, we've got you covered. Read on to ensure you're using the best packing suggestions for an enjoyable winter journey.
How To Pack Light for Winter Travel
Maximizing your winter travel experience requires mastering the art of packing light. Here are some clever strategies to travel light without sacrificing essentials:
Don't Pack As Many Toiletries
Make your toiletries easier to carry by using small travel-size bottles or buying things when you arrive.
Many places where you stay already have the basics, so you can pack less and save room in your suitcase.
Use a Backpack
Backpacks spread the weight of your bag across your back, so you don't feel too heavy or tired. This can help prevent back pain. It will also make your clothes and gear feel lighter and give you easy access to your stuff.
Plus, it lets you use your hands for other things, like holding tickets and taking pictures.
Wear a Down Jacket
Wear your bulkiest winter item, like a down jacket, on the plane to save space in your luggage. It will keep you warm and allow you to pack more efficiently.
Look for one with a high fill power rating and water resistance for added warmth and protection.
Versatile Layers Are Key
Pack smarter, not harder. Choose clothes that can be worn together in different ways, so you can create multiple outfits with just a few pieces. This saves space in your luggage and ensures you look great every day.
How to Pack Winter Clothes for Travel
Packing for winter can be tricky. Here's a list of things you might need to bring so you don't forget anything important.
Pack the Essentials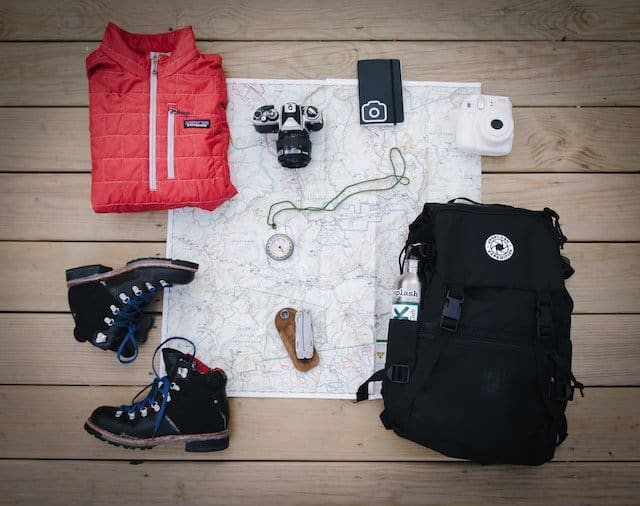 A Winter Jacket: Pick a warm winter coat that's both cozy and easy to move around in. Look for features like waterproof exteriors and adjustable hoods so you can stay dry and comfortable.
Thermal Tops and Bottoms: These lightweight base layers provide exceptional warmth and are perfect for layering under your clothing.
One or Two Pairs of Shoes: Bring two pairs of shoes that can work for both casual and dressier occasions. Make sure they're comfortable and can handle different types of terrain.
Socks and Underwear for Each Day: Bring a clean pair of socks and undies for each day you're away. These little things take up hardly any space in your bag.
T-shirts and Warm Sweaters: Bring a few T-shirts to wear in layers, plus some warm sweaters for cooler days.
Pants: Pick some comfy pants that go well together and can do lots of things. Examples of these are joggers with stretchy bottoms to keep your socks hidden, leggings for moving around easily, pants that reach just below the knee, and regular pants that fit straight down your legs.
Hat and Gloves: Keep your head and hands warm with a good hat and pair of gloves.
Pack Layers
First, pack clothes that are thin and fit tightly. Big sweaters and sweatshirts take up too much room in your suitcase.
Also, choose clothes that are made of thin material and come in layers. For example, you could bring a base layer, a long-sleeved shirt, and a light sweater. This way, each piece of clothing will take up less space in your bag, and you'll have more outfits to choose from.
Wear Bulky Items
Make the most of your carry-on luggage by wearing your bulkiest items while traveling. This includes heavy coats, scarves, hats, and gloves.
By wearing these items, you'll not only save space in your luggage but also stay warm and comfortable during transit. Plus, you'll avoid the hassle of carrying around heavy baggage
Packing Tips for Winter Travel
Make your winter trip packing easier with these extra ideas:
Use Waterproof Luggage
To keep your clothes and other essentials dry and clean during your trip, consider investing in waterproof luggage or using waterproof covers for your bags.
These measures will help protect your belongings from snow, slush, and rain, keeping them safe and secure throughout your journey.
Use Compression Bags or Cubes
These handy tools compress your clothing and organize your items, allowing you to fit more into your luggage. With compression bags or cubes, you'll be able to pack everything you need for your trip without overstuffing your luggage.
Plus, they'll help keep your clothes wrinkle-free and organized, saving you time and stress when you reach your destination.
Pack for One Week
When preparing for your winter trip, adopt a "one-week" mindset to streamline your packing process. Plan a week's worth of outfits using versatile pieces that can accommodate different events and weather conditions.
Also, the "one-week" principle allows you to practice practical laundry habits during your travels, enabling you to refresh your outfits and limit unnecessary items. This approach helps you pack more efficiently, avoid overpacking, and make thoughtful choices.
Pack Multi-Season Clothing
Make your packing more efficient by wearing clothes that can be used in many different ways. Choose clothes that can be dressed up or down, depending on the situation.
Neutral-colored clothes are best because they go well with other things in your suitcase and are easy to mix and match. This will make it easier to pack and help you look great on your winter trip
Leave Non-Essentials Behind
Resist the urge to overpack and leave non-essential items behind. Instead, focus on packing only what you truly need and will use during your trip.
This will not only save you space in your luggage but also reduce the weight of your bags.
FAQs
What is the 54321 Packing Method?
The 54321 packing method simplifies the packing process by focusing on the following:
-Five pieces of clothing (like shirts and pants)
-Four pairs of shoes (like sneakers and dress shoes)
-Three bags of liquids (like toiletries and drinks)
-Two electronic devices (like a phone and a tablet)
-One hat
How Many Clothes Should You Pack for Winter?
When packing for a week's worth of outfits, remember these tips:
-Pack clothes that can be worn together in different ways.
-Try to bring around 7-10 days' worth of clothes.
How Many Layers Should You Wear on Cold Winter Days?
On cold winter days, dress in layers. Start with a moisture-wicking base layer, add an insulating layer for warmth, and top it off with a waterproof or insulated outer layer to protect against wind and snow. This three-layer system will keep you warm and comfortable
Which Fabric Is Warmest in Winter?
Natural fibers like wool and down offer superior warmth for winter wear. Wool provides insulation and moisture-wicking benefits, while down offers lightweight yet effective heat retention.
Related: