Let's not candy-coat it; European countries have some of the most expensive countries for tourists, including Denmark and Switzerland, where prices go crazy, especially during peak seasons.
Even so, dozens of European countries, like Portugal and Bulgaria, are total bargains, where food, housing, transportation, and tourist spots are surprisingly cheap.
This guide details some of the cheapest European countries to visit from Canada this year!
Key Takeaways
If you're on a limited budget and traveling to Europe, Bulgaria, Portugal, Romania, Slovenia, Croatia, and Poland are the cheapest European countries to visit.
For financially prepared travelers, the options for the expensive European countries include France, Denmark, Switzerland, Iceland, and Ireland.
Some tips to save money while traveling in Europe include taking public transportation, finding the cheapest flights, hotels, and, ultimately, picking the cheapest European country.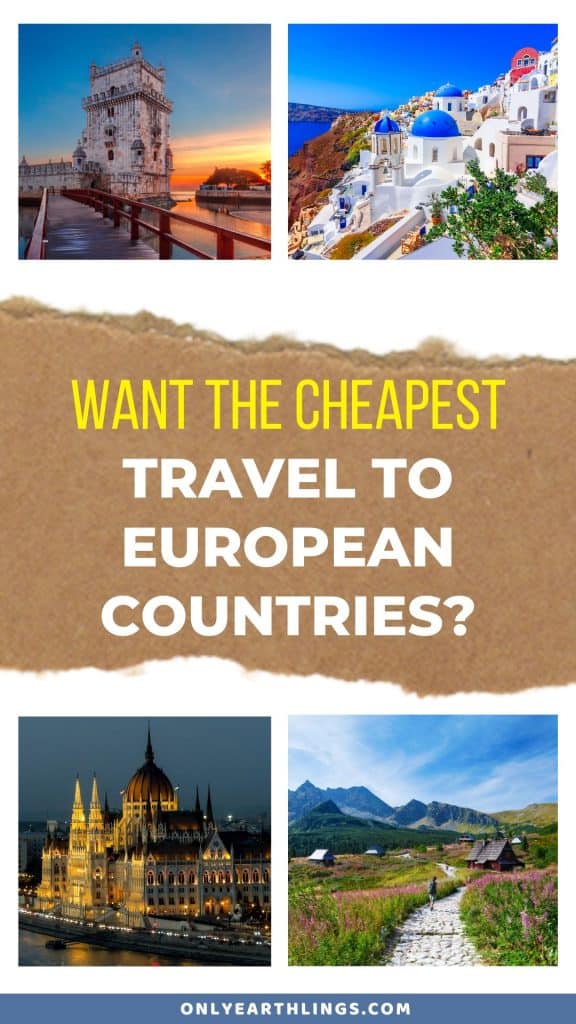 Cheapest European Countries To Visit From Canada
1. Portugal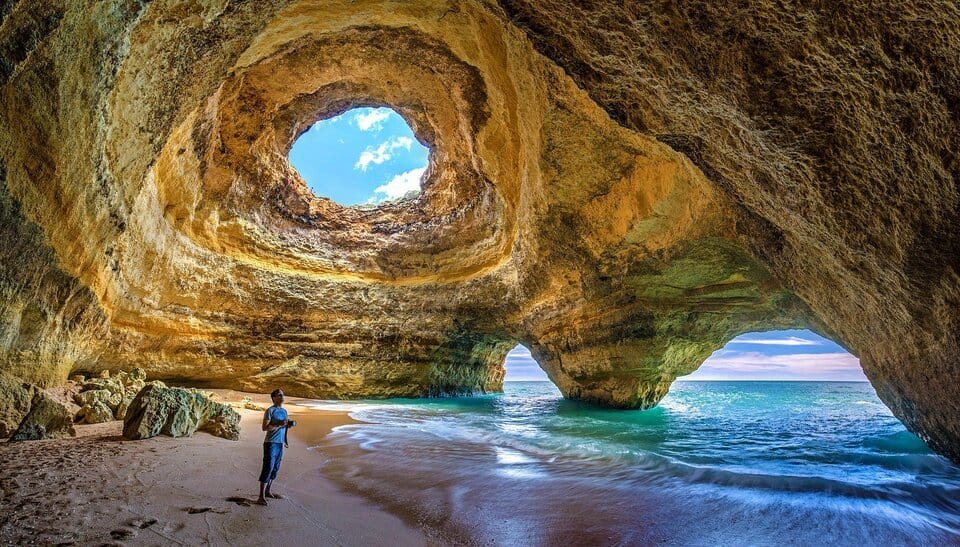 The beautiful country of Portugal leads the list of the cheapest European countries to visit from Canada and still yields a high quality of life—cheap food, accommodation, transportation, robust healthcare, economy, and safety.
But why is everything so cheap in this country? Well, it all goes down to the wage rate of almost 30-50% less than most European countries, driving all costs down, including vacation spots.
Speaking of these vacation spots, 800,000 readers of Condé Nast Traveller magazine agreed and would testify that Portugal was indeed the best country in the world to visit, with its big city Porto ranking 8th best city in the world and its island Madeira placing as the 4th best island in the world; Unquestionably, there's no disappointment with visiting Portugal.
Take advantage of the bargain prices from November to March, where you'll experience the beauty Portugal has to offer with less competition for space.
2. Poland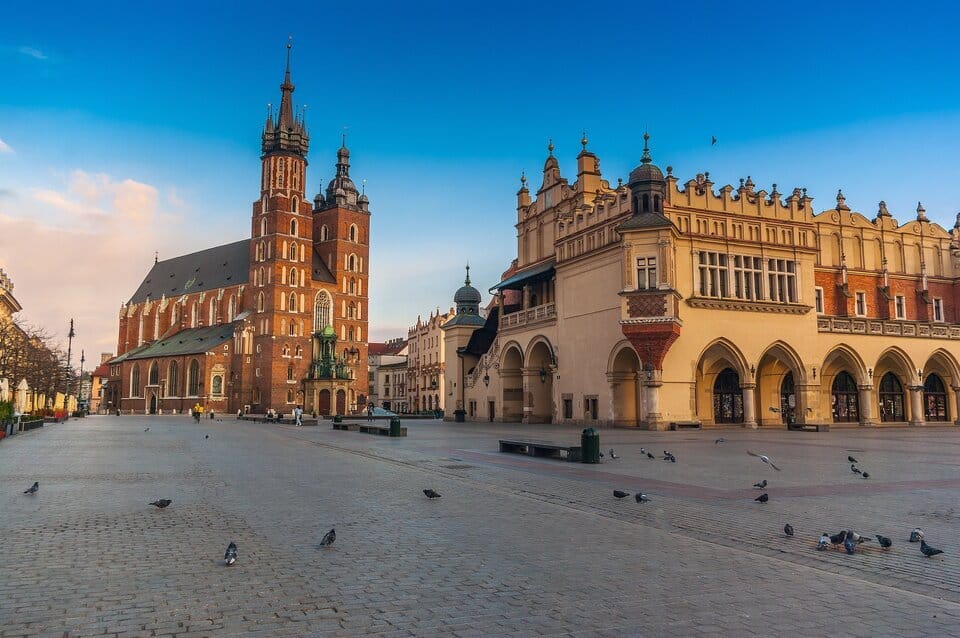 The lowland plains of Poland are a high-income economy country and have always been driven by their manufacturing, agriculture, and mining sectors. Compared to other euro countries with high-income economies, food prices in Poland are surprisingly cheap.
More than its affordability, Poland has plenty of captivating cities like Krakow for an old-town European experience, Warsaw for the hustle and bustle of a town, and Wroclaw for entertainment and wild nightlife.
Visit Poland within 7-10 days during February for budget-friendly flights and accommodations.
3. Croatia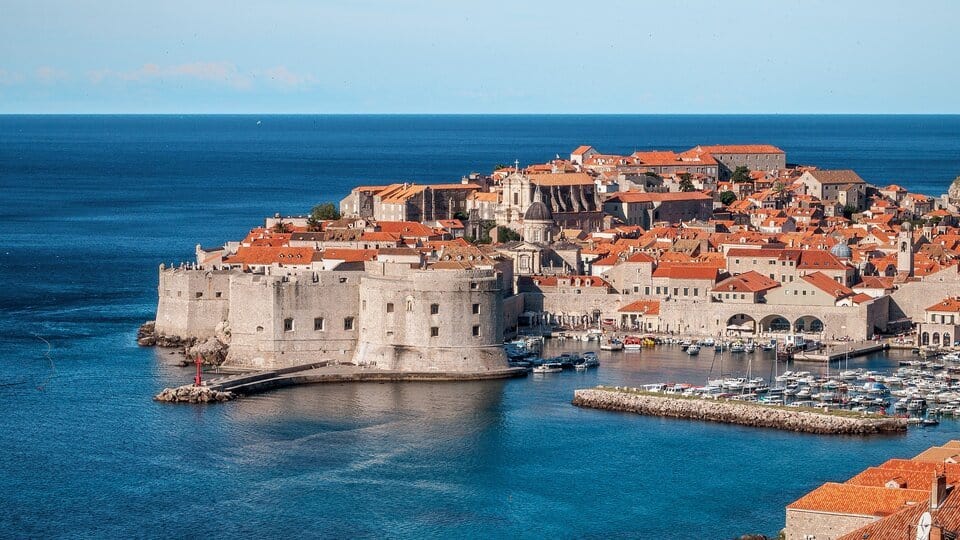 If you have ever watched Game of Thrones, did you know it was filmed in this beautiful green country of Croatia? Besides that, tourism has bumped up due to its media recognition; Croatia is also inexpensive compared to Western European countries.
Some of Croatia's cheapest places to visit include Slavonski Brod, Osijek, Karlovac, and Sibenik. These places are guaranteed affordable food, transportation, housing, exquisite cultural attractions, and family-friendly trips around the region.
Not the usual time of visit, but rainy seasons are when cheaper flight rates are available, there are more vacant accommodations, and there are fewer tourists in Croatia.
4. Montenegro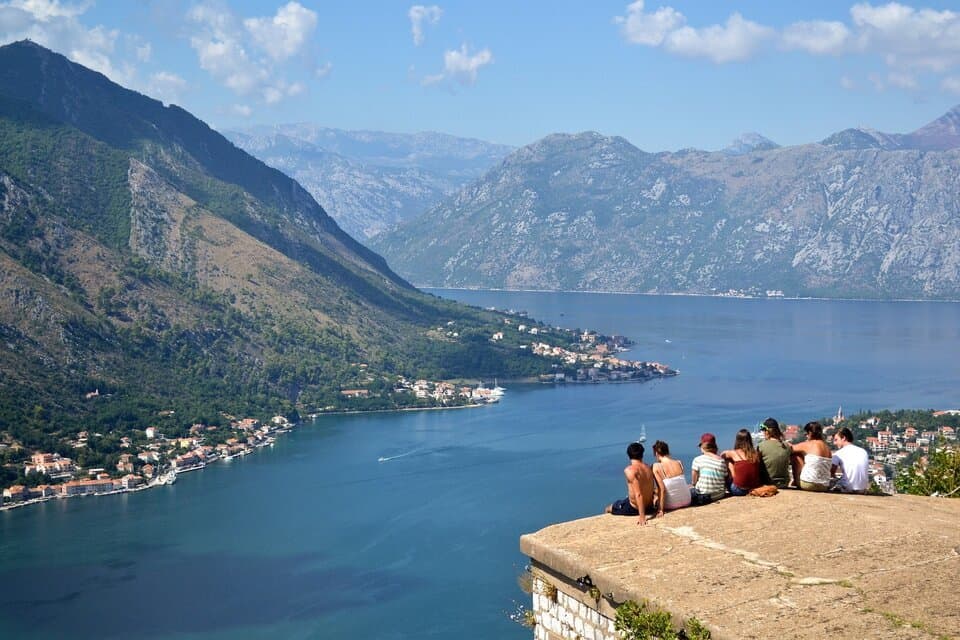 If you're a budget-adventurer ready to see a lot of environmental treasures and cultural gems, make an effort to visit the beauteous country of Montenegro. It is near Serbia and home to the UNESCO-site Bay of Kotor and a lot of beach resorts, glacial lakes, and mountains, all at an affordable price.
If nature is your comfort zone, especially the mountains, I suggest you go to the beautiful and cheap cities of Kotor, Zabljak, Kolasin, and Niksic. If you're a sea lover, Montenegro's cities perfect for seascapes are Tivat Budva, Adriatic Coast, Herceg Novi, and Igalo, whereas all towns are easy to navigate.
The optimal months to visit Montenegro to experience both the beaches and the mountains are the months of June and September.
5. Spain
Known for soccer, architecture, beaches, warm weather, and food, Spain is the real deal when you're looking for a country to holiday in Europe. Although it is not the cheapest among the strands of cheap European countries to travel to, it is a surprisingly affordable country where you can work around your budget all due to the higher unemployment rate and lower national average salary, making the prices relatively low.
Some places in the country that will not break the bank are the coastal areas of Santa Cruz de Tenerife, Las Palmas de Gran Canaria, Malaga, and Sevilla, where you can enjoy exquisite beaches, landscapes, unique architecture, and sparkling nightlife.
If you're after exploring the historical country of Spain without competition, visit between December and March, when the weather is cold but less crowded and at cheaper rates.
6. Czech Republic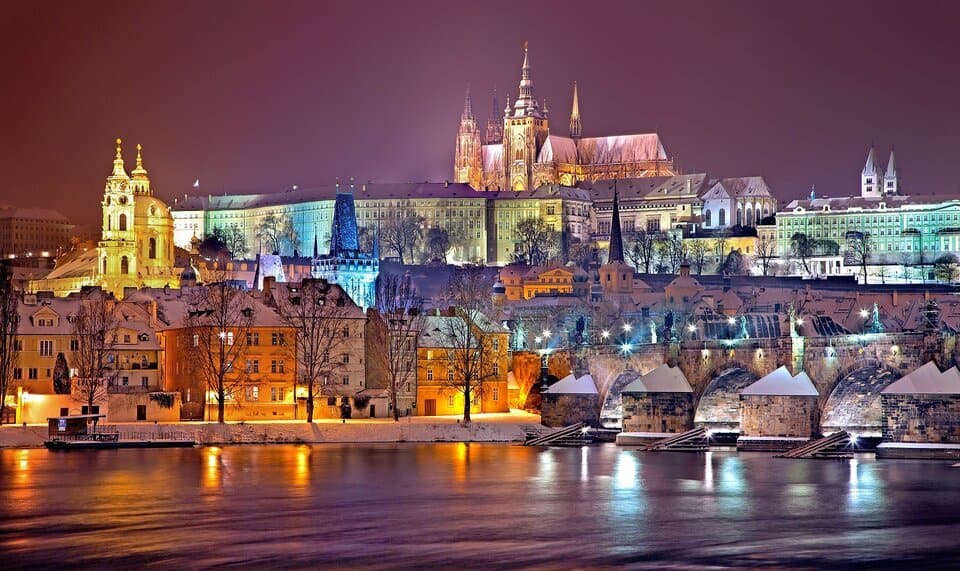 The Czech Republic is a true realm of ancient castles on Earth, bragging about 14 UNESCO World Heritage Sites. Aside from its beauty, many expats choose to live here because of its safety and affordability of meals, transportation, and the irresistible force of beer.
Start exploring the Czech Republic by wandering around Prague with its galley-like streets and fairy-tale architecture ranging from Gothic, Baroque, Cubism, Functionalism, and Renaissance. It is indeed like a free admission experience to an open-air museum. But the cities where the prices are more fair and economical are outside Prague, like Brno, Hradec Kralove, and Cesky Krumlov.
Unlike the other European countries, which are best visited during summer, the Czech Republic is the complete opposite and is best to tour during the winter as accommodation prices are almost half the price, there are fewer crowds, and discount deals are everywhere.
7. Serbia
Do you want somewhere with panoramic green fields that offer excellent food, drinks, and festivities? I bet you'll love the wonderful country of Serbia!
You'll be amazed if I tell you that even though it is skipped mainly by travelers, it is one of the cheapest European countries to visit from Canada. The cost of living here is a whacking 119% less expensive than in Canada, so it's genuinely a budget traveler's dream!
One of the many cities you should take advantage of is the lively capital city of Belgrade, where nightlife and tours are the best but less crowded, plus housing and transport links are super affordable. Other small and peaceful cities you can explore are Novi Sad, Subotica, and Novi Pazar, where prices are lower than in Belgrade.
April is the perfect month to visit Serbia, where flight tickets can be bought at an affordable price, and the weather is starting to heat up just right.
8. Slovakia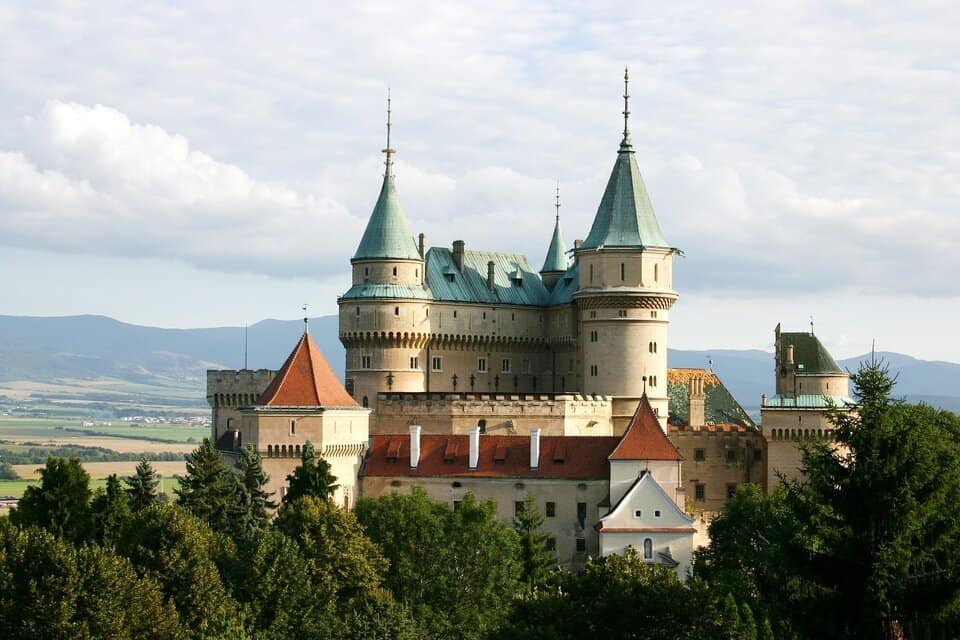 Speaking of unique and bizarre attractions dominated by castles, caves, and mountains, yet at a meager price, Slovakia should be one of your travel bucket lists where the living costs are 81% less expensive than Canada, as indicated in Living Cost.org.
If you're set to explore Slovakia on a tight budget, go to Kosice, Poprad, Banska Bystrica, and the capital city Bratislava to freely experience the old town vibe and the Bratislava castles. You can even challenge yourself to explore many of the 400 accessible breathtaking caves out of 2,500 in the country.
To enjoy the summer beauty of Slovakia, set a vacation schedule in May for a lower cost of flights and accommodations, and the weather is excellent for outdoor activities.
9. Estonia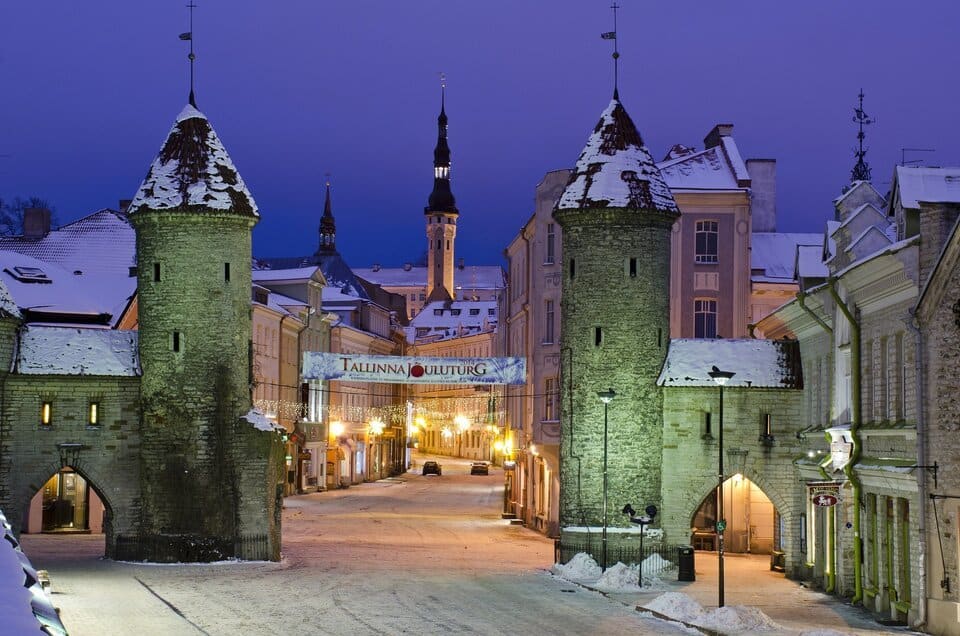 Sauna, forests, castle-like architecture, and free transportation — these are the things you can experience in the charming country of Estonia, boasting as one of the cheapest European countries to live in due to lower wages driving the costs of goods and services lower.
If you're planning to go to Estonia, some of the best cities to visit or to live in are those near the Baltic Sea, such as Tallinn, Parnu, and Tartu. Here you can explore the old town and vibrant culture through the guided walking tours and relax on their cushiony beach sand and peaceful seas.
I encourage you to explore the beautiful nature of Estonia during March and October when accommodation prices are lower, and places are not filled with many tourists.
10. Greece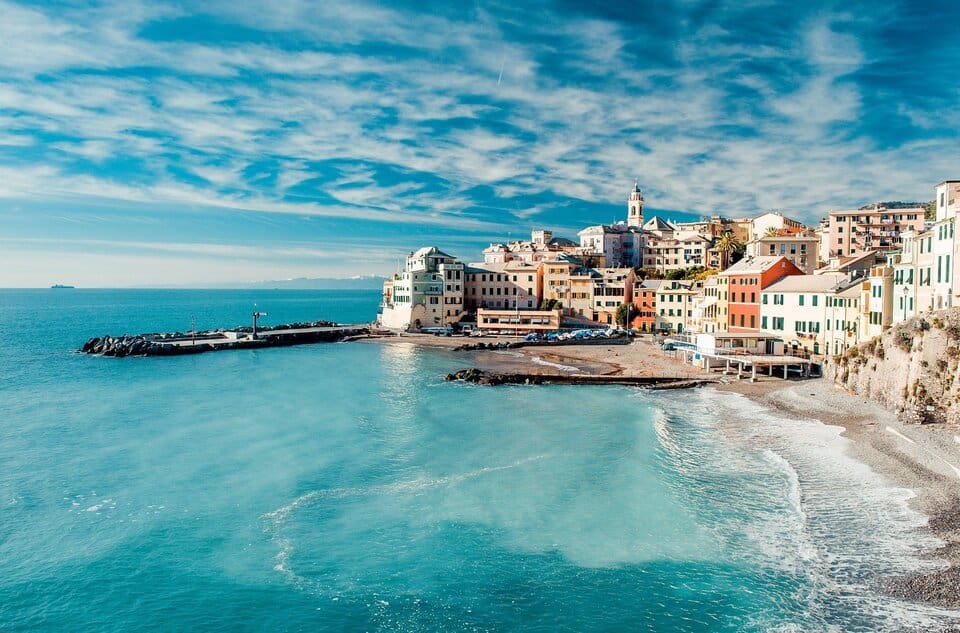 With 18 UNESCO World Heritage Sites, vibrant culture and history, out-of-this-world luxury beaches, yet still bargain-basement prices, you can get unlimited access to everything in Greece!
Most prices in Greece are 30-50% cheaper than in Canada, so a week or a month of spending your vacation breaks would not be money-killing.
Some of the best islands to visit for a budget-friendly vacation would be the green islands of Agistri, the stunning Ionian islands of Kythnos and Lefkada, and the Santorini-like Astypalaia, where you can see turquoise blue waters and blue and white architecture.
We all know that Greece is a country that celebrates summer, but I suggest you go to Greece before the blazing hot summer months from April to June when everything is less expensive.
Discover the best places to visit in Greece!
11. Hungary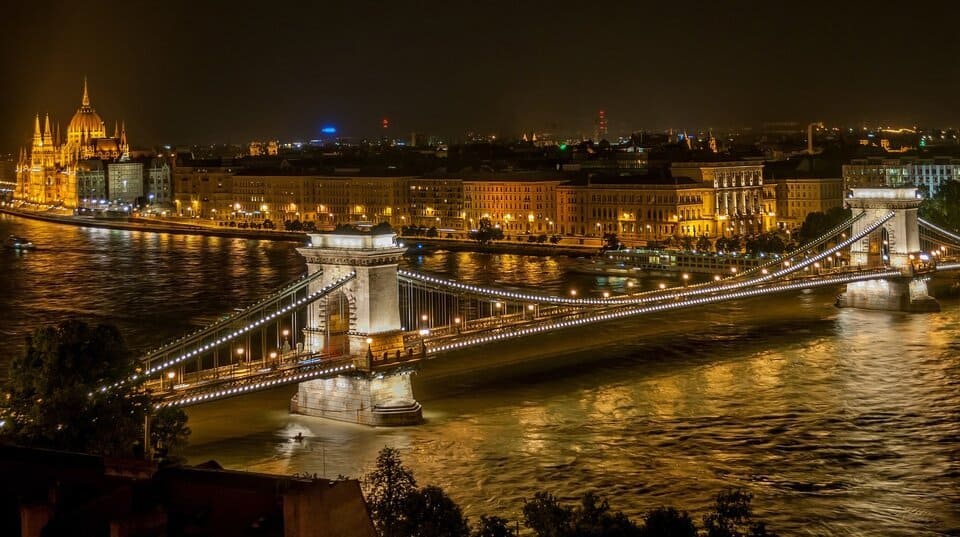 Hungary has to be it when we speak of European thermal baths and bodies of water! This affordable country is on the list of the cheapest European countries because of its currency's power decreasing for the past years to attract small businesses and megacorporations.
Explore the cities of Budapest, Szetendre, Tihany, and Eger for a unique experience of Hungarian culture and history. If you want something more natural, which mostly is free to sightsee, go to the beautiful cities of Debrecen, Miskolc, Lake Balaton, Aggtelek, and Tapolca with lots of caves, mountains, lakes, and forests to wayfare.
Avoid crowded tourist areas during May and September and visit Hungary during the shoulder seasons of April and October for the best experience.
12. Romania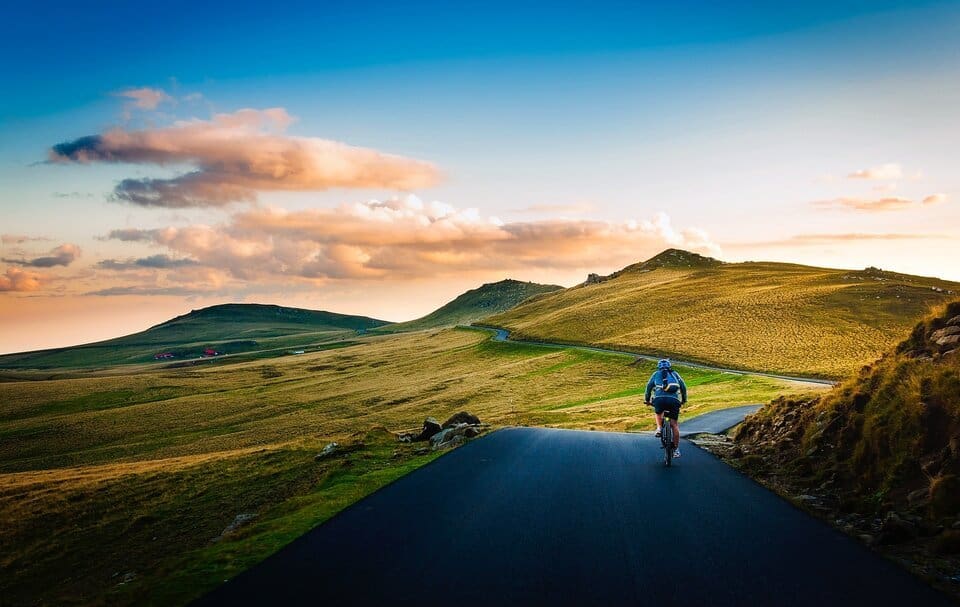 Ranked within the first 100 cheapest countries in the world, Romania is a top destination if you're looking for a European country with simple, authentic urban life that's affordable with the extraordinary landscape — from its snow-capped mountains, hills, lush green forests, beaches, and it's famous second largest and most preserved river delta Danube Delta.
Beaming with some of Europe's most affordable cities, could your CA $ 700 be a sufficient monthly budget? Yes! Try out the towns of Craiova, the fifth cheapest country in Europe, Arad, Oradea, the mountain resort of Brasov, Sibiu, and Iasi. Although not so much in the line of affordable cities, Bucharest, the capital city, is sparkling with lots of cultural attractions and energy in its little districts.
If you want to avoid the crowds and experience the mild temperature of Romania, visit between April and October.
13. Bulgaria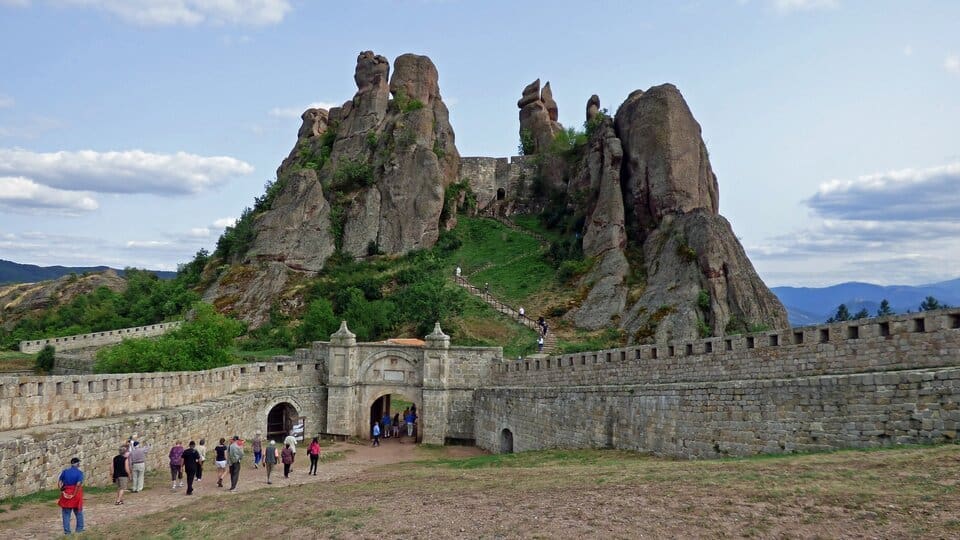 Bulgaria lets you experience the idea of kingliness and queenship on your holiday vacation without getting off your budget! You don't need to do much budgeting as it is weighed up as the cheapest country to travel to and the cheapest currency in Europe.
For an immersive cultural experience yet still affordable, I suggest you go to the big cities of Sofia and Plovdiv, where you can engage with their museums, galleries, architectural offering, and high-spirited nightlife. For a sight of its crystal clear waters, be ready to fall in love with the coastal cities of Albena, Golden Sands, and Varna.
Bulgaria has relatively cheap goods and services, and if you want to experience the beauty of this place at even more low prices and still pleasant weather, go between the shoulder months of April and May or September and October.
14. Slovenia
If I tell you that most Slovenian outdoor activities are free, would you believe me? Yes, as a country with breathtaking nature, there's so much to explore, from its one-of-a-kind lakes, rivers, waterfalls, and Alps to the Old Town's architectural marvel, all for free.
Explore the Kranjska Gora's beautiful highlands for mountainous outdoor activities, Postojna for its complex cave systems, Bohinj, Jasna, and Bled for their lakes, and Upper Samar and Tavar valleys.
More than the free nature attractions you can travel over, Slovenia is a haven for backpackers, where you can expect to spend around at least l CA$ 70-150, including meals, accommodation, and transportation to tourist spots.
When you're done exploring the outdoors, I suggest you begin with the capital city of Ljubljana. Buy the Ljubljana card, priced at CA$50-70 from 1-3 days, and take advantage of its benefits which include a free bus ride, guided city tours, and admission to over 20 attractions in the city.
You may visit Slovenia all year round as it is a country with summer activities as fun as winter activities; May to September has dry and warm weather best for beach and outdoor activities, while December to March is for the winter bucket list.
15. Albania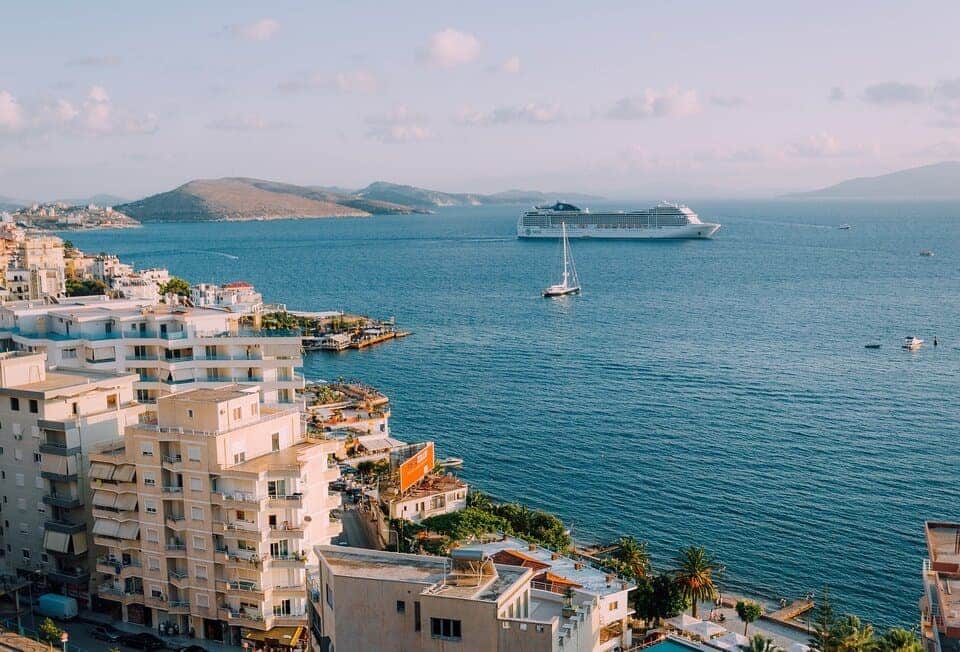 Albania is the one if you're looking for something affordable, less crowded, and a paradise microstate where you can easily spend your holiday vacations!
When you visit the country, you'll say hello to the locals' warm welcomes, beautiful coastlines, Ottoman architecture, rolling mountains, and taste the most popular liquor, raki, in each city.
Start with Tirana, the backpacker's budget paradise where you can enjoy free or cheap attractions like ancient castles and ruins; the Albanian Riviera, where you can experience Albania's sandy and pebble beaches; the southside Berat city, "the city of thousand windows," to experience the historical grandeur of the Ottoman architecture for free.
Spend your holidays in Albania for a week with the perfect weather in June, July, and August without any problems.
What is the Cheapest Way to Fly to Europe From Canada?
There are many ways you can find the cheapest ways to fly from Canada to Europe. It sometimes requires you a little bit of research, flexibility, and effort, so here are some of them:
Capitalize on the cheap flights available from Canada to European countries. Some of the significant hubs for low-priced international flights are Ireland, Iceland, London, France, Belgium, and the Netherlands, and from there, travel by land to and from European countries.
Configure your price alert system on any flight booking app for price drop notifications.
Fly on a Wednesday or Thursday, which are the cheapest days to fly in Europe.
Plan and book your European vacation three months in advance to get the lowest flight rates to Europe.
What Are the Most Expensive European Countries to Visit?
Contrary to the 15 cheapest European countries to visit introduced above, here are the 15 most expensive European countries in terms of the overall cost of living, including food, transportation, and going out, whereas you need to be financially prepared before visiting them.
France
Denmark
Switzerland
Iceland
Norway
United Kingdom
Italy
Ireland
Luxembourg
Sweden
Netherlands
Belgium
Finland
How to Save Money While Traveling to Europe
International travel can be costly, but it can also be cheap depending on how much time and effort you have poured into the research and planning stage, and if you're looking for a way to save money while traveling in Europe, here are some excellent points to take in.
Choose cheap European countries to visit. Research, plan your itinerary, and try out the 15 cheapest European countries to visit listed above as alternatives to the expensive ones.
Find the cheapest flights. Finding the lowest flight rates means booking the flights as early as possible and comparing the flight fares from different flight booking apps.
Stay in cheaper hotels/hostels. Always consider alternative lodging, and never go for the crazy-overpriced hotels.
Find discounts. Research off-season travel to a specific European country to get the best deals on both flights and hotels or accommodations.
Take public transportation. Instead of renting a car or using taxis, take advantage of Europe's efficient transport links at an affordable price. There are also numerous walkable cities in Europe, so you should put money into comfortable and well-made shoes.
FAQs
What is the cheapest currency in Europe?
Five of the cheapest currencies in Europe include the Hungarian Forint (1 CAD = 255 HUK), Icelandic Krona (1 CAD = 104 ISK), Albanian Lek (1 CAD = 75.81 ALL), Serbian Dinar (1 CAD = 80.19 RSD), and Macedonian Denar (1 CAD = 42.14 MKD).
What are the cheapest European countries to live in?
The cheapest European countries to live in are those boasting scenic landscapes, like Portugal, Bulgaria, Romania, Hungary, and Serbia.
What is the cheapest country in Europe to study in?
Whether you're taking a bachelor's degree, master's, or Ph.D., the cheapest countries in Europe to study are Slovenia, Portugal, Greece, and Germany.
What is the cheapest city to fly out of in Europe?
Some of the most affordable cities to fly out of Europe are Dublin in Ireland, Paris in France, Naples, and Milan in Italy.
What is the cheapest month to travel to Europe?
The cheapest months to travel to Europe are the winter months, like October, November, December, January, February, and March.
Related: