We travel to escape work stress, have fun, and ease our minds. Still, even if you have traveled many times, unexpected travel problems can get frustrating.
To not stress about it any longer, remember that planning and organizing correctly is essential, and one way to do it is to utilize many smart trip-planning apps.
But don't worry; I have you covered as I listed the 15 best trip-planning apps for your next travel adventure!
Key Takeaways:
Some of the best travel planner apps on the market are Wanderlog, TripIt, TripAdvisor, and ViaHero.
Hopper, Kayak, Skiplagged, and Airbnb are some of the best free trip-planning apps.
The recommended apps for an epic road adventure are Roadtrippers, Sygic, and Hotel Tonight.
Best Travel Planner Apps
1. Wanderlog
If you want a trusted travel planner app where you can visualize your itineraries and your optimized routes in just a single map view, Wanderlog is the top choice! Whether traveling solo, road-tripping with your family, or going on a holiday with friends, Wanderlog is perfect for all types and numbers of travelers.
This fantastic app has many functional and remarkable features which you can utilize for hassle-free travel. Some of these are importing reservations of your hotels and flights, getting the most optimized route to save you gas, and personalized suggestions of some of the most popular places within your itineraries. If you're traveling with your friends, you can sync and collaborate with them in real-time.
On top of those great features, you can enjoy the 'Freemium' plan at no cost with access to all essential features or the 'Pro Annual' at a rate of $49.99/year with additional features like offline access, automatic gmail scanning and transferring of booking reservations, and a lot more.
Pros
With expense tracker
Collaborative itineraries
User-friendly with offline access
Cons
Slow customer support
Confidentiality concerns
Constricted destinations
2. TripIt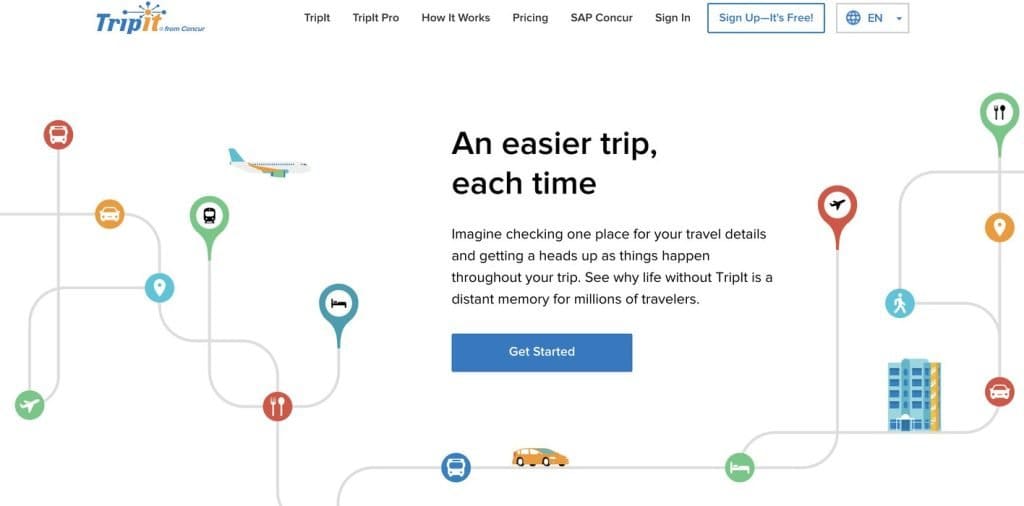 If you're one of those travelers relying on your screenshots or inboxes, save your time scrolling and try TripIt Pro.
Nothing beats TripIt when it comes to organizing your travel plans— from flights, accommodations, and car rentals to wherever you need to be at what time, you can have the most optimized trip with travel deals, quick reminders, and real-time alerts popping up!
TripIt is free, but if you want to upgrade to features like airport alerts and reminders, flight and seat trackers, and interactive airport maps with walking directions, avail TripIt Pro for $49 annually.
As one of the best trip-planning apps featured by the New York Times, Forbes, NBC, and Wall Street Journal, TripIt is a must-have for family getaways, especially if traveling internationally for business.
Pros
Free 30-day trial for TripIt Pro
With flight updates
Flexible booking
Cons
Incorrect alerts and trip details
Bombarded with notifications
Functionality deficiency
3. Roadtrippers

An adventure using the road trip planner app, Roadtrippers will never be bumpy and dull as you can unlock millions of hidden gems and unique places inside the US and Canada.
Roadtrippers is the ultimate travel app that will recommend engaging outdoor activities, perfect places to camp, off-center sights and attractions, and even the area's renowned restaurants, hotels, and shopping districts. If you're out of gas and need one, Roadtrippers can tell you where the gas stops.
The free app allows you to create and set up your road trip to seven waypoints and increase it up to 150 when you avail of the Roadtrippers Plus for $29.99 annually. With the premium ad-free version, you'll get more than what you paid for, where you can access offline maps, live traffic movements, and custom trails on your RV, plus amazing deals.
Pros
RV-supported
Customize planning
Live traffic jams
Access to offline maps
Cons
Ample coverage of destinations
Faulty flight information
4. Packing Pro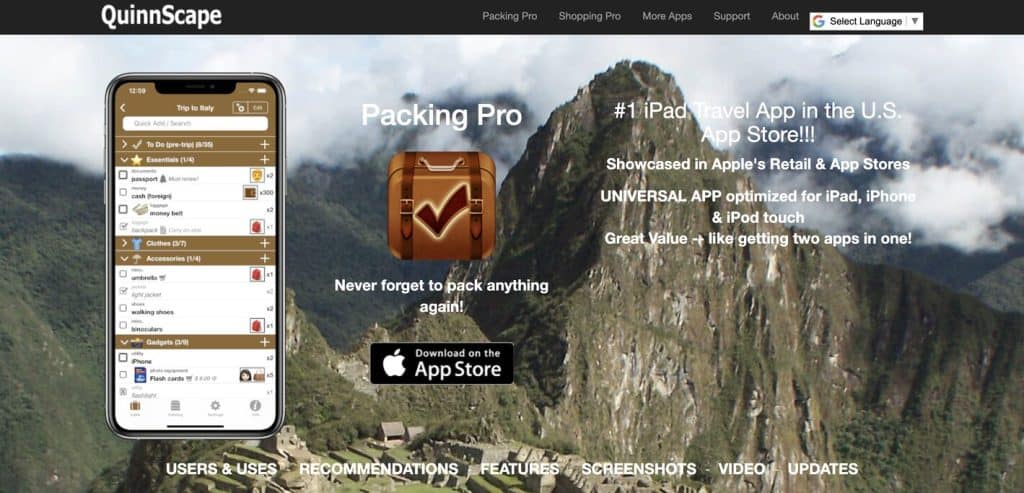 When you keep forgetting some things or items when you travel, I bet the #1 travel packing list assistance app, Packing Pro is what you need!
The Packing Pro app lets you list infinite numbers and lengths, either from the hundreds of items in their catalog or building your own. It doesn't just allow you to create a single list but allows multi-person lists. Hence, it's a perfect app for individuals or groups, and you can customize its look by incorporating your design.
What's more interesting is that this app is so beneficial it is recommended by various media like Forbes, The New York Times, Business Insider, Condè Nast Traveler, USA Today, CNN, and many more.
Pros
User-friendly interface
Customizable list
Huge database for items
Cons
Paid access to more themes
5. TripAdvisor
A guest review-driven planning and booking app, TripAdvisor is the go-to app to book everything under one roof— from cruises, flights, hotels, car rentals, road trips, and restaurants.
Aside from available booking features, TripAdvisor is also known for its stories, listicles of the best things to do, most popular tours and activities, and trending destinations talked about by most people.
Pros
Deep quality reviews
Real photos uploaded
Loaded with travel information
Cons
Not-so-advanced booking website
Infiltration of some fake reviews
6. Sygic
Sygic is a state-of-the-art GPS navigation app that hundreds of millions of drivers use worldwide. It's different from your standard navigation tools like Google Maps or Waze because the app lets you experience a first-rate 3d mapping program of extended reality.
Subscribing to Sygic Premium+ for only $18.99 annually provides incredible features like offline 3D maps, car mirroring connectivity of real-time navigation, lane assistance, and speed assistance.
Pros
Offline access capability
User-friendly
Voice-guided directions
Cons
7. ViaHero
ViaHero is the most unique and best trip-planning website you must try when exploring a city or a country with a different culture. Here you get the chance to meet a local to act as your travel agent, tour guide, and local fixer and get the best-of-the-best local experience.
So, how does ViaHero work? In ViaHero, you will choose a local planner and message him about your interests and preferences. Then, fill out the travel preferences checklist for the best recommendations for activities, food, and custom itineraries. Since locals know the way around the city, it's an excellent way to save time and money.
The cost of one-on-one custom travel planning with locals amounts to $40 per travel day, including the planned daily itinerary, unlimited messaging with the local ones, Google map with pins, and massive support on booking stays, activities, and food.
Pros
Authentic local experience
Convenience
Quality of local travels
Cons
Some heroes may be unreliable
Offered to limited countries worldwide
Best Free Trip Planning Apps
8. Hopper
Hopper is one of the best travel planning websites where you can claim tons of savings! There's $65 savings on flights, $61 on hotels, at least $40 off on trending flash deals, a $30 voucher for first-time bookings, $100+ on referrals, and so on.
Some of the unique and spot-on features of the app are the Price Freeze which can hold prices before you complete your transaction, and Price Prediction giving you 95% confidence in prices to predict the future.
You can also join the Carrot Cash program to receive rewards and discounts on your bookings.
Pros
Great customer service
Great predicting and freezing prices
Price alerts for flash deals
Cash reward system
Cons
Hidden fees
Poor customer service
9. Kayak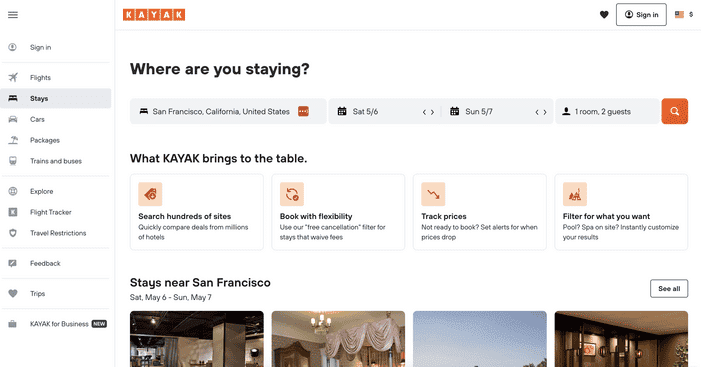 Kayak is one of the most excellent free travel planning apps where you can find deals, offers, and prices from hundreds of internet travel websites. It's like a one-stop shop for all your travel bookings, including hotel stays, flights, and car hires, making your travel efficient and hassle-free.
More than a booking website, Kayak can also manage your travel bookings by providing status alerts, especially on flight prices, so you'll receive a go-signal when it's the best time.
Pros
Comparison of prices from various websites
Available price trends
Helpful filter searches
Cons
No loyalty program for discounts
Not booked directly to Kayak
10. Hotel Tonight
No free hotel booking app offers the finest last-minute hotel deals other than the top-rated Hotel Tonight. Having been featured in many trusted news websites like The New York Times, CNBC, Forbes, and Wired, the application shows value and quality for hotel bookings in the nick of time.
The app's search interface is plain and simple, where you just have to directly input your destination and dates, with the default date shown as "tonight." Then, the list will show you rooms from various hotels ranging from basic, solid, hip, and luxe categories.
Hotel Tonight also features Daily Drop, where they reveal their most recent available hotel discount for 15 minutes. You can toggle on the 'Watch This Search' to receive emails on pricing updates about your prospect's city or country.
Pros
Last minute offers
Great hotel discounts
Customize accommodations
Cons
Narrow booking window
No loyalty rewards
Inefficient cancellation policies
11. Skyscanner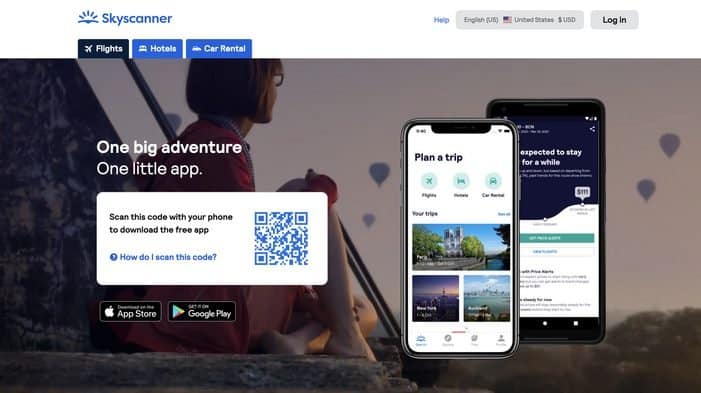 Much like Kayak, Skyscanner is also one of the best free trip planning apps, which can scour through all top online booking websites like Expedia, Booking.com, Oyo, and Agoda to find the best and cheapest rates on flights, hotels, and car hires.
Using Skyscanner is simple: choose your target destination, dates, and the number of travelers. If you're only considering direct flights, check the box at the bottom of the search box; the same goes for a 3-star or 4-star.
The app can help you save time on researching and money on cheap deals, and you can cancel your bookings anytime for free if you want to.
Pros
Price notifications
Reliable Offers
Superb search engine
Cons
Limited Customer support
Hidden charges
Less detailed information about hotel and car rentals
12. Loungebuddy
If you have experienced disorderly flight cancellations, delays, and misconnects, you can't help but get stressed out with the long waiting and overcrowded terminals! But with Loungebuddy, you can discover, book, and relax in peaceful airport lounges while waiting for your flight.
To find the best lounges, simply download the app, find your airport, and pick from the available lounges listed. Once you have selected the suitable lounge, enter your card information, and voila! You may now proceed to the location of your chosen lounge and present the confirmation code.
The lounge has free food, charging stations, Wi-Fi, and maybe an accessible shower. On top of that, Loungebuddy supports worldwide coverage with affordable costs ranging from as little as $20 and averaging $50-$75, including all associated fees and taxes.
Pros
Convenience
With complete reviews and detailed information
Guaranteed access
Cons
Mobile application only available on iOS
13. Airbnb
Airbnb is a widely known rental platform app where you can find rental places for literally anything — from hostels, houses, private rooms, and lofts to off-the-beaten-track ones like resort villas, boathouses, cabins, and treehouses.
You'll love the clean and sophisticated look of both Airbnb's website and app plus, the booking process is pretty simple, search and check the availability of the listings by inputting dates and number of travelers, and scroll through to find the best suitable accommodation for you.
Pros
Plenty of options
See-through calendar booking
Available cheap accommodation prices
Cons
Hidden fees
Ample customer support
Inconsistent quality of accommodations
14. Skiplagged
Skiplagged is owned by frequent travelers, so they know our financial struggles as travelers, thus the creation of the app.
Skiplagged is a game changer in the online booking world, which lets you find the cheapest airline and hotel rates like no other, stashing 50% or even 80% off of the prices.
The app is entirely free and is known to introduce the "hidden-city flight," where you can get off at the layover city or country rather than the booked destination. Although proven effective, this has some cautions to remember.
Pros
Expert in finding budget-friendly flights
Itinerary flexibility
Cons
Little customer Support
Mishaps in airlines coordinations
Narrow flight options
15. Rome2Rio
If you got stuck in one unfamiliar place anywhere in the world and need help getting to another, Rome2Rio is your knight in shining armor! Whatever transportation mode is available, the app can search and provide you with multimodal routes making it one of the best free trip-planning apps for backpackers.
The app is straightforward; Just type in your origin and destination, and it will display all travel options, either by car, train, bus, or ferry, with their estimated prices and the travel duration.
Pros
Detailed travel information
Access to local transport information
Cross price checking
Cons
Limited language available
Real-time data problem
Insufficient travel planning and personalization
FAQs
Is there an app that will plan the trip for you?
Yes, there are many available trip planner apps in the market. Still, Wanderlog is considered the best app overall for detailed trip planning. Aside from that, it's free and perfect for any trip, whether solo, family, or group travel.
Can Waze plan trips?
Waze can plan a scheduled trip or drive from point A to B. However, it doesn't support a single trip with multiple stops, nor can it make an organized trip over several days at different destinations.
Does Google Maps have a route planner?
Yes, Google Maps has a flexible route planner. Simply add your starting and final destination and more destinations or stops to make a route for directions.
What is the cheapest way to plan a trip?
There are many ways to plan your cheapest trip, including traveling off-season, looking for the cheapest flights and hotels, and planning your trip accordingly using various travel planner apps and websites.
Related: