The windy city of Chicago in Illinois is one of the most vibrant metropolises in the United States and is one the ideal vacations for all types of travelers.
It is renowned for its world-class museums, stunning architecture, cultural diversity, delicious food and drinks, sports enthusiasm, and fun-filled activities.
Some iconic landmarks worth exploring are the Willis Tower, Millennium Park, Navy Pier, and United Center Stadium while tasting the classic Chicago hot dogs and deep-dish pizzas.
Some world-class museums you must visit are the Art Institute of Chicago, the Field Museum, and the Museum of Contemporary Art.
If you're considering visiting Chicago but need help figuring out what to do while there, this list of the 45 best things to do in Chicago should help.
Key Takeaways:
Some of the best free things to do in Chicago include visiting the unique parks of Garfield Park Conservatory, Grant Park, Humboldt Park, Millennium Park, and Navy Pier.
If you're bringing your kids to Chicago, the best attractions are the Field Museum, United Center, Adler Planetarium, Shedd Aquarium, Museum of Illusions, LEGOLAND Discovery Center Chicago, and Brookfield Zoo.
Some top things to do in Chicago for couples are experiencing a Lake Michigan Skyline Cruise, visiting the Green Mill For Late-Night Jazz, and watching a Broadway Show at Chicago Theatre.
Try out unique and unusual things to do in Chicago, like a pizza tour, kayaking at the Chicago River, watching shows in Chicago Magic Lounge, and exploring the Medieval Torture Museum.
The best things to do in Chicago in winter include ice skating, curling, and witnessing the Mile Lights Festival and Tree Lighting.
Best Things To Do in Chicago For Free
1. Garfield Park Conservatory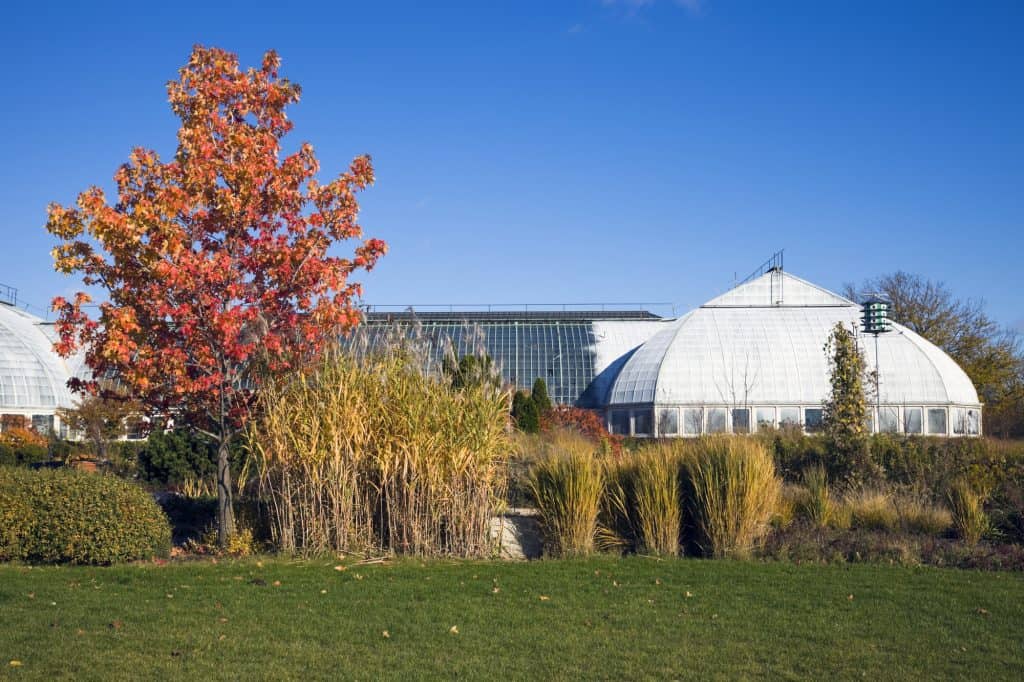 The Garfield Park Conservatory in Chicago is 4.5 acres of a botanical garden must-see for nature lovers.
Explore the luscious indoor and outdoor gardens for free, admire rare and exotic plant species from across the world, stroll around the themed gardens, or join one of the many events and workshops held throughout the year.
You can take advantage of taking pictures of the breathtaking Palm House with its towering palms or the tranquil Monet Garden inspired by the French Impressionist painter Claude Monet.
For visitors of all ages, the conservatory also provides guided tours and educational activities.
2. Stroll Through Humboldt Park
Delight yourself in nature by strolling through Humboldt Park's many roads and trails while taking in the breathtaking scenery of lovely trees, flowers, and wildlife.
Rent a bike or try lagoon fishing if you want to exercise, and for refreshments, try having a picnic with friends or family at the boathouse.
Remember to check out the park's many attractions, such as the magnificent Pergola and the illustrious Humboldt Park Field House.
3. Shop at the Magnificent Mile
As you stroll the Magnificent Mile, visit luxury shops like the American Girl, Macy's, and the LEGO Store at Water Tower Place while admiring Chicago's skyline.
Visit luxury shopping outlets like Louis Vuitton, Gucci, and Prada, and stop by one of the many eateries and cafés.
With so much to see and do on the Magnificent Mile, wear comfortable shoes to enjoy world-class shopping.
4. Millennium Park
Begin your adventure in Millennium Park Chicago by visiting Millennium Park's Lurie Garden with lovely seasonal plants and flowers.
Another worth seeing is "The Bean," the Cloud Gate sculpture where you can walk beneath the statue and take photos of your reflection on the mirrored surface.
Finally, cool off in the Crown Fountain's two LED towers displaying Chicagoans' faces where kids can play in the towers' water. Remember to take a photo at the fountain before you go!
5. 606
The 606 Chicago Trail is a 2.7-mile elevated trail built on an abandoned railroad line where you can walk, jog, or ride your bikes along the route, featuring public artworks, gardens, and access points to nearby parks.
The trail serves Wicker Park, Bucktown, Humboldt Park, and Logan Square.
Year-round events and programming, such as fitness classes and guided tours, are also available to visitors in 606.
6. North Avenue Beach
North Avenue Beach is one of Chicago's most popular beaches, where you can enjoy numerous free activities while taking a breathtaking view of the metropolitan skyline.
Some of the best outdoor activities include swimming in Lake Michigan, relaxing on the sand, playing beach volleyball, or biking along the lakefront route.
There is also a skate park and a playground for children to enjoy at the shore.
7. Signature Lounge
Signature Lounge is a popular destination for stunning views of Chicago's skyline on the 96th floor of the John Hancock Building.
While admittance requires a minimum payment, you can enjoy the views for free by ordering a non-alcoholic drink or a modest snack.
Take in the breathtaking landscape, take some photos, and soak in the ambiance of this historic location, all while trying out their famous cocktails, extensive wine list, and exceptional food.
8. Lincoln Park Zoo
Lincoln Park Zoo is one of the country's oldest zoos and a must-see for visitors looking for free things to do in Chicago.
The zoo houses over 1,000 animals, with notable exhibits like African Savanna, Regenstein Small Mammal-Reptile House, and the Pritzker Family Children's Zoo you can explore.
The zoo also provides free daily educational programming and special events throughout the year, so take advantage of seeing some incredible creatures for free!
9. National Museum of Mexican Art
The National Museum of Mexican Art in Chicago is the country's largest Latino cultural organization.
You may learn about Mexico's dynamic and diverse history, art, and culture through its permanent collection of over 10,000 items and changing exhibits that present modern and traditional works by Mexican and Mexican-American artists.
Among the highlights are a beautiful collection of folk art, bright fabrics, and an outdoor sculpture garden.
Cultural events, educational activities, and workshops are also available to experience.
10. Chicago Cultural Center
The Chicago Cultural Center hosts a variety of free art and cultural exhibitions, concerts, lectures, film screenings, seminars, and other events.
Check to visit the gorgeous Tiffany Dome, the largest in the world, and the lovely Preston Bradley Hall.
Take some time to explore the art galleries, which showcase contemporary and historical pieces worldwide.
11. Busy Beaver Button Museum
At the Busy Beaver Button Museum, you can investigate an intriguing collection of buttons showcasing various designs, messages, and historical events.
Begin by exploring the displays, discovering the stories behind each icon, and taking a picture with the giant button outside the museum.
A Busy Beaver Button Museum tour would only be complete with trying out the museum's button-making machinery to create your custom button.
Additionally, you can shop for one-of-a-kind buttons to add to your collection or to present as gifts.
12. Navy Pier
Navy Pier is a Chicago tourist must-see with many attractions, shops, restaurants, and bars.
Walk around the pier to see Lake Michigan and the city skyline, and explore the Chicago Children's Museum, Ferris wheel, carousel, and miniature golf course perfect for families.
If you want something cultural, visit the Chicago Shakespeare Theatre to watch classic or contemporary plays or IMAX to experience watching a movie on a larger screen, with higher resolution and immersive sounds.
13. Historic Water Tower
Start your trip to the Historic Water Tower Museum with a guided tour to learn about the tower's past and role as a symbol of Chicago's strength.
You'll find displays highlighting the city's growth and development, including images and artifacts from the Great Chicago Fire of 1871.
Check out and take pictures of the building's Gothic design and decorations and the astonishing area views from the top of the tower.
14. Harold Washington Library Center
The Harold Washington Library Center has an outstanding architectural design and is a must-see if you enjoy books, history, and culture.
After you've had a chance to explore the various floors and locations, proceed to the museum on the 9th floor, which features a variety of exhibitions about Chicago's history, architecture, culture, rare artifacts, and manuscripts.
Make sure to visit the 3rd-floor maker lab, where you may experiment with technology and develop your ideas.
If you want to read or study quietly, the library has plenty of pleasant seating and study rooms.
15. Grant Park and Buckingham Fountain
There are many free activities in Chicago at Grant Park since it is where most famous landmarks in Chicago are located.
You may stroll or bike through Grant Park while taking in the gorgeous environment, visit Millennium Park to see the iconic Bean, attend free concerts and events, and explore the many art pieces at the Art Institute of Chicago.
Grant Park is a great place to enjoy a picnic with friends or family while taking photos with the beautiful Chicago skyline in the background.
For the best experience, Buckingham Fountain is a favorite place to sit and watch the incredible water display, particularly on summer nights.
Best Things To Do in Chicago For Kids
16. Visit the Field Museum
Exploring the Field Museum is one of the best things to do in Chicago for kids, where they can discover a lot of historical artifacts, dinosaurs, and groundbreaking science.
The museum connects you to the human story and natural world and has a wide range of interactive exhibits from 3D movies of dinosaurs, plant medicines, first kings of Europe to perspectives on death and life, etc.
The regular ticket price for a basic all-access admission with 3D movies is $43; the discovery passes at $37, and the basic entrance at $30.
You also have the option to take the field all-access pass with admissions to the Field Museum and three other attractions of your choice.
The Field Museum is open daily from 9 AM – 5 PM and has featured events occasionally, so visit their calendar to get updated.
17. View a Sports Event at the United Center
Heads up, sportlovers! Chicago is a big sports city where you can watch various games for American team sports like basketball, hockey, soccer, baseball, and football at the United Center Stadium.
To watch a sports event at the stadium, check the schedule on their website, purchase tickets directly from the site, and arrive early on the day of the game as gates open 90 minutes before the start of the game.
Nothing beats the enthusiastic crowds of Chicago, so be prepared to cheer up alongside other fans at the arena.
18. Watch a Movie at Alamo Drafthouse
If you're looking for a unique movie-watching experience, Alamo Drafthouse is the perfect Chicago escapade for you and your family!
What's unique about Alamo Drafthouse is that you can order food and drinks from your seat, and they strictly implement the no talk, no text policy to avoid distractions during the movie.
To watch a movie at Alamo Drafthouse, visit their website to check the available movies, and buy tickets priced at $29.99 per month directly from the website.
19. Explore the Adler Planetarium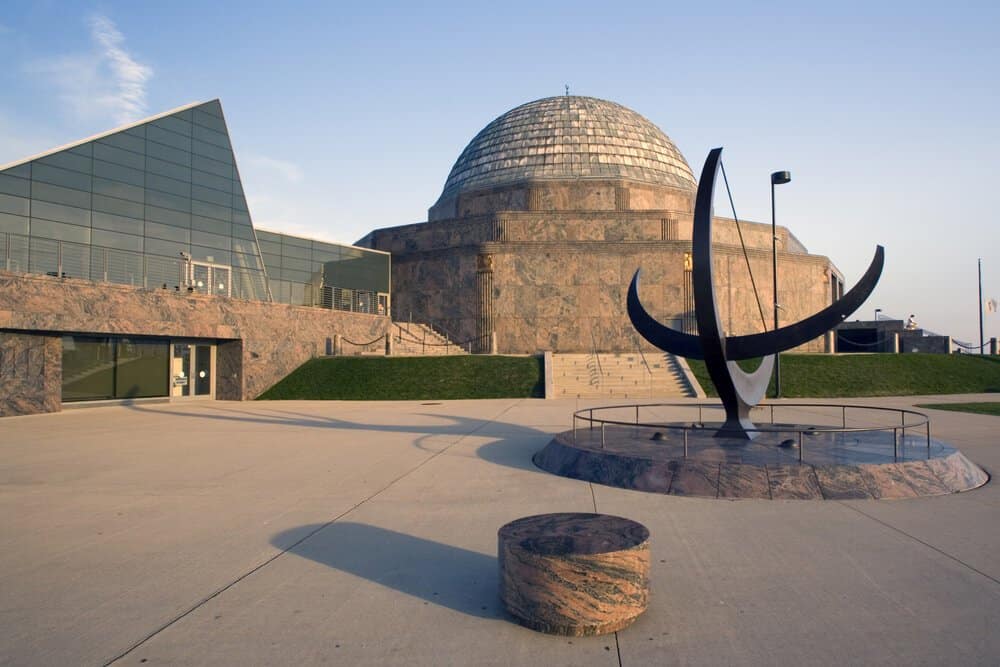 Visiting the Adler Planetarium is one of the best things to do in Chicago for kids, as it is a world-renowned interactive museum dedicated to astronomy and astrophysics that kids enjoy.
The best parts of the Adler Planetarium visit are the Doane Observatory which contains the largest telescope in the state, the famous Sky Show, where you can observe a realistic view of the universe under the iconic dome, and a relaxing meal at the Cosmic Cafe.
You can avail of the basic Star Pass, an all-access, unlimited entry ticket at $65 per head and $180 (2 adults + all children 17 years old and below).
20. Visit the Morton Arboretum
If you want something peaceful and refreshing, visiting the 1,700 acres public garden of Morton Arboretum is a must-try activity in Chicago.
The Morton Arboretum has several exhibits, a tree collection, maze gardens, walking and hiking activities, and many children's interactive programs.
They even offer educational and botanical events perfect for families and nature lovers on how to protect trees.
The Arboretum is open 365 days a year from seven in the morning until sunset, priced at $12 for adults, $11 for seniors, $9 for children, and free for infants. You can book a specific day of visit through their website.
21. Museum of Contemporary Art
If you want to learn about the history of Chicago and its contemporary art and culture, visit the Museum of Contemporary Art.
The Museum of Contemporary Art is one of the world's most prominent contemporary art museums, showing over 2000 exhibits and living artists' artworks, including painting, photography, video, performance art, and sculptures.
22. 360 Chicago Observation Deck
360 Chicago Observation Deck is one of the most popular destinations for tourists in Chicago, situated on the 94th floor of the John Hancock Building, which gives you stunning panoramic views of Chicago's skyline and Lake Michigan.
One specific thrilling attraction at the 360 Chicago Observation Deck is the Tilt experience, where you'll step onto a glass platform that tilts outward from the building 1030 feet above the ground.
There are a variety of ticket options for 360 Chicago Observation Deck, including:
General Admission – $30/adult, $20/youth
Tilt and View – $39/adult, $29/youth
Sip and View – $41.50/adult
Sip, Tilt, and View – $50.50/adult, $35.50/youth
23. Shedd Aquarium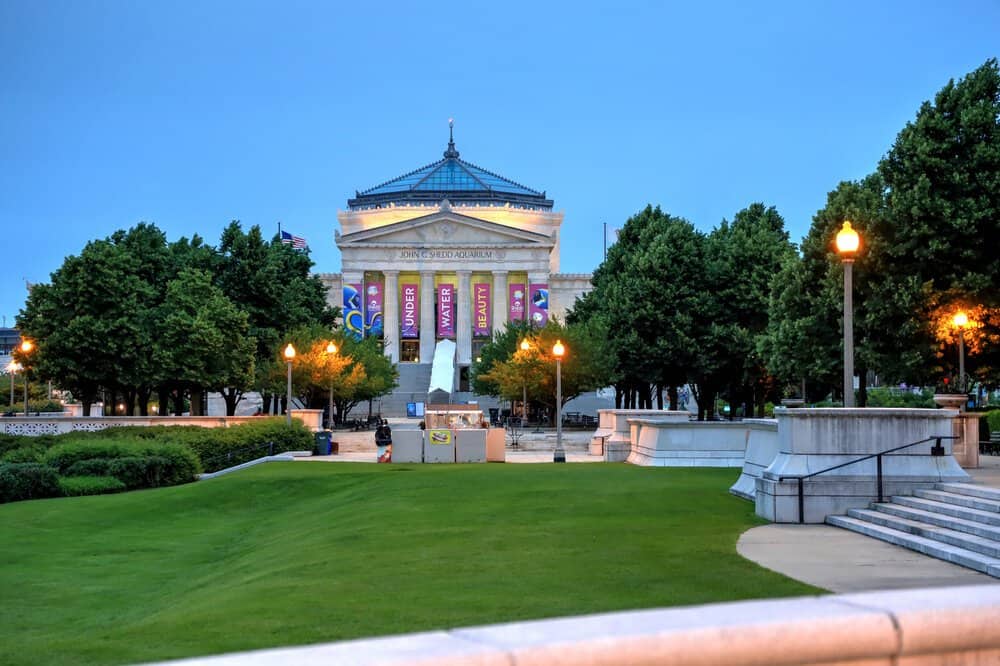 The Shedd Aquarium is one of the best water parks, which features a vast collection of marine life, including fish, sharks, dolphins, sea otters, and more, and is recognized by the International Union for the Conservation of Nature's Species Survival Commission as a Center for Species Survival.
Some of the main highlights of the guided tours are Caribbean Reef with green sea turtles, Oceanarium Amphitheater for animal spotting and chatting with animal care experts, Wild Reef with sharks, and many more.
Admission to the Shedd Aquarium is included in the tour purchase, where prices are offered at $75 for adults, $65 for children, and $60 for members six and older.
24. Museum of Illusions
If you're up to being fooled with your eyes, then try the Museum of Illusions in Chicago and explore their exhibits of classic and never-before-seen illusions.
You can take pictures with illusion rooms like the tilted room, vortex tunnel, and reversed room, the installation illusions like the cloning table and head on the platter, and many more illusions on images like holograms and optical illusions.
The cost of admission to the Museum of Illusions is $24.00 for an adult age 13 and above and entirely free for children ages four and below.
25. LEGOLAND Discovery Center Chicago
LEGOLAND is one of the top kids' attractions with an indoor playground consisting of rides, 4D cinemas, LEGO play zones with lots of LEGO bricks, and much more.
Some of your LEGOLAND visit highlights are seeing all Chicago landmarks come to life in Lego bricks in miniature versions, the Lego Race VR experience, and Kingdom Quest.
There are various ticket options you can choose from, including:
Standard admission – $25.99/head
Admission + Lego Collectible + Digital Photos – $35.99/head
LEGOLAND Discovery Center + Peppa Pig World of Play – $40.99/child
Admission + Digital Photos – $30.99/head
There are also available annual passes which you can check here.
26. Brookfield Zoo
Brookfield Zoo is not just an ordinary zoo where you can see and interact with animals like gorillas, giraffes, penguins, big cats, great bears, zebras, reptiles, and birds; it is also a place where you can adopt an animal to support their program.
The Zoo also offers a lot of fun events and activities like Earth Day, Concerts for a Cause, ZooBrew, ZooRun, Oktoberfest, Boo! at the Zoo, Tree Trim, and a whole lot more.
The tickets are $29.95 for adults, $24.95 for seniors, and $20.95 for children aged 3 to 11.
27. Chicago Children's Museum
Your kids will surely enjoy and widen their creativity by playing at the Chicago Children's Museum with their fun interactive activities, educational exhibits, and various special programs.
Some of the children's museum's popular exhibits are the Art Studio, where they can make their digital map using various text, images, and symbols; the Pritzker Playspace, where they can create their small imaginary world; and the Tinkering Lab, where they can act as scientists and build their mini flying machines, and a lot more.
Children and adults are charged $19/head, and booking online through their website is highly recommended.
Top Things To Do in Chicago For Couples
28. Visit the Green Mill For Late-Night Jazz
Green Mill is the perfect club for you if you're a jazz lover and prepared to stay up late!
Green Mill is one of the most romantic jazz clubs in Chicago, perfect for couples because of their vintage decor and incredible jazz musicians that can make you deeply fall in love with the music.
Check out the club's schedule to be updated with the live music events and when your favorite musicians will be playing.
29. Watch the Chicago Symphony Orchestra
If you enjoy music and can listen for two hours, consider watching the Chicago Symphony Orchestra consisting of the best conductors with international guest artists.
The orchestra performs hundreds of concerts yearly ranging from classical to contemporary music and has been recognized by the Grammy Awards for its recordings.
Ticket costs for different shows start at $30/head and can reach up to $300/head.
30. See a Show at the Second City
Known for its comedic performances, the Second City is one of the best options if you're looking for a fun night out in Chicago with your partner.
Several regular shows are running in the theater showcasing improv and sketch comedy, and classes and workshops if you're interested in learning the craft.
The ticket prices are based on your seat, $29 for value seats, $39 for general admission seats, and $59 for premium seating in the house.
31. Visit the Art Institute of Chicago
The Art Institute of Chicago is one of the largest yet oldest art museums in Chicago, with over 300,000 artworks, from ancient ones to contemporary pieces.
Some of the highlight artworks from thousands of collections are "Water Lilies" by Claude Monet, "American Gothic" by Grant Wood, and "The Old Guitarist" by Pablo Picasso.
General admission to the Art Institute of Chicago is $14.00 per head. If you want to bypass the general admission line and have exclusive access to non-ticketed galleries and exhibitions, sign up as a member and pay $29.00.
32. Experience the Lake Michigan Skyline Cruise
Trying out the Lake Michigan Skyline Cruise is one of the romantic things to do in Chicago for couples to enjoy the beautiful views and iconic architecture of the Chicago skyline.
Some popular cruises are the Shoreline Sightseeing Architecture River Cruise, a romantic Odyssey Lake Michigan Dinner Cruise, and the Spirit of Chicago Lake Michigan Lunch Cruise.
Be sure to book in advance online to make reservations.
33. Watch a Broadway Show at Chicago Theatre
If you're looking for something to ignite your night in Chicago and are a big fan of Broadway, watch a live Broadway show at Chicago Theater!
Some popular Broadway shows performed at the Chicago Theater are Hamilton, Aladdin, The Lion King, Dear Evan Hanse, and Wicked.
If you're interested in watching a Broadway show at the Chicago Theater, check the schedule on their official website and buy their tickets for as low as $24.
Unusual Things To Do in Chicago
34. Join a Chicago Pizza Tour
Want an unusual way to get to know Chicago? Join a public Chicago Pizza Tour! On this tasty trip, you'll learn about the city's unique pizza culture and try some of the best slices in town.
You'll learn about the background and development of pizza in Chicago and see the different styles for yourself, from deep dish to tavern-style.
35. Kayak on the Chicago River
Kayaking on the Chicago River is a unique and fun way to see the city's most famous waterway.
Paddling through downtown provides a fantastic view of the city's architecture and landscape, featuring notable monuments such as the Willis Tower and the Wrigley Building.
The river is quite tranquil, making it suitable for people of all ability levels, and several outfitters provide kayak rentals and guided tours.
Some of the best Kayak Tour companies you can inquire about include Urban Kayaks, Kayak Chicago, and Wateriders.
36. Walk the Midway Plaisance
Take a peaceful stroll along the Midway Plaisance, a historic parkway connecting Jackson and Washington Parks with lush foliage, playgrounds, and plenty of open space for outdoor activities, making it a perfect spot for a picnic with friends.
You can also visit the nearby Museum of Science and Industry or the University of Chicago campus for an immersive experience.
37. Run, Walk, or Cycle the Bloomingdale Trail
If you want to explore the Bloomingdale Trail and have an unforgettable outdoor experience, decide whether to run, stroll, or cycle.
Walking is a terrific exercise where you can take time, admire the surroundings, and stop for photos.
Running is also a great option if you feel extra energized and get tremendous aerobic exercise while enjoying the fresh air and stunning scenery.
Cycling may be a good option if you want a more intense workout. As you ride through the gorgeous path, you'll cover more land and increase your heart rate.
38. Go On a River Cruise
Every couple should take a Chicago River cruise with a professional tour guide and see the Willis Tower, Navy Pier, and Chicago Tribune Building from the Chicago River while learning the city's history, architecture, and culture.
Besides the river cruise, Chicago has several romantic activities, like visiting the Art Institute of Chicago, Millennium Park, or a city theater. Alinea and Girl & the Goat, two of Chicago's top restaurants, provide distinctive dining experiences.
Enjoy a romantic stroll around Lincoln Park or Wicker Park along the riverside to end the night.
39. Explore the Medieval Torture Museum
The Medieval Torture Museum in Chicago offers a chilling look and interactive exhibit of medieval torture featuring 40 torture displays like the rack, iron maiden, thumbscrew, and guillotine.
The Medieval Torture Museum is a must-see for history buffs and grim human nature enthusiasts, explaining the social and cultural conditions that led to torture.
You can experience the largest interactive torture museum at $39.97, which includes a torture museum, ghost hunting, and an audio guide.
40. Watch Shows in Chicago Magic Lounge
Chicago Magic Lounge offers a beautiful night out where you can drink or eat with friends while watching intimate performances and new works from top magicians.
The Lounge is immersive, where you may feel part of the show by interacting with the magicians, watching close-up magic, and exploring the venue's secret tunnels.
With many magic shows to choose from, pick your shows of interest and book your tickets starting from $30 through their website.
Best Things To Do in Chicago in Winter
41. Go Ice Skating
Ice skating is one of the best free things to do in Chicago in winter because of the array of beautiful ice skating rinks in the state.
Some of the best and most highly-rated ice skating rinks are Maggie Daley Park Ice Skating Ribbon, Mt. Greenwood Park, and Millenium Park, which give you a breathtaking view of the downtown city skyline.
Rinks are open from November to March, so reserve ice skating sessions by booking reservations online.
42. Grab Drinks at a Winter Rooftop Bar
Although rooftop bar season is year-round, nothing beats the cozy feeling of drinking inside the heated domes of rooftop bars with fire pits while looking at the Chicago skyline and Lake Michigan.
Some of the best winter rooftop bars are Winter Wonderland at I/O Godfrey, Offshore, J Parker, and Roof on the Wit, a hot spot for Hollywood celebrities.
You'll surely enjoy cocktails in one of these rooftop bars, as each gives you a different theme and vibe.
43. Go Curling
Curling has been one of the most popular winter sports in Chicago in recent years, and there are multiple curling clubs and facilities you can try.
One of the most popular curling clubs you can try applying as a member is the Chicago Curling Club, with four sheets of ice and fully-equipped facilities like locker rooms, a kitchen, a dining area, and a comfortable viewing area.
For a more fun experience, try other curling clubs like Windy City Curling Club, Kaiser Tiger, The Gwen Hotel, and the East Bank Club.
44. Magnificent Mile Lights Festival
The Wintrust Magnificent Mile Lights Festival is one of Chicago's most popular two-day winter festivals with parades, floats, marching bands, holiday lights, live performances, special events, and fireworks.
The best part of the Mile Lights Festival is a million lights turned on for the lighting ceremony after the parade, drawing thousands of tourists yearly.
45. Watch the Tree Lighting
Another must-see winter event in Chicago is the Chicago Christmas Tree Lighting Ceremony which features a 60-70 ft.-tall Norway spruce decorated with lights and ornaments open to the public in Daley Plaza.
During the Tree Lighting Ceremony, you can enjoy live music performances and many holiday-inspired activities.
Ensure to arrive early at the ceremony to get a great spot, as it can get crowded close to the main event.
FAQs
What is the most popular thing in Chicago?
Chicago is well-known for its architecture, particularly the downtown towers of Willis Tower (originally Sears Tower) and the John Hancock Center. The city is also known for its deep-dish pizza, distinguished by its thick dough and abundant layers of cheese and tomato sauce, including popular pizza joints such as Giordano's and Lou Malnati's.
Is 2 days enough for Chicago?
You may explore some of Chicago's most well-known sights in two days, like the Willis Tower and Millennium Park. There may need to be more than the time allotted to thoroughly explore all the city offers, including its numerous exciting neighborhoods, museums, and culinary alternatives. In the end, it relies on your interests and travel priorities.
What food is Chicago famous for?
Deep-dish pizza is Chicago's most popular food with its thick crust, unique tomato sauce, and plenty of cheese. Chicago's iconic all-beef hot dog is topped with yellow mustard, chopped onions, bright green relish, a dill pickle tip, tomato slices, and sports peppers on a poppy seed bun.
Where is the best area to stay when visiting Chicago?
The ideal neighborhood to stay in Chicago is primarily determined by what you intend to do and see during your visit. Staying in the Loop or Near North Side areas might be a fantastic choice if you want to explore the city's cultural attractions. For a more relaxed atmosphere, consider vacationing in Lincoln Park or Lakeview neighborhoods close to the city's parks and beaches.
Related: