When winter arrives in Europe, North America, and Canada, landscapes are covered with snow, creating an icy playground perfect for skiing and snowboarding.
If you are visiting with family or friends who cannot ski due to age restrictions, certain health conditions, or inexperience, there are a lot of other activities available, like snowshoeing, snowmobiling, gondola rides, etc.
If you want to have fun exploring ski resorts beyond skiing itself, here are the best ski resorts for non-skiers!
Key Takeaways:
The best ski resorts for non-skiers are in Canada, Colorado, Utah, Switzerland, and France.
Some of the best ski resorts for non-skiers are Whistler Blackcomb, Aspen Snowmass, Park City, Jay Peak, Chamonix, Breckenridge, and Vail.
Some of the best activities for non-skiers to do on ski resorts include snowshoeing, ice climbing, sledding, snowmobiling, snow tubing, and gondola rides.
Best Ski Resorts for Non-Skiers
1. Whistler Blackcomb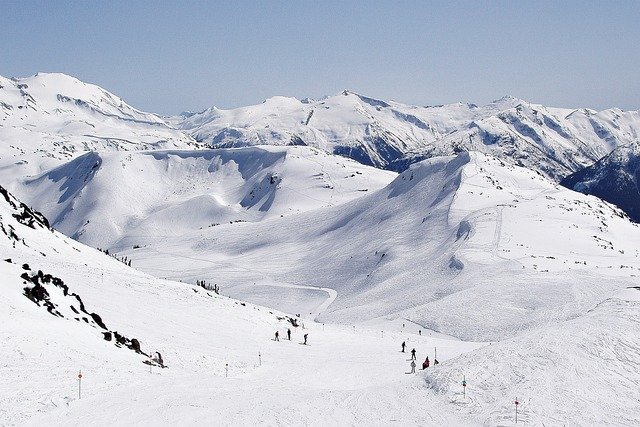 Nothing beats the largest ski resort in North America, Whistler Blackcomb, located in British Columbia in Canada and happens to be one of the best ski resorts for non-skiers for tons of adrenaline-pumping activities. With its two mountains standing tall at 1,530 meters and covering an expanse of 8,171 acres, this snowy paradise provides ample opportunities for adventure and breathtaking scenery.
Aside from skiing, people explore snowshoeing through the beautiful snowy landscapes, approximately 11-minute gondola rides with 360-degree panoramic views, ziplining, and trail hikes. Mad adventures are also worth a shot with snowmobiling, 4×4 off-road adventure, dog sledding, and more.
2. Aspen Snowmass
Colorado is among the best ski towns for non-skiers, with Veil, Breckenridge, Telluride, Crested, and especially Aspen. Aspen Snowmass, with a beautiful view of Elk mountains, is the go-to for most non-skiers because of their recreational ventures like snowshoeing, dog sledding, snowmobiling, ice skating, and a bunch of dining and shopping options too.
Aspen Snowmass is well known for hosting various events and festivals that attract Hollywood celebrities. These include the Annual Food & Wine Classic, featuring chefs and food experts worldwide; the Winterskol, a celebration of mining and ranching traditions; and the X Games, which showcase thrilling winter sports and numerous music festivals.
3. Park City
Near Salt Lake City in Utah is the beautiful ski destination, Park City, boasting a picturesque historic town with not just one but two world-class ski resorts, the Deer Valley Resort and Park City Mountain Resort, both having excellent powder snow playgrounds.
It is one of the best ski resorts for non-skiers, where you can engage in various activities. You can participate in ice skating, snowmobiling, skijoring, and snow tubing, and even enjoy a world-class indie film festival in January. Additionally, a ride called Alpine Coaster takes you around Park City, like riding a roller coaster but on snow with loops and curves along the way.
4. Jay Peak
Jay Peak Resort is a four-season resort near Vermont right at the Canada-US border, but it shines out the most during winter because of its top-rated one-of-a-kind activities. They are well-known for their Aerial tram and the indoor water park, which is quite unusual for the cold months.
Since Jay Peak is also located in the farther north, with fewer people and more trees, you can enjoy winter activities like ice skating, snowshoeing, and fat biking much better.
5. Vail Ski Resort
The Vail Ski Resort in Colorado is one of the largest ski resorts in the world, offering engaging activities galore perfect for winter family vacations for non-skiers. The resort has a massive 5300 skiable acres and 8100 feet high elevation, which is incredible for many winter recreational activities.
It provides one of the most memorable Colorado winter vacations for non-skiers like snow tubing, ice skating, snowmobiling, and winter ziplining, the longest in North America. Moreover, you can attend festivals and events like the most prestigious snowboarding competition, the Burton US Open Snowboarding Championships, and the 10-day Snow Days Festival.
6. Mont Tremblant
Mont Tremblant is one of the best ski resorts in Quebec, Canada, running along four mountainous landscapes with varying skiing difficulties. Although it is a central hub for skiing in the region because of the striking scenery of snowy forests, lakes, and snow-capped mountains, it is also a significant hub for enjoyable non-ski winter activities.
These include public ice skating, snowshoeing, dog sledding, mountain biking, horseback riding, snowmobiling, and mountain biking. After a prolonged, tiring activity, you can relax in the Scandinavian spas like the La Scandinave Spa for some self-pampering.
7. Taos Ski Valley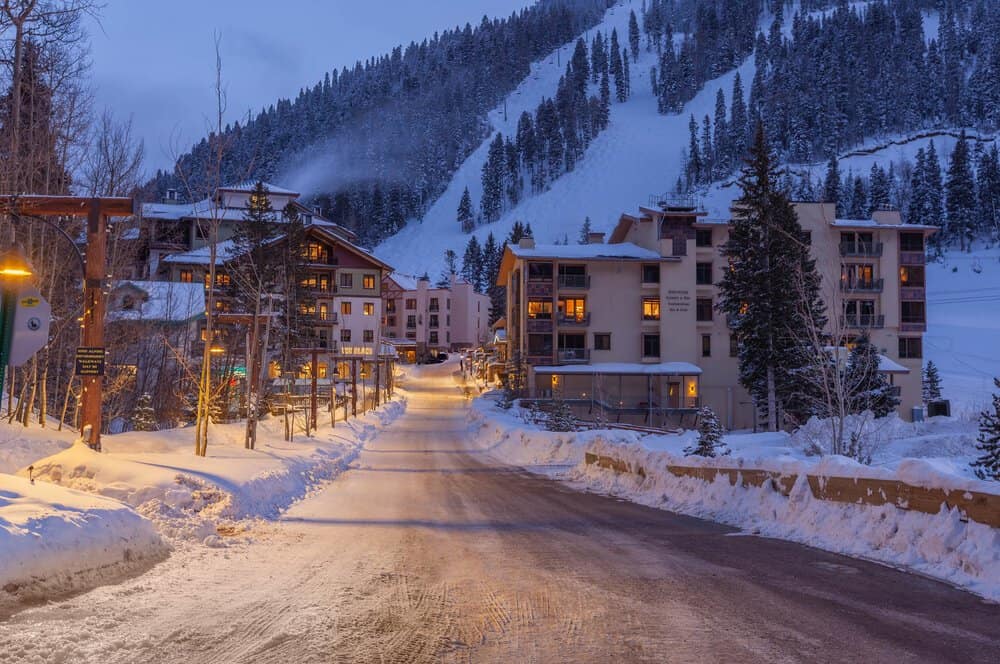 Taos Ski Valley is a small, charming village in the Sangre de Cristo mountains of New Mexico with rugged, steep, and challenging terrains, a popular choice for high-level or expert skiing. In Taos Ski Valley, you can try various unique and fantastic winter activities like hot air balloon rides, snowshoeing, ice skating, mountain biking, hiking, sledding, and tubing.
Taos Ski Valley also offers calm and inviting vibes where you can try bathing in one of the geothermal hot spring pools at Manby Hot Springs or Stagecoach Hot Springs.
8. Breckenridge
The historic and picturesque downtown of Breckenridge in Colorado is a hotspot for many non-ski activities in Colorado, and you can bring your family for full-blast winter entertainment! It may have one of the most epic skiing locations in the region, especially since it offers Nordic night skiing and the unique winter sport of horse skijoring.
The world-class Breckenridge Resort is one of the best ski resorts for non-skiers, where you can try out other things aside from skiing, such as snowshoeing, dog sledding, ice skating, snowmobiling, fat biking, scenic snowcat tours, and sleigh riding. There is also a lively and epic city to explore during winter with its many events, activities, and festivals, accompanied by galleries, cafes, restaurants, and boutiques to discover.
9. Stowe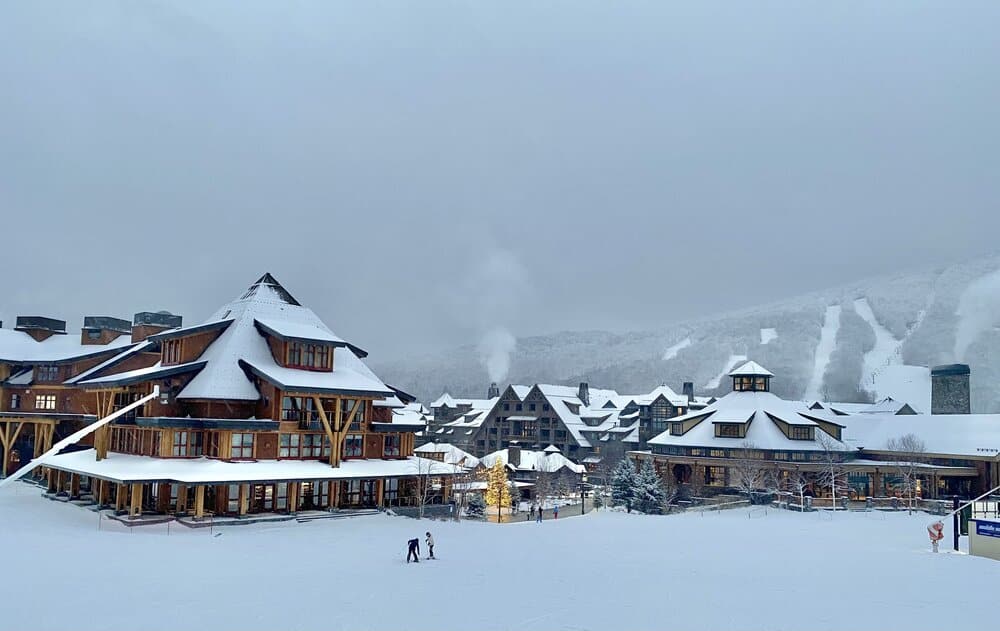 Despite being a small village, Stowe is a popular winter destination in Northern Vermont, United States, offering many winter activities for relaxation and enjoyment. The Stowe Resort, the "birthplace of skiing in Vermont," attracts visitors to the quintessential Vermont setting with green mountains and 400+ acres of ski-able terrains.
Beyond skiing, this ski resort is also one of the best ski resorts for non-skiers. You can take gondola lifts, go on snowmobile tours, explore the Smugglers Notch on foot, or witness thrilling snow derbies that host America's longest-running ski races. Additionally, there are breweries, cafes, and craft shops to explore during your visit.
10. Zermatt
Zermatt, at the foot of Matterhorn in Switzerland, is a prime destination for ski lovers because of its unique heliskiing, where skiers are transported to the top of the mountain through a helicopter instead of a ski lift. Into the bargain, it is also one of the best ski towns for non-skiers because of the drop-dead gorgeous and breathtaking forest and valleys perfect for winter activities like hiking, snowshoeing, ice skating, sledding, and the child-friendly toboggan run down the hill.
A few sites are worth visiting, including the Zermatt Alpine Museum, Zermatt Observatory, the hand-carved Glacier Palace, Zermatt Christmas Market, or simply roaming around the city of Zermatt. Dining is also a great winter leisure activity, like dining at Igloo's Village Ice Restaurant and eating at their cozy cafes and gourmet restaurants with mood-boosting vibes.
11. Chamonix
Regarding world-class skiing in south-eastern France, Chamonix town in the French Alps is the most talked about because of its unparalleled and dramatic snow-covered mountainous system.
It's easily accessible to Switzerland and Italy, the original ultimate winter holiday destinations, and what makes it even more interesting is it has some of the highest mountain peaks in all of western Europe, the Mont Blanc and Aiguille du Midi.
In addition to alpine skiing, it is also one of the best winter destinations for non-skiers in Europe because of the variety of winter recreations available. Indeed, you'll get your ultimate winter holiday vacation with ice climbing, dog-sledding, snowshoeing, trying the Aiguille du Midi cable car bringing up vertically to the highest ascent in the world, or dining at Restaurant 3842, the highest restaurant in France.
12. Lake Louise
Lake Louise becomes a top-tier destination as winter arrives in Banff National Park, located in Western Canada. The stunning beauty of the Rockies is enhanced by the arrival of white snow as many individuals who enjoy skiing are drawn to the resort situated near the lake known as Lake Louise Ski Resort and Summer Gondola. This resort offers an expanse of terrain spanning 4,200 acres, making it ideal for a wide range of winter activities.
Given the winter resort is multi-awarded with world-recognized titles like World Ski Awards Winner 2022, 2018 World's Best Family Ski Resort, and Tripadvisor's Traveler's Choice Award, you can do more than downhill skiing! There are single-day lifts, 14-minute gondola rides, snow tubing solo or with friends, and snowshoeing at the most perfect vantage points of the resort.
What Can Non-Skiers Do at Ski Resorts?
These days, ski resorts offer more than skiing and snowboarding. They have reasons for reducing congestion on the slopes, increasing their earnings, creating a welcoming environment, and providing options for non-skiers needing to learn to ski. Let's explore some of the ski resort activities that non-skiers can enjoy.
Scenic gondola rides
Snowshoeing
Snowmobiling
Ice skating
Sledding
Ziplining
Cross-country skiing
Snow tubing
Snowcat tours
Ice climbing
Fat tire biking
Spa treatments
Dining
Shopping
FAQs
Which ski resort in France is best for non-skiers? 
The best ski resort in France for non-skiers is the Chamonix, with over ten winter sports activities and several spas to relax if not into sports. Les Gets, Tignes, Avoriaz, and St. Moritz are other worth-trying ski resorts. 
What is the easiest place to ski? 
Colorado is known for having some of the best ski resorts in the world, particularly Snowmass and Breckenridge. These resorts offer a skiing experience with small slopes, convenient lifts, and excellent ski instructors to help you improve your skills.
What is skiing without snow called? 
So many terms are used to call skiing without snow – ski simulators, artificial snow, dry ski slopes, and they all mimic the snow material. 
Can you go skiing with no experience? 
Yes, you can go skiing without experience. Start by buying the right gear, start on easy and doable terrains, take skiing lessons, learn the skiing basics, and most importantly, practice.
Related: