Discover Turkey's enchanted paradise, full of fascinating Mediterranean landscapes, healthy cuisine, and UNESCO World Heritage treasures unlike any you've ever seen!
Traveling to Turkey is a "no regrets" adventure because you get to experience a different culture and vibrant lifestyle. Whether you love exploring ancient ruins and breathtaking beaches and springs or immersing yourself in history and culture, Turkey has something for you.
You can start your vacation in the vibrant and lovable city of Istanbul, one of the best places to visit in Turkey for couples. Visit the bustling Grand Bazaar, eat Turkish cuisine, and join a guided tour of Sultanahmet to view well-known architectural wonders such as the Blue Mosque, Hagia Sophia, and Topkapi Palace. Don't miss a boat ride on the Bosphorus Channel, which divides Istanbul into European and Asian sides, to admire the stunning skyline.
But the beauty of Turkey extends well beyond Istanbul. Discover the stunning landscapes of Cappadocia, a UNESCO World Heritage site noted for its ancient rock formations called "fairy chimneys." Many aquatic landscapes are also found in Turkey, such as the crystal-clear waters in Antalya and out-of-this-world travertine hot springs in Pamukkale.
Take a trip to Turkey and explore the endless possibilities. These are the best places to visit in Turkey, whether traveling alone, with a partner, or with family.
Key Takeaways
With breathtaking Mediterranean landscapes and UNESCO World Heritage sites, Turkey provides a singular and culturally rich vacation experience.
Istanbul is a beautiful city for couples, with breathtaking sunsets on the Prince Islands and a breathtaking view from a dinner cruise on the Bosphorus.
Visit historical places, take advantage of the clear waters for swimming, and participate in water sports in Antalya.
Natural turquoise beaches and adventurous sports like paragliding may be found in Oludeniz and Fethiye on the Turquoise Coast.
With lovely beaches, water sports, and a variety of activities for all ages, Marmaris is a welcoming vacation destination for families.
A bizarre terrain, underground cities, and unusual rock formations may all be found in Cappadocia. Tourists can partake in exhilarating pursuits like hot air balloon rides and ATV tours.
Best Places To Visit in Turkey For Couples
1. Istanbul
Many gorgeous destinations and honeymoon spots exist worldwide, but Istanbul has a romantic vibe like no other.
Experience a breathtaking city view from the comfort of your table while enjoying a delicious 3-course dinner and live music on the Bosphorus and Golden dinner cruise. You may also have a refreshing experience with your partner by visiting traditional Turkish baths, an excellent way to kick off your night.
If you're a couple seeking a romantic yet peaceful escape from crowded areas, Prince Islands is a dream come true. The islands are well-known for their elegant vistas and beautiful sunsets from the beach. Take a romantic stroll or bike ride through the picturesque districts, and don't miss out on some of the finest seafood in the country at the island's restaurants.
2. Antalya
Turkey's fifth-largest city, Antalya, is situated on the country's Mediterranean coast and is a well-liked vacation spot, drawing millions of tourists annually. The Antalya Museum, Hadrian's Gate, and the ancient city of Perge are just a few of the city's many historical sites you can explore.
The beaches of Antalya, including Lara Beach, Konyalti Beach, and Olympos Beach, are well-known for having crystal-clear seas and providing chances for swimming, tanning, and water sports. The best time to visit Antalya is between May and September because of the city's warm Mediterranean climate and moderate winters — one of the top destinations in Turkey for romantic getaways in Antalya.
Travel Tip: If you want to visit an even bigger aquarium than the Vancouver Aquarium, go to Antalya Aquarium. It is one of the world's largest aquarium complexes, with 40 specialized tanks and the world's longest underwater tunnel, measuring 131 meters.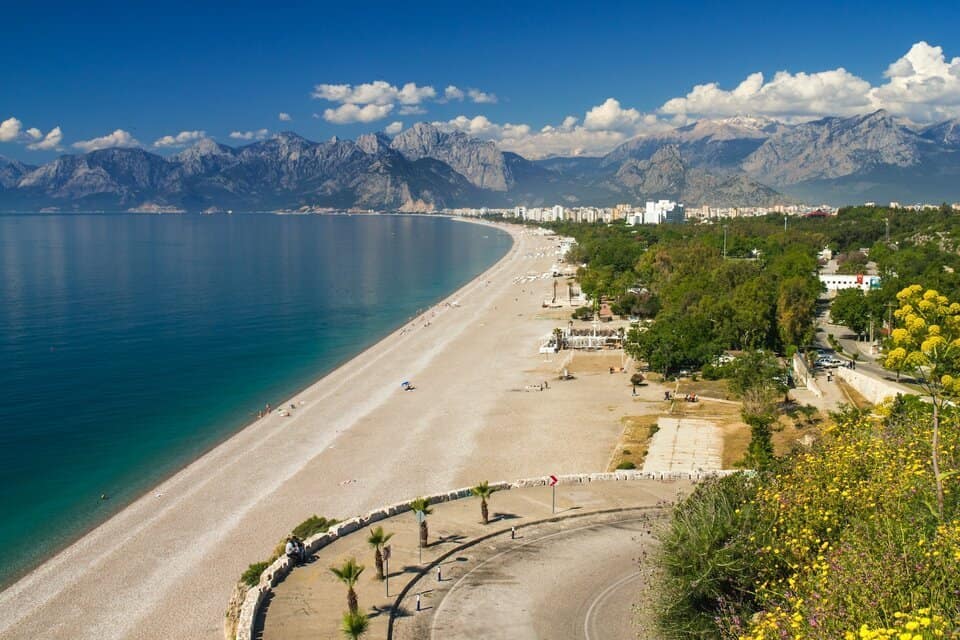 3. The Turquoise Coast (Oludeniz and Fethiye)
Canada's turquoise clear water beaches are primarily located in lakes, and some are artificial. However, if you want to truly experience all-natural turquoise water beaches, travel to the Turquoise Coast of Turkey. Beautiful beaches and crystal clear waters make Oludeniz and Fethiye a highlight, with their clear waters ideal for swimming, sunbathing, and relaxation.
If you want some excitement, you can try paragliding, hiking, or watersports in the area. It's a must to experience paragliding in Oludeniz, which is regarded as one of the top locations in the world to do so. But the Turquoise Coast offers more than just fun in the sun and excitement. Ancient ruins like the Lycian Rock Tombs and Kayakoy Ghost Village are fascinating historical and cultural gems to discover.
Travel Tip: Don't worry if you're traveling with a family; the Turquoise Coast is full of fun, family-friendly activities, including water parks, boat tours, and horseback riding.
4. Marmaris
You can have more than a typical summer vacation in Marmaris, Turkey's most popular resort town! Marmaris is a couple's paradise, where you can enjoy a lot of beautiful beach resorts like Marmaris long beach and Icmeler beach lining up across the blue waters of the Aegean sea. There are many water sports, including banana boats, flying fish, jet skis, and parasailing.
In addition to the town's white sand beaches, you can enjoy views of the mountains at the Marmaris National Park, an archeology museum, and a marina filled with restaurants and shops. If you're on holiday with children, you can visit the Atlantis Waterpark, which has eight slides, wave pools, and many activities.
Travel Tip: A midibus or dolmus (minibus) is Marmaris's most practical and popular public transportation option.
Most Beautiful Places in Turkey
5. Cappadocia
Cappadocia brings you to a completely different world full of adrenaline-pumping adventures. It is one of the most beautiful places in Turkey, famous for its surreal valleys, underground cities, and unique rock formations called "fairy chimneys." Although Alberta, Canada, is known for its lovely Hoodoos, Cappadocia takes the cake for its impressive and breathtaking geological formations. To top it all off, you'll have an endless list of fun activities!
Experience the thrill of gliding over the rock formations of Cappadocia while having breakfast or wine with your family on a hot-air balloon ride. However, it is not the only option to see the beauty of this fairytale scenery; you can also take an ATV sunset tour, a camel ride, a Jeep safari, or a horse ride through Cappadocia's rocky terrain. If you're traveling with children, consider visiting underground cities like Derinkuyu and Kaymakli, where they can have fun crawling through tunnels and passages.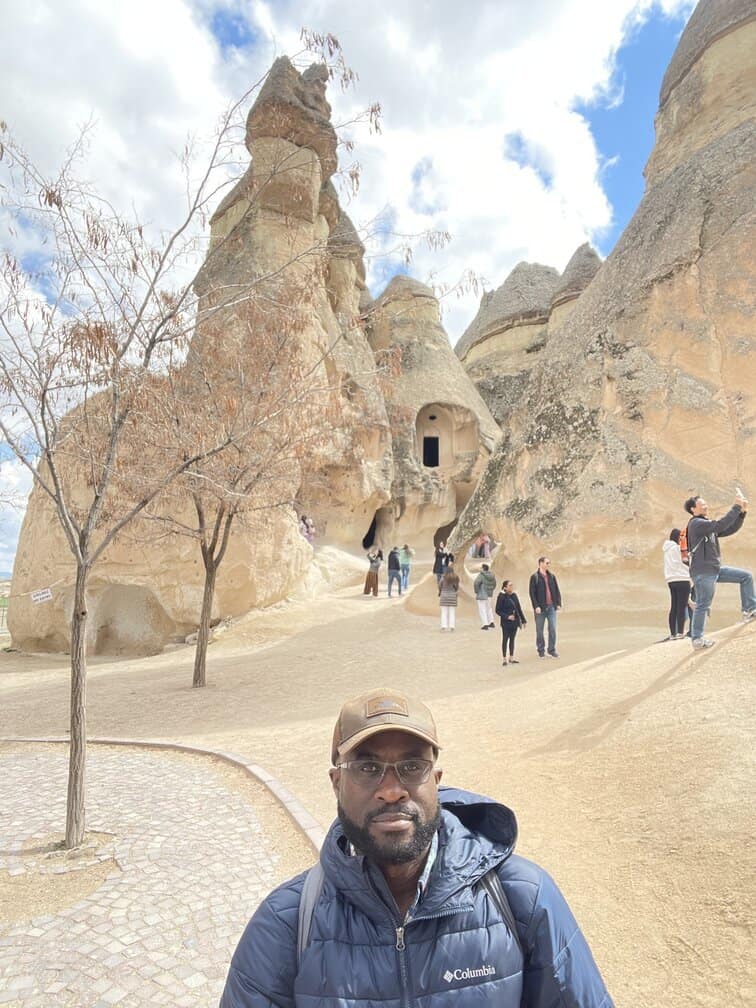 6. Fethiye
Fethiye, Turkey, is a beautiful coastal town with many attractions. The city is surrounded by spectacular natural features like mountains, beaches, and blue waterways, providing good chances for kayaking, hiking, and other outdoor activities.
Fethiye is a must-visit location for history and culture lovers because it is also home to numerous historic ruins and landmarks, such as the Lycian Rock Tombs and the Fethiye Museum. Visitors can also take in the bustling bazaar and waterfront, local food, and the town's energetic nightlife.
This location has something to offer everyone, whether you choose a leisurely or active vacation. It is the ideal location for a memorable and delightful holiday because of its hospitable residents and welcoming atmosphere.
7. Patara
Turkey's Patara offers a variety of activities that will make your trip fun and unforgettable. Visit the Patara Ruins, an old city with a long history and a significant harbor, as your first option. Amphitheaters, temples, and other buildings that offer insight into the city's past can be found among the ruins.
Another activity is to experience Patara Beach, one of the most extensive beaches in Turkey, where you can swim, relax, and observe turtles. Also, you can take a boat ride to discover the hidden bays and coves along the coast.
Travel Tip: Hike around the neighbouring Kalkanli nature reserve for those who enjoy the outdoors to see different wildlife species and uncommon vegetation.
8. Side
Turkey's Antalya area includes the coastal town of Side, where you can choose a variety of attractions and activities. Exploring Side's historic ruins, including the Temple of Apollo and the old amphitheatre, is among the top things to do. Also available for exploration is the quaint old town, which boasts a lively bazaar and historic Ottoman-style architecture.
Beautiful beaches, including the well-known Cleopatra Beach, may be found in Side for those who want a little peace. Also, you can engage in various water sports like paragliding and jet skiing and a leisurely boat cruise around the breathtaking coastline. Finally, foodies can indulge in the regional fare, which features delectable Turkish treats, fresh fish, and classic kebabs.
9. The Eastern Black Sea
Turkey's Eastern Black Sea region offers a remarkable fusion of breathtaking natural beauty, extensive cultural legacy, and delectable regional cuisine. The best things to do in the area include touring the charming towns and villages, hiking through the verdant forests, and admiring the mesmerizing Black Sea views.
Visit the historic city of Trabzon and its Hagia Sophia museum, or travel to the Sumela Monastery, which is positioned on a cliff top overlooking the Altindere Valley and is a UNESCO World Heritage Site.
Trip Tip: Try some of the regional cuisines, such as the traditional cornbread "msr ekmei" or the mouthwatering anchovy dish "hamsi," a specialty of the area.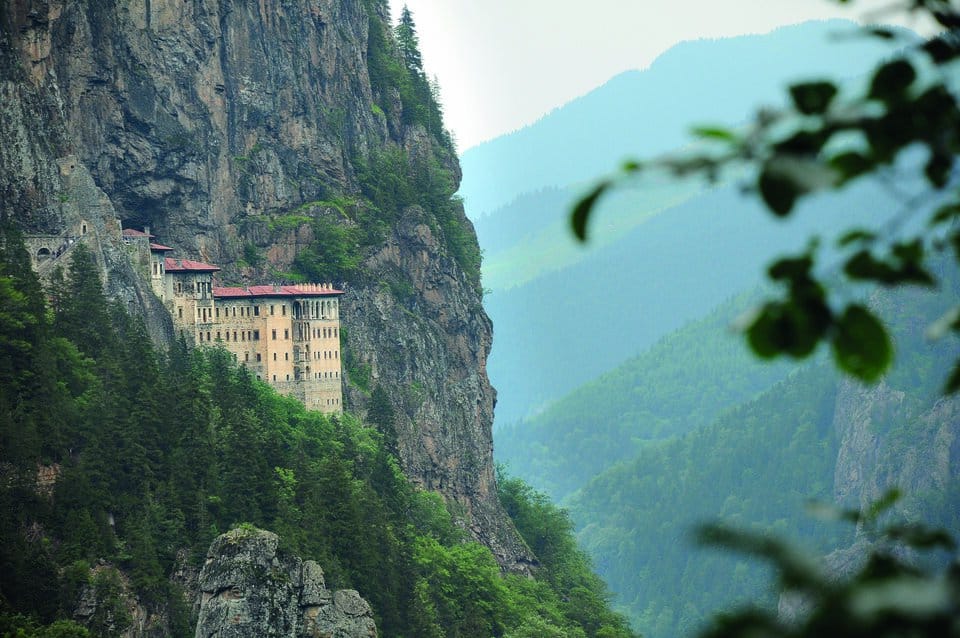 Unique Places to Visit in Turkey
10. Ephesus
Is there anything more unique than wandering through an open-air museum of ancient ruins in Ephesus? In this ancient Greco-Roman city, you can walk through well-preserved ruins, giving the impression of an old Roman classical world. It is both an educational and cultural experience for families as you can discover ancient temples, castles, and other religious structures.
Visit the spectacular Library of Celsus, the third largest library in ancient times, and marvel at the majesty of the impeccably preserved Great Theatre. Last but not least, you must explore the most significant temple in Ephesus, the Temple of Artemis, which was one of the world's seven wonders. No wonder Ephesus is one of Turkey's many UNESCO world heritage sites.
Travel Tip: Visit the "Ephesus Souvenirs" store and pick up some remembrances like statues, glasses, and keychains to remind you of your trip.
11. Kas
Kas is one of those places in Turkey where you will not want to leave once you get there! In Kas, ancient history and modern life merge, which makes it one of the unique places to visit in Turkey. During the day, you can swim and do water activities in the sea, shop in Turkish bazaars, hike, visit ancient sites, and end your day with a drink and meal at cafes and bars.
There's no better place to swim, snorkel, or sunbathe than Kas' Kaputas beach, with its postcard-worthy turquoise water. You can also try the full-day boat tour of Kekova and Sunken City, where you can see underwater ruins of Dolchiste's ancient city and a Lycian shipyard. Ultimately, a trip to Kas wouldn't be complete without diving on Assi island, one of Turkey's best diving destinations, so don't miss it.
Travel Tip: Kas offers canyoning (canyon trekking with climbing and jumping) for those seeking an adrenaline rush and is one of the few places in the world offering this activity.
12. Bodrum
"Hollywood stars' holiday spot" -– In recent years, Bodrum has become a popular destination for international celebrities such as Bill Gates, Kate Moss, Saudi Prince, and soccer star Cristiano Ronaldo. With its beautiful coastlines, abundant luxury beach resorts, and yachts, Bodrum has even been described as the "Next Bali" and "Turkey's San Tropez."
Some of the favorite things to do are scuba-diving, jet-ski adventures, snorkeling, full-day sailing trips, and island boat tours with lunch and drinks perfect for families and couples. Aside from these thrilling boating activities, you can also discover the city's rich culture by visiting the Castle of St. Peter and admiring the Underwater Museum of Archaeology.
Travel Tip: Enjoy Turkish seafood, pizza, and kebabs at Sultan Bahce restaurant for a perfect alfresco dining experience.
13. Safranbolu
One of the unique places to visit in Turkey is Safranbolu, which is home to more than 2000 magnificent Ottoman mansions and several mosques showing their medieval architecture. This UNESCO world heritage site is a must-see for anyone who wants to experience the old-world Turkish culture and lifestyle. To get an authentic taste of Ottoman culture, you must try the famous hammam or Turkish bath, where you can get a full and original Turkish traditional scrub.
Travel Tip: You can hike the Kure mountains to see waterfalls, lakes, and thermal springs if you're in the mood for outdoor activity.
14. Pamukkale
One of the most beautiful places in Turkey is Pamukkale, where you can see sights you've probably never seen before. A magnificent example of this and one of the unique sights to see in Turkey is Pamukkale's crystal-white travertine terraces made from calcium deposited at the mouth of the springs. Not only is it Turkey's most photographed landscape, but you can also soak in the mineral-rich hot spring pools believed to be health-boosting.
It's also worth visiting Cleopatra's pool, which has hot springs and is surrounded by pine trees and ancient attractions. It is a beautiful place to bond with your family since the hot spring pool has shallow sections for kids. If you're interested in something historical, the ancient theater of Hierapolis is one of the main attractions in Pamukkale too.
Travel Tip: September and October are ideal months to visit Pamukkale. The weather is perfect, and the International Pamukkale Music and Culture Festival is also happening.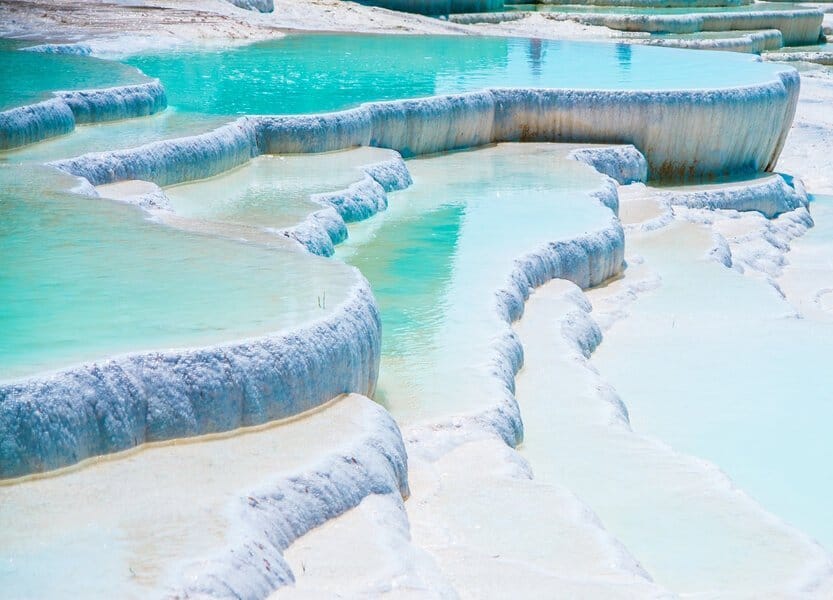 15. Amasra
Amasra is a picturesque fishing town on Turkey's Black Sea coast that offers beaches, boat tours, history, culture, and fantastic food. Among the most notable attractions in town is the Amasra castle, a Roman-era fortress. The palace holds a tremendous collection of relics from the Amasra museum and stunning views of the harbors and the surrounding sea. If you want a more expansive view of Amasra, think about taking a boat excursion around Rabbit Island to see the breathtaking cliffs, rock formations, and diverse flora.
Travel Tip: Want to try some of the best fish and salads in Amasra? Try the most recommended seafood restaurant, Mustafa Ancanin Yeri, with the most beautiful sunset view by the bay, perfect for couples and families.
FAQs
When is the best time of year to visit Turkey?
Travel to Turkey in the spring or fall when the weather is pleasant (March to May or September to November), and the crowds are smaller. You'll also find better deals on hotels and flights during these times.
What is the most beautiful part of Turkey?
Istanbul is considered the most beautiful part of Turkey. It is one of the world's top tourist attractions, famous for its impressive architecture, historic buildings, cuisine, shopping, nightlife, and unique ambiance. You don't want to miss the Hagia Sophia, Blue Mosque, and Topkapi Palace, best viewed from the Old City.
Which part of Turkey should I visit?
The Fairy Chimneys of Cappadocia, truly a gem of beauty in Turkey, is a must-visit. It resembles a fantasy world with its honey-colored rocks and breathtaking scenery. Indulge yourself in the beauty of Cappadocia while riding a hot-air balloon at sunrise or sunset.
What should you not miss in Turkey?
The Pools of Pamukkale in Turkey's Büyük Menderes Valley are a breathtaking site made possible by mineral springs that have been gushing down the mountain for thousands of years. The spring water pools overflow into white travertine basins resembling petrified waterfalls is something you shouldn't miss.