The USA is a country of breathtaking spots, unique beaches, and endless attractions perfect for romantic getaways. Whether you like it peaceful or something outrageous, it won't disappoint!
For instance, there's the coastal beauty of Big Sur in California and the magical city of New York; both included in the most romantic places in the world by Condé Nast Traveller.
From city adventures to beach escapades, these are the best places to visit in the US for couples!
Key Takeaways:
A few of the best places to visit in the US for couples are New York, Hawaii, Florida, Texas, and Arizona.
Some of the best affordable romantic getaways in the USA are in Molokai and Kauai in Hawaii, the Florida Keys in Florida, Santa Fe in New Mexico, and Dallas in Texas.
If you're looking for the best all-inclusive romantic getaways in the USA are Miraval Resort and Spa, Sleeping Lady Mountain Resort, and Little Palm Island.
Best Affordable Romantic Getaways in the USA
1. New York, New York
The "city that never sleeps," New York City is probably the most exciting way to start out your US trip with your partner at any time of the year. Why? It's modern, multicultural, and queerly historical. It contains some of the world's most iconic landmarks like the Statue of Liberty, Central Park, Times Square, the National 9/11 Memorial & Museum, and the Empire State Building.
Unlike any other in the world, the illustrious Manhattan Skyline is something to be crazy about; you can view from the Brooklyn Bridge and the elevated public park, the High Line.
Another reason New York City is one of the best places to visit in the USA for couples is that you can watch popular Broadway shows like The Lion King, Hamilton, Aladdin, Wicked, and many more.
2. Molokai, Hawaii
So what can you find in Molokai? In a commercial sense, not much. No shopping malls, tall buildings, just natural beauty untouched. In fact, there are even no buildings towering over the coconut trees.
Molokai may be the least-visited and most underdeveloped on a tourism scale among the Hawaiian islands. Still, it holds true beauty that you can admire all year round. From romantic water adventures on beaches like Papohaku Beach Park and Kapukahehu Beach to the land activities of exceedingly majestic Kalaupapa National Historical Park and Kapuāiwa Coconut Grove, it's a perfect getaway.
3. Napa Valley, California
If horseback riding with your partner while touring the beautiful vineyards of Napa Valley are something you would consider on an anniversary or weekend date, go head over heels, and never think twice.
Napa Valley is exceptionally a couple's paradise with many romantic things to do and Instagrammable spots to date. There are resorts & spas, inns, and wineries offering romantic couple packages, which generally include a couples massage, romantic dinner at The French Laundry, picnic at Skyline Park, and wine tasting at Sonoma County.
Want something both romantic and distinctive? Try out the Napa Valley Wine Train, where you'll ride a vintage Pullman car and taste Napa Valley's best wine and food while looking at the magnificent landscape.
4. Santa Fe, New Mexico
Santa Fe in New Mexico is a romantic setting for lovers providing many date ideas. You and your partner can watch a performance at the open-air architectural marvel of Santa Fe Opera House with mountain backdrops, ride a hot air balloon flying above the city's canyons, or take a romantic stroll or bike around the Santa Fe Botanical Garden.
More than that, the city is also a hub for arts and culture which you can explore at the Museum of International Folk Art, Museum of Indian Arts and Culture, and Center for Contemporary Arts and Cinematheque.
5. Kauai, Hawaii
There's nowhere else better to experience a romantic tropical getaway than in the Hawaiian outdoors—more so, in the prettiest among the Hawaiian islands, Kauai Island!
Aside from being one of the most affordable getaways in the USA, Kauai offers memorable hiking activities on the Grand Canyon look-alike Waimea Canyon, the Napali Coast, Kalalau Trail, and Hanalei Mountains.
Of course, Hawaii wouldn't be Hawaii if not for the water adventures like swimming at Poipu Beach, Haena Beach, and Polihale Beach; trekking and soaking at Hanakapiai and Wailua Falls; watching waves pumping out of the stones in Spouting Horn.
6. Big Sur, California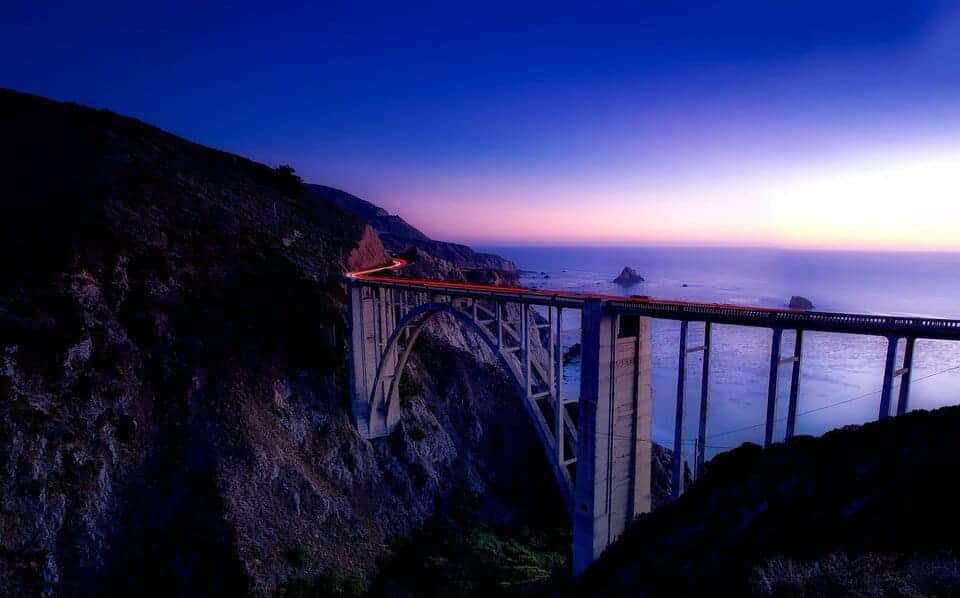 Just five hours away from Los Angeles, California, is Big Sur's picturesque and rocky coastline, perfect for a remote romantic getaway—beautiful ocean lookouts, state parks, mountain ranges, spot-on food, and impeccable hotel resorts.
Two of the most lovely unique attractions during spring or winter is the Pfeiffer Beach which turns purple due to the manganese deposits from adjacent hills, and the Bixby Bridge, with a spectacular view of the hills and the coastline.
To see more of Big Sur, head over to the Pfeiffer Big Sur State Park to witness a lot of flora, fauna, and historic structures; Point Sur State Historic Park for some hike and nice lunch with a view; and Julia Pfeiffer Burns State Park to witness the majestic 80-ft waterfalls.
7. The Florida Keys, Florida
The sunshine state of Florida is a treat of beautiful nature and exciting adventures. Go kayaking through the mangroves, riding a hydro bike together, seaplane riding, scuba diving, parasailing, and watching the sunset at Mallory Square.
But more than nature, especially the ocean waters, Florida Keys is a walk of art and history. You can get completely lost in the past at the Old Town Key West, the Ernest Hemingway House and Museum, the Audubon House and Tropical Gardens, and Duval Street.
8. Cannon Beach, Oregon
If you want an unspoiled picturesque beach experience where you can get excellent surfing lessons, Cannon Beach is the place to be!
You can walk along the sandbars and be amazed by the renowned 253-ft Haystack Rock, have a night camp, or put on your full wetsuits and surf at Cannon Beach or Indian Beach.
There are the Ecola, Hug Point, and Oswald State Parks to witness the incredible rhythmic waves hitting the rugged rock formations; the Coaster Theater to watch entertaining performances; And have a spa treatment experience at the Elements by the Sea and the Cannon Beach Spa.
9. Martha's Vineyard, Massachusetts
Martha's Vineyard is a perfect couple getaway from downtown Massachusetts where you can find seaside cliffs, gingerbread houses, and pristine beaches— from rocky and pebbled ones to sandy, wetland-like ones.
Here you can experience romantic biplane MV rides from Katama Airfield, a romantic walk along Lucy Vincent Beach, and watch the Menemsha sunset from the beach. Martha's Vineyard also lets you experience the best European-inspired delicacies and a taste of terrific artwork at the Mytoi Japanese Garden and Oak Bluffs Arts District.
10. San Francisco, California
You've probably recognized San Francisco for the Golden Gate Bridge, but there's more to that in this full-packed city! To get a glimpse of what to explore, the best way to start your date and admire the city is to ride a hop-on hop-off extensive bus sightseeing tour or the city's iconic cable car or trolley.
Some of the top worthy date ideas include riding a bay cruise by boat at San Francisco's waterfront, wandering around California's Central Park-equivalent Golden Gate Park, or watching a world series game or a concert at Oracle Park.
You may also ramble around the former military prison of Alcatraz or climb up the Twin Peaks to get the best panoramic view of San Francisco.
If you're a couple who are foodies, grab some authentic, delicious food and a little shopping at Fisherman's Wharf, San Francisco's Chinatown, or Ferry Building Marketplace. Visit the "Golden Gate City" any time of the year except from November to March, when rainy days are persistent.
11. Dallas, Texas
Howdy lovers! If you want some tremendous southern cuisines, arts, culture, and unique city attractions, they say everything's bigger in Texas. You can start off admiring the 360-degree views of Dallas on top of the ball-like structure Reunion Tower, explore the Sixth Floor Museum showcasing John F. Kennedy's life up to his assassination, or wander around Dallas Arboretum and Botanical Garden.
With countless museums in the city, museum hopping is a pretty fantastic date idea, too—from Perot Museum of Nature and Science, Dallas World Aquarium, and African American Museum of Dallas to the art haven of Crow Museum of Asian Art, Bishop Arts District, and Dallas Museum of Art.
12. New Orleans, Louisiana
Food, arts, culture, and jazz music? It sounds like a pretty exciting date adventure awaiting you in New Orleans, Louisiana! Popular spots to indulge in some restaurants, music, and bars like locals are French Quarter, Frenchmen Street, and Magazine Street.
I bet you'll also love exploring the city's historical roots at the New Orleans Museum of Art, National WWII Museum, and Museum of the Southern Jewish Experience. Finally, end your trip by riding the Algiers Ferry for a relaxing and fantastic city view.
Make sure to experience everything from mid-February to May to catch on to Louisiana's event of the year, the Mardi Gras Festival!
13. Sedona, Arizona
Imagine making romantic memories around the red rocks of Sedona—spectacular! In the world-class Sedona, everything you'll do involves a sight of red rock formations and canyons best viewed during the ber months.
Start your day by taking in the red hues of Sedona by hitting the hiking trails at the red rocks like the Courthouse Butte Loop and Slim Shady Trail, shopping at the cobblestones marketplace of Tlaquepaque Arts and Crafts Village, scavenger hunt on Devil's Bridge trail, or picnic at Slide Rock.
To complete your day, watch the sunset at Cathedral Rock and have a romantic dinner at Mariposa Grill. Then grab your outdoor blanket and head out after dark to stargaze the most romantic constellations.
14. Amelia Island, Florida
The island, named after the daughter of King George II, Princess Amelia, is a rewarding getaway of untouched and calm nature for couples during spring and summer.
Take a chance to experience unique activities like horseback riding at Florida's coastline and swim, picnic, or stroll along the shops of the beautiful seaport village Fernandino Beach, and take on the Florida golf courses on the oceanfront.
Nothing would be more romantic and extra special than taking your partner on a date on Amelia River Cruises, such as the Cumberland Tours and the Adult Twilight BYOB Cruise, with live music while taking in the breathtaking views of Amelia Island.
15. Nantucket, Massachusetts
For an iconic and romantic holiday vacation, you can't say no to Nantucket! It may be small, but more than a day trip to the island is needed.
As an island tourist destination, water activities would be plentiful—sailing excursions, fishing, whale watching, and seal cruises. There are also the pristine sand drift beaches where you can surf, especially on the south beaches like Surfside Beach, Madequecham, or Cisco.
You can enjoy biking through miles of bike paths around the island, exploring the museums, and attending Nantucket festivals from April to August. At night you can set up a date at the White Elephant overlooking the harbor and finally spend the night at Wauwinet Hotel.
16. Savannah, Georgia
One of the world's friendliest cities and top visitor destinations in the USA, Savannah is a cozy place in Georgia to date your partner. With a mix of its coastal landscapes and preserved architecture, you will surely be relaxed in the area.
Take a romantic stroll around the green space of Forsyth Park, enjoy a romantic dinner at Savannah Riverfront, or take a day trip to Tybee Island.
If you appreciate arts and culture, go to the Savannah Historic District, Telfair Museums, or watch a performance at Savannah Theatre.
17. Aspen, Colorado
If you can imagine you and your partner skiing or snowboarding together on a romantic winter date, choose the world-class ski slopes of Aspen, Colorado, to make it happen! You can pick four mountain ranges from Aspen Highlands, Aspen Mountains, Buttermilk, and Snowmass.
As one of the best places to visit in the US for couples, you can do more than skiing. Don't think twice about engaging in other activities like snowmobiling, ice skating, and dog sledding during the winter.
But wait, Aspen is not only a good treat during winter but during the warm months too! With camping, fishing, hiking, rafting, and even cliff jumping, you can enjoy Aspen anytime you want.
18, Miami, Florida
When you hear of Miami, Florida, what comes to your mind? Bright sunny weather, relaxation, and beaches! Spice up your relationship by enjoying the heat of the Miami Beach boardwalk on Lummus Park Beach, South Pointe Park Pier, Mid Beach, and the North Beaches.
If you're done with the beach escapades, you can start relaxing in Miami's Turkish-style Hammams and Finnish saunas, which are the world's best, the Soundscape Park to watch movies and live concerts for free, or simply walk along the Miami Riverwalk.
Give your date a blast by riding the hot air balloon or a helicopter to witness Miami's charming aura from a bird's eye view!
19. Nashville, Tennessee
The hometown of Taylor Swift, Nashville, Tennessee is the country music capital of the USA, so expect to see a lot of auditoriums and museums dedicated to country music — the Grand Ole Opry, Ryman Auditorium, Country Music Hall of Fame and Museum, RCA Studio B, and the Johnny Cash Museum. There is even a street dedicated to living musicians, the Honky Tonk Highway; such a lovely melodic date!
Nashville is also nicknamed the Athens of the South because of the Greek-inspired architecture, especially with the Parthenon replica they have that you should pay a visit to.
But wait, they also call Nashville "Nashvegas" because of the variety of bars and casinos scattered in the city. There is even a street dedicated to living musicians, bars, and casinos like the Honky Tonk Highway and Lower Broadway for night partying!
20. St. Simons Island, Georgia
St. Simon Islands is a slice of a tranquil beach experience in Georgia, perfect for couples. You can never get enough of the 18-mile beach coast of the islands, where you can swim, fish, ride a horse along the shorelines, and watch the magical sunset before heading out for a dinner date.
Talking about dinner, some of the best restaurants for seafood are the Georgia Sea Grill, Certified Burgers and Beverages, and Golden Isles Olive Oil. Without overstressing, the seafood you might have for dinner is freshly caught and prepared just in the morning!
Other things that you can explore in the area are the Fort Frederica National Monument, stroll and shop at Pier Village, and explore the St. Simons Lighthouse and Museum. Indeed, with specific activities, St. Simon Islands is one of the most affordable romantic getaways in the US.
21. Naples, Florida
A romantic trip to Naples in Florida gives unique vacation ideas for couples, as there is a mix of historical sites, incredible natural wonders, and even distinctive wildlife too!
There's the Delnor-Wiggins Pass State Park which is excellent for swimming and picnicking with the sight of loggerhead turtles during nesting season; the world-renowned Naples Pier for panoramic sunset views; walk through the Clam Pass Park and pass through a strait of mangrove forests; birds, and alligators.
If you like to see Florida's endangered birds go to Corkscrew Swamp Sanctuary, or if you want to get a glimpse of fossa, lemur, hyenas, leopards, and rare Indochinsese tigers.
22. Cape Cod, Massachusetts
Cape Cod has some of the best beaches in the world, so you and your partner could get the best water experience, like windsurfing, kayaking, fishing, and whale watching. Do you know what's unique about the waters of Cape Cod? Thousands of shipwrecks are underneath, waiting for you to dive and discover.
Go to Race Point Beach for some water adventures and the Shining Sea Bikeway to see woodlands and salt marshes.
23. Tucson, Arizona
Tucson offers one of the best desert adventures blended with romance! Experience one of the most magical and romantic evenings at Tucson Mountain Park, where all you see is red, the desert, the stones, and the sunset! Aside from watching the sunset, you may also engage in horse riding, picnics, camping, archery, and shooting.
Other date-worthy places in Tucson are the botanical garden of Tohono Chul Park, the Tucson Museum of Art and Historic Block, and the Arizona-Sonora Desert Museum.
24. San Diego, California
Definitely one of the best places in the US for couples, the city of San Diego in California is a romantic date to remember! From its beaches to marketplaces to vast lands of pines and canyons, there's so much to do!
You can walk around Balboa Park, watch the sunset together at Sunset Cliffs, snorkel or kayak at La Jolla Cove, or ride a ferry to Coronado Island.
You can also explore the Old Town for romantic and historic strolls and dinners and visit a few wineries and vineyards outside the metro.
25. Los Angeles, California
The La-La Land of the USA, Los Angeles, is a dreamlike and blissful dating place to spend a week with your partner. Visit the Griffith Observatory to take in the cinematic city views of Los Angeles from above and ride a horse around Griffith Park.
Nothing beats a romantic walk along the Santa Monica Pier with a cool ocean breeze from the Pacific Ocean and a stroll along the Venice Canals-inspired tourist area in LA. Of course, a California date trip would only be complete with basking under the sun at El Matador, Zuma, and Santa Monica beaches.
Best All-Inclusive Romantic Getaways in the USA
26. Miraval Resort and Spa
Whether in Arizona, Texas, or Massachusetts, Miraval gives physical and mental treats away from the stressful world!
They say that when you try new things, your body releases dopamine and lets you feel rewarded. Through the Miraval journey, you experience new things like ski archery, outdoor challenge courses, equine experience, and aerial yoga.
27. Sleeping Lady Mountain Resort
If you're tired of the typical movie or dinner date, drive to the Sleeping Lady Mountain Resort in Leavenworth, and get on a different level of dating experience!
There are self-guided art walks, winter sports like snowshoeing and snowboarding, bird watching while on camp, zipline activities, and try out disc golf sport.
28. Bungalows Key Largo
Known for its cabana lifestyle with bungalows stretching out along the 1000-ft coastline, Bungalows Key Largo is one of the best vacation spots for couples in the world for adults aged 21+ only!
Here you can relax on an oasis island with some yoga classes, watersports, pool relaxations, daily boat excursions, and their unique floating tiki boats, like a cruise experience.
On top of that, restaurants at Bungalows Key Largo are set out in the open overlooking the ocean, giving that tropical, sultry, and calming vibe. You can choose from their Mexican flavors to local seafood and end the night with top-notch cocktails.
29. Little Palm Island
It might be called Little Palm Island, but the magnitude of service and experience is magnificent and extreme in this only private island resort and spa in America!
What's unique about this magical island in the Florida Keys is that aside from the luxurious amenities, world-class food, and exotic wildlife, it is total relaxation and isolation because it promotes no distractions, cellphones, nor TVs.
The island has a lot of enthralling activities like kayaking, flats fishing, scuba diving, wakeboarding, snorkeling, sailing, seaplane, and skydiving.
If you're lazy enough to do some gripping activities, there are other things you can venture like dolphin encounters, eco-tours, and a bunch of island hopping adventures.
30. Twin Farms
To think that 300-acre Twin Farms in Vermont is certified by the 2023 Forbes Travel Guide, Andrew Harper Recommended, 2023 Global Food & Wine Tastemakers Winner, and featured by a lot of travel websites, it is truly one of the best all-inclusive romantic getaways in the USA all year-round!
So why is it recognized far and wide? I am not exaggerating when I say there are plenty of activities. Art tours, fitness centers, spas, Japanese Furo with 104-degree Fahrenheit water, pasta-making classes, games, and fly fishing activities exist.
You may also thrill your taste palate with their exquisite Vermont chicken, freshly-grilled steaks, burgers, and world-class canapés and champagnes.
FAQs
What is the number 1 vacation spot in the US? 
Indeed, the USA has a lot of beautiful vacation spots, but one that stands out in Hawaii. With its impeccable, warm weather, crystal clear beaches, and breathtaking landscapes, there's no question why Hawaii takes home the bacon. 
Where is the most romantic city in the United States? 
There are a lot of contenders for the most romantic city in the US. Still, for those looking for a romantic place to celebrate those precious moments in their lives, New York City is the perfect place for you. With its stunning nightlife, iconic landmarks like the Empire State Building and Brooklyn Bridge, and its one-of-a-kind culinary delicacies. It is sure that you will have an unforgettable experience! 
Where is the prettiest place to visit in the US? 
The Grand Canyon of Arizona is considered one of the prettiest places to visit in the US, with its astonishing rock formation and landscapes, and scenic coastlines making it a popular choice for tourists.   
What is the safest place for couples? 
With its hospitable citizens and low crime rate Honolulu in Hawaii is the safest place for couples to stay in the US.  
Related: