Have you seen the James Bond movies "Skyfall" and "From Russia With Love?" If so, you'll notice that these movies, among several others from Hollywood, were extensively filmed in Istanbul, illustrating that the city's historical and stunning architecture provides a beautiful backdrop for filmmakers.
The grandeur of the Hagia Sophia and Blue Mosque, with their stunning domes and minarets, transports you to another era. Also, try to haggle your way to a good deal amongst the countless shops and kiosks at the Grand and Spice Bazaars.
Istanbul, however, is not just a city of sights; it is also a city of culinary delight, with meals ranging from savory kebabs to sweet baklava, all made with a combination of meat, vegetables, and spices.
Whether you're a history buff, a foodie, or a shopaholic, there's no way you can't find your perfect leisure in Istanbul. We've compiled the 25 best places to visit in Istanbul, Turkey, to experience the city's vibrant culture, unique history, and breathtaking views.
Key Takeaways:
Istanbul is full of historical and artistic landmarks, bazaars and markets, great food, vibrant nightlife, and beautiful panoramas.
The Hagia Sophia Mosque, the Hippodrome, the Basilica Cistern, the Blue Mosque, the Galata Bridge, and Taksim Square are among the top attractions in Istanbul.
Rooftop bars such as 360 and Mikla, the Cagaloglu Hamam, the Ortakoy district, and the Bosphorus Strait are some of the best spots to visit in Istanbul at night.
Among the unique activities in Istanbul are visiting a hammam, shopping at the Grand and Spice Bazaars, and witnessing a dervish performance.
The Sultanahmet Suites is the best hotel for families, located in the heart of Istanbul and within walking distance of many of the city's top attractions.
Best Places To Visit in Istanbul With Family and For Couples
1. Visit the Hagia Sophia (Aya Sofya) Mosque
Dubbed UNESCO's "Archaeological Park," it's no surprise that Hagia Sophia is one of Turkey's best places to visit. This magnificent mosque, which has been the heart of religion, culture, and Byzantine life for over a thousand years, is unique.
As one of the most Instagrammable and photogenic spots in Istanbul, you can admire and take beautiful photos of the interior, which features a vast 56-m-high dome with six smaller domes around it, incorporated with mosaics and low-hanging beautiful chandeliers. Everything is so magical, from the architecture to the immaculate portrait mosaics, so you must not miss it.
Talking about magic, you can visit the northwest section and put your hands on the bronze 'wishing columns' there. The hole in the middle of the column allows you to spin your thumb in a complete circle, and if your finger gets wet, your wish will happen, or your disease will be cured.
2. Walk Around the Hippodrome
Used to be a public arena for Roman chariot and horse racing, festivals, and punishments, the Hippodrome was a massive stadium that could hold over a hundred thousand people.
It had a rectangular shape with a curved end and is considered the second largest horse-racing track in the ancient world, next to Rome's Circus Maxima.
Located at the heart of Sultanahmet, this admission-free open-air green park boasts three historical monuments you can walk through – the Theodosius Obelisk, the Serpentine's Column, the Column of Constantine, and the fountain donated to the Ottoman Empire.
3. Go Underground at the Basilica Cistern
Just 150 meters from Hagia Sophia, you can visit the iconic Hollywood filming location, Basilica Cistern. It is a giant ancient cistern in Istanbul, Turkey, storing up to 80,000 cubic meters of water.
Once you enter the cistern, you will be amazed by how grand and symmetrical everything is below. It's like a massive room with many columns and little water with fish, and it can fit more than 200 people.
The entrance fee costs 20 Turkish Lira, while kids of age eight and below are free, which makes it one of the best places to visit in Istanbul with family.
4. Check Out the Blue Mosque
The Blue Mosque, which takes its inspiration from the Hagia Sophia and sits directly next to it, is another ideal illustration of the Ottoman architecture marvel in Istanbul, Turkey.
The mosque's facade is tiled in 20,000 blue tiles painted by hand in a tulip design; the domes and the six minarets (towers) are also remarkable.
You can enter and leave the mosque at will and not be required to provide identification or pay entrance fees. If you are a non-Muslim, please refrain from visiting the mosque on Fridays when it is used for the Jummah prayer service until noon.
5. Visit the Galata Bridge
If you want to experience the best sunset in Istanbul, Turkey, the Galata Bridge is the place to be! The Galata Bridge is a historical drawbridge 490-m long, connecting Golden Horn to the Eminonu and Karakoy neighborhoods.
Restaurants and cafes sell authentic Turkish cuisine and beverages just beneath this symbolic bridge. You can watch the ferries as they arrive and depart from the piers.
6. Check Out Taksim Square
Taksim is one of the few neighborhoods that won't break the bank compared to Sultanahmet. This neighborhood is the core of Istanbul's entertainment and nightlife, housing the city's best restaurants, shops, bars, hotels, and historical and archaeological attractions.
Start your walking tour on Istiklal, the town's most well-known and busiest pedestrian boulevard, with restaurants, cafes, stores, and street shows. Here you can also visit the fantastic Madame Tussauds Wax Museum, where you can witness wax figures of famous people, historical characters, and more.
After a long walk, stretch your legs at Gezi Park, a vast green park in the heart of Taksim. There are many large trees and beautiful gardens to enjoy while people-watching among the locals and visitors, making it one of the best places to visit in Istanbul with family.
7. Visit the Galata Tower
According to urban legend, if a man and a woman travel to Galata Tower for the first time, they will get married. So more than just a cylindrical, stone-walled tower, Galata Tower is full of legends and romantic stories, making it one of the most romantic and best places to visit in Istanbul for couples.
When you reach the peak of the Galata Tower, you'll have a breathtaking vista over the Bosphorus and Golden Horn. The Galata restaurant is on the tower's highest floor, serving exquisite Turkish and Ottoman dishes you shouldn't miss.
8. Wander Inside Topkapi Palace Museum
You should check out the Topkapi Palace Museum, the largest in Istanbul, where Ottoman rulers ran their government. It is one of Istanbul's oldest and most famous landmarks, and its beautiful architecture has made it famous worldwide.
Because of its massive proportions, the palace may take well over three hours to tour. Visit the palace's four opulent courtyards to take in its Byzantine and Ottoman architecture, historical treasures, ornaments, books from the Sultanate era, the harems, and gardens.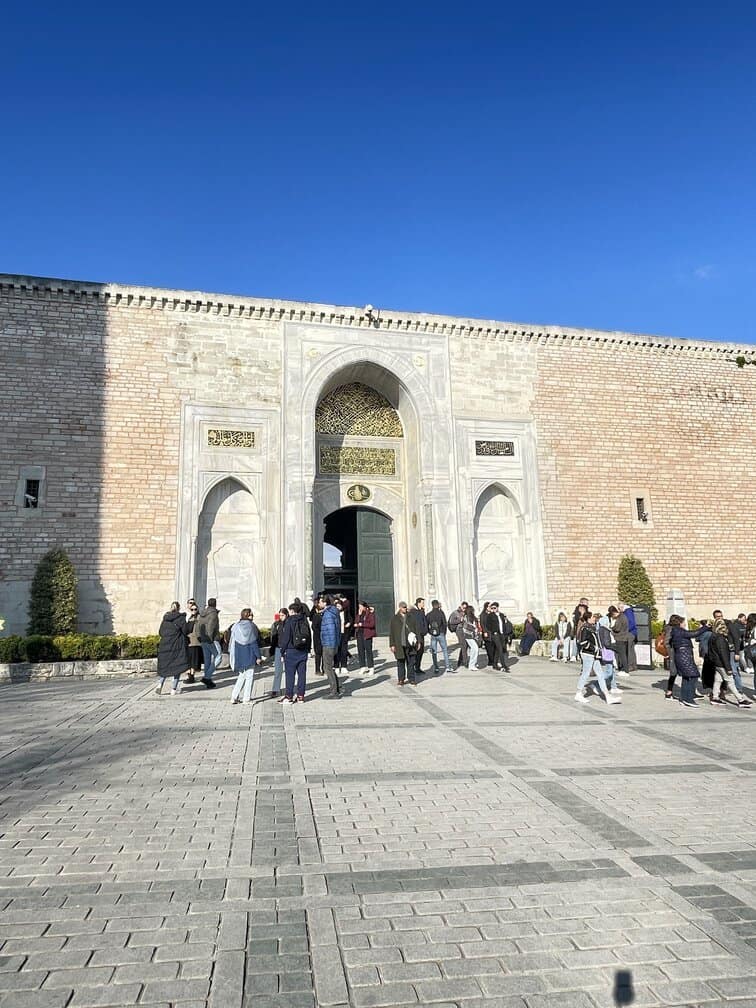 9. Go Sightseeing at The Princes' Islands
To get away from the bustling city of Istanbul, take a ferry to the Princes' Islands, about an hour away. The Prince's Islands are a group of nine islands across the Sea of Marmara that are wholly car-free and great for unwinding in nature.
The best scenery of greens and beaches is on Buyukada, the largest and most well-known of the islands. The southern region is quiet and wooded, whereas the northern part is where you'll find the beach and nightlife, especially at Yoruk Ali Beach and the restaurants and cafes around the pier.
10. Tour the Dolmabahce Palace
Dolmabahce Palace has over 45,000 square meters of pure grandeur and glamor, with 285 office sections, 46 halls, and six hammams. With those numbers, there's no denying that Dolmabahce Palace is enormous in Turkey.
In this palace, you can marvel at the 150-year-old bearskin gift from the Tsar of Russia, the most extensive collection of Bohemian and Baccarat crystal chandeliers, and the tons of gold leaves that cover the ceilings. Every detail is exquisite and beyond words.
Best Places To Visit in Istanbul At Night
11. Dance at a Rooftop Bar
Aside from the historical landmarks, Istanbul is also home to numerous charming rooftop bars, perfect for a night of dancing and stargazing. In the old Beyoglu neighborhood, 360 Istanbul is a top choice, where DJs spin various music styles, with a dance floor and an outside seating area.
Mikla, another excellent rooftop bar above the Marmara Pera Hotel, features spectacular views of Istanbul. It has cutting-edge décor and an energetic atmosphere, all matched by electrifying DJ mixes, providing a fantastic party experience.
12. Soak in a Turkish Bath
Turkish baths, also known as "hammams," are numerous in Istanbul and have been popular among Turks for centuries. Most hammams stay open late so customers can unwind in a steamy bath after a long day of seeing the city.
Many people go to the Cagaloglu Hamam at night because it is a historical hammam from the 18th century and offers the best Turkish bath experience. There's a hot room, a steam room, and a cold plunge pool, plus massage and scrub treatments to help you unwind after your soak.
13. Sign Up For a Night Food Tour
You may taste some of the city's most fantastic food during a night food tour of Istanbul. At Taksim Plaza, you can get some of the best-roasted chestnuts, grilled corn, and Turkish tea in the city from the Taksim Simit restaurant. Several other restaurants and cafés line the streets nearby as well.
Karakoy, notable for its restaurants and lively atmosphere, is another choice. This Istanbul neighborhood is perfect for couples and kids due to the number of restaurants and street sellers selling delicious seafood, meze, and kebabs.
14. Visit Ortaköy
Istanbul's Ortaköy neighborhood is known for its vibrant nightlife, the Ortaköy Mosque, and its beautiful view of the Bosphorus Strait. Ortaköy's streets come alive at night with lights, music, and laughter since the neighborhood has several bars, nightclubs, cafes, and restaurants lined up.
The promenade along the Bosphorus gives breathtaking views of the city and lake after dark. You may try Turkish tea and authentic Turkish cuisine in one of the numerous restaurants or cafes lining the streets.
Most importantly, don't miss out on the moonlight beauty of the Ortakoy Mosque. With its prominent location just below the Bosphorus Bridge, the mosque is an iconic landmark of Istanbul and a recommended detour for tourists for photo ops.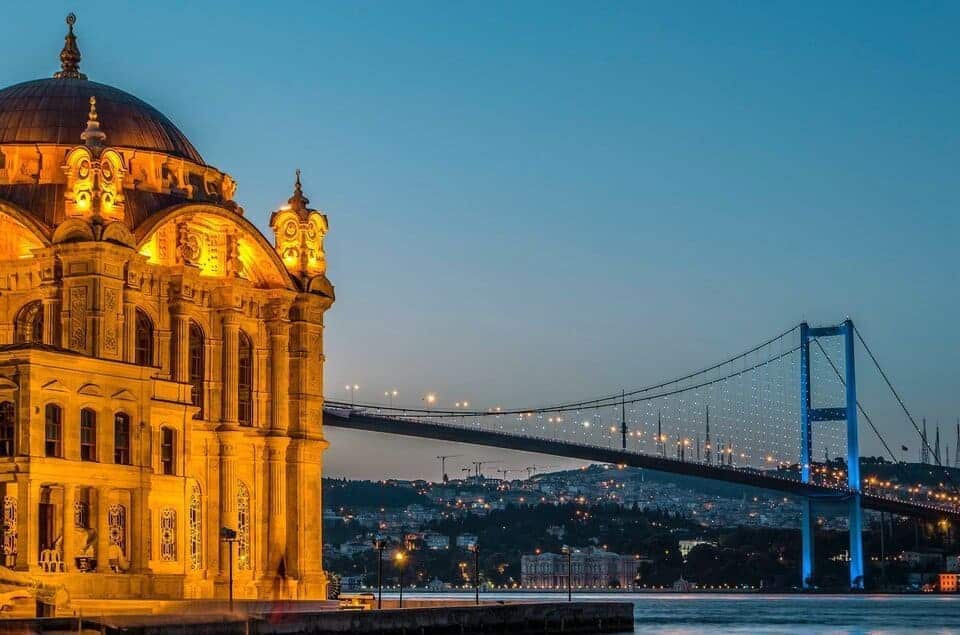 15. Enjoy a Bosphorus Dinner Cruise
There is no other way to take in Istanbul's stunning sights while sampling its delicious cuisine than to try the Bosphorus evening cruises. The evening cruise features a buffet of authentic Turkish cuisine with musical performances and other forms of entertainment, making it one of the best places to visit in Istanbul at night.
Dinner cruises on the Bosphorus can be reserved through several different tour operators and internet services. The cost and availability of a cruise vacation can change with the season and the itinerary you select.
Unique Things To Do in Istanbul
16. Shop in the Grand Bazaar
If you're seeking high-quality goods at reasonable prices in Istanbul, Grand Bazaar is your best choice! Start with a lowball offer and negotiate until you find a price that works for both parties. Don't be afraid to haggle, as price negotiations are expected at the bazaar.
Peruse the stores and stalls at your leisure; you'll find anything from jewelry and textiles to spices and ceramics, among other things, here. Try some Turkish delight or lokum, baklava, and kebabs after shopping at the Grand Bazaar.
Travel Tip: Given many tourists visit the Grand Bazaar daily, you must keep an eye on your valuables to avoid having them snatched or pickpocketed.
17. Explore Fener & Balat
Fener and Balat are two historic neighborhoods that are culturally rich and full of unique activities you can do! Famous for its brightly-painted houses, cobblestone streets, and eclectic mix of churches and mosques, exploring the neighborhood is one of the unique things to do in Istanbul.
The Patriarchate of the Greek Orthodox Church is the spiritual center of the church and a must-see while in Fener. Next, visit the Church of Sveti Stefan and the Balat Mosque, and, most significantly, stop by Merdivenli Yokus Street, where the most vibrant Cumba homes are located for picture-taking.
18. Visit a Hammam
Visiting a hammam to unwind is one of the most memorable and unique things to experience in Istanbul. The Süleymaniye Hamam is widely regarded as one of the city's top hammams; it features spectacular domes and geometrically aligned chimneys and is often recognized as an architectural masterpiece.
While other hammams in Istanbul's Old Town District may cost more, this one delivers the most value for your money and is appropriate for couples and families. You'll get a cotton bath towel, sandals, exfoliating scrub, olive oil soap, and complimentary access to a hammam session with your ticket.
19. Explore the City By Boat
Seeing the beautiful seaside city of Istanbul by boat is a surefire way to make your vacation one to cherish. Bosphorus cruises, regularly scheduled and private ferry tours, and luxury private yachts are just a few options for taking in the city's stunning sights.
The Bosphorus Cruise, be it a sunset cruise or a full-day tour, is an essential part of any vacation to Istanbul. Topkapi Palace, Dolmabahce Palace, and Ortakoy Mosque are just a few of the Istanbul landmarks you can see from the Bosphorus Strait tour.
Also, standard shuttles often run from Eminonu to the Kadikoy district, which is noted for its enormous fish and produce markets, bustling streets, and countless shops and cafés, attracting tens of thousands of tourists each year.
20. Visit Miniaturk
Miniaturk is a miniature recreation museum of Istanbul with prominent Turkish landmarks in small versions. It's a terrific place to experience a fun and interactive way of learning Turkey's rich history and culture with its fantastic showcase of miniature versions of bridges, ships, fountains, waterfalls, and trains.
The Blue Mosque, Hagia Sophia, and Topkapi Palace are among Miniaturk's impressive copies. You would be amazed at how these models are built, where every building's ornamentation is in remarkable detail.
For a quick break, head to the little city's cafe serving snacks and meals. You also want to buy several souvenirs of tiny copies of Istanbul buildings and landmarks.
21. Shop in the Spice Bazaar
Turkish culture and culinary enthusiasts must visit Spice Bazaar. Once inside, the market's brilliant colors and scents will fascinate you due to the variety of spices, herbs, and teas in various colors. Some of the most famous spices you can buy are saffron and sumac, and aromatic plants are also available.
The Spice Bazaar also sells souvenirs, jewelry, ceramics, and textiles. The Kapali Carsi is a must-see for anybody interested in traditional Turkish handicrafts. The leather items, ceramics, and glassware sold at this Beyazit marketplace have become the best-known in Turkey.
All goods sold in this bazaar are guaranteed high quality and cheaper than elsewhere in Istanbul. But still, try to haggle with the market sellers to get the best offer.
Travel Tip: Purchase in bulk if you anticipate using a particular spice or tea frequently. Buying in bulk often results in cost savings.
22. Watch a Whirling Dervish Show
One of the most exciting activities in Istanbul is witnessing a spinning dervish performance. The Sufi Muslim Whirling Dervishes' Sema is a meditation and devotional dance revealing Turkey's profound spirituality.
This show is an hour-long dance of whirling dervishes in long white robes and towering felt caps. The hats symbolize material detachment and tombstones. One hand is raised to the heavens, and the other face down, indicating the connection between spiritual and material realms as they rotate.
The Galata Mevlevi Museum is home to the world's most well-known dervish hall, making it one of the most visited tourist destinations in Istanbul for a chance to witness a whirling dervish performance. You should purchase tickets for the Sunday dancing ceremony the day before.
Best Places to Stay in Istanbul, Turkey
23. Four Seasons Hotel (Sultanahmet and Bosphorus)
The Four Seasons is the best option for a five-star experience in Istanbul. You can stay in either the one next to the Bosphorus, where you can see magnificent views of Europe and Asia, or the one in Sultanahmet, home to most of the city's most important historical sites.
U.S. News ranks the Sultanahmet location first among the best hotels in Istanbul and Turkey, and the Bosphorus location is ranked fourth. The luxurious accommodations, in-house restaurants and bars, top-notch health spas, and attentive staff are just a few of the amenities you may look forward to when you decide to stay here in one of the best places to stay in Istanbul.
24. Raffles Hotel (Bosphorus)
The Raffles Hotel is another excellent spot to stay in Istanbul; it was given five stars by Forbes Travel Guide and ranked third on Condé Nast Traveler's list of the 50 Best Hotels in the world.
This top-rated global hotel offers an unforgettable stay with its sleek modern decor and stunning vistas of the Bosphorus, the Prince's Islands, and the city's peninsula. The hotel provides guests with deluxe services such as a fitness center, conference space, swimming pools, spas, bars, and babysitting.
For the Raffles experience, try the world-famous pan-Asian cuisine at Isokyo, indulge in the freshest seafood at Rocca Brasserie, and party the night away with a Bosphorus Sling at Long Bar.
25. Sultanahmet Suites (Sultanahmet)
Because it is in the middle of Istanbul, the Sultanahmet Suites is an excellent place for families on vacation. Within a short stroll from this luxury 15-apartment building are the Hagia Sophia, the Blue Mosque, the Topkapi Palace, the Basilica Cistern, and the Grand Bazaar, among many other Istanbul attractions.
In addition to being close to many of Istanbul's top attractions, this hotel offers comfortable accommodations, including at least one bedroom and dining space with seating for four.
Several rooms have balconies overlooking the Sea of Marmara, and all have LCD TVs with cable channels and free WiFi, as well as parking lots, air conditioning, and airport shuttles.
Breakfast, lunch, and supper are available at the hotel's on-site SFENDON restaurant. You can explore more authentic Turkish food at one of the many restaurants within walking distance, such as Turkish Cuisine, Saray Restaurant, Mivan Restaurant Café, and My Terrace.
Is Istanbul Worth Visiting?
Istanbul is unquestionably worth a visit! This city offers a distinctive blend of history, culture, and modernity all in one.
You can explore notable historical and artistic landmarks, including the Blue Mosque, Hagia Sophia, and Topkapi Palace, all world-renowned. From its bazaars and markets to its exquisite food and active nightlife, Istanbul provides countless options for exploration.
The city is also situated on the Bosphorus Strait, which offers boat tours and breathtaking vistas. In addition, Istanbul is renowned for its incredible warmth and hospitality, so you will feel welcomed and at home during your visit.
FAQs
What to do in Istanbul in 3 days?
You can visit the finest of Istanbul in three days, from the Blue Mosque and Hagia Sophia to Topkapi Palace and the Grand Bazaar. You might also take a boat trip to the Bosphorus Strait to explore the city from a new vantage point and enjoy the local cuisine.
What is the most famous part of Istanbul?
There are many lovely neighborhoods where you could stay in Istanbul, however, the Old City is among the city's finest for its historical beauty and picturesque architecture. Hagia Sophia, the Blue Mosque, and Topkapi Palace are just a few of the attractions to see in the city.
Is 4 days in Istanbul too much?
It all comes down to individual taste and what you hope to accomplish in Istanbul. Four days can be exactly right to see the city's top sights and immerse yourself in its lively culture. And yet, if time is short and you plan to see a select number of attractions, a visit of only two to three days may be necessary.
What is the best month to go to Istanbul?
Shoulder seasons, such as April through May or September through mid-November, are ideal times to visit Istanbul because of the pleasant weather and smaller crowds. Summers (June–August) can be sticky and crowded, while winters (December–February) can be cold and wet.
What is the best area to stay in Istanbul?
Where one resides in Istanbul is a matter of individual taste and necessity. Tourists often choose between the areas of Sultanahmet, with its ancient buildings, Taksim, with its nightlife and shopping, and Beyoglu, with its fashionable cafés and galleries.
Related: