AN UNIMAGINABLE BEAUTY AND WONDER – the perfect words to describe one of the most magical and sunniest tourist destinations on Earth, Greece!
A trip to Greece is like journeying back to a time of myths and stories, a world of gods and goddesses, and a place with a rich artistic and cultural heritage. With over 6000 stunning islands dotting the Aegean sea, this summery dreamland offers countless beaches, ancient ruins, beautiful towns, and delicious delicacies like no other.
Whether it be the breathtaking island of Santorini, the relaxing Little Venice of Mykonos, or the expansive city views of the Acropolis in Athens, there is something to complement your taste and mood.
Getting started on your Greek adventure might be overwhelming, but fear not, as I have you covered. So, pack your bags, grab your sunnies, and get ready to discover the 21 best places to visit in Greece in 2023!
Key Takeaways
With more than 6000 beautiful islands to explore, Greece is the perfect holiday destination for families and couples.
Due to its majestic cliffside homes, distinctive black sand beach, and exquisite sunsets, Santorini is the ultimate honeymoon and vacation spot.
Corfu is home to stunning beaches, lovely villages, and various family-friendly activities like the Corfu Aquarium and Aqualand, suitable for kids.
The Athens Planetarium, the Allou! Amusement Parks and historical sites like the Acropolis are just some exciting places to visit in Athens.
Knossos is famous for its ancient landmarks, including the Minoan Palace and the Heraklion Archaeological Museum.
You'll need more than seven days to discover all the most notable attractions in Greece to get the ultimate experience.
Best Places To Visit in Greece For Couples
1. Santorini
If you are stuck on where to go in Greece for the first time and make it unforgettable, you must go to the queen of the Aegean sea, Santorini! This paradise island is called the "island of love" as it is an ideal honeymoon and vacation spot for couples.
You can stroll along the white-wash cliffside houses and watch the sunset from the Oia village, take boat tours like a Catamaran cruise to the red and white beaches, or swim in the famous and unique black sand beach of Perissa.
If you're feeling adventurous, you can jump off the cliff at St. Nicholas Church and hike Trail Fira in Oira. The idyllic setting of this Earth's paradise has made it a top choice of the best places to visit in Greece for couples.
Travel Tip: Experience the most beautiful sunset in the world in Imerovigli, "the Balcony of the Aegean Sea," while tasting locally-made wine.
2. Nafplio
Just two hours away from Santorini is the "Jewel of Peloponnese," the Nafplio. With historical castles, beautiful architecture, cozy cafes, and coastlines worth exploring, this beautiful seaside town is a romantic getaway destination in Greece.
Scale the heights of the Palamidi castle or Bourtzi fortress, where you can enjoy a breathtaking panoramic view of Nafplio and the Argolic Gulf. You can enjoy a seafront stroll along Arvanitia's promenade, followed by a swim at Arvanitia beach. If you have little ones, check out Karathona's more extensive, sandy beach, which has shallow slopes ideal for toddlers to splash around safely.
3. Zakynthos
A calmer and more quiet romantic getaway is sure to be waiting for you on Zakynthos, one of the most iconic Greek islands. You can relax and swim on Kalamaki beach, the largest beach in the Marine Park, with 3,500-meter-long golden sands and shallow turquoise waters. You can dive and snorkel with endangered loggerhead turtles here.
Swimming at Shipwreck (Navagio beach), Zakynthos' most visited beach, is another must-do. Have a picture taken with the Panagiotis shipwreck lying down the middle of the beach and watch the sea turn electric blue due to the sulfurous caves around.
Travel Tip: Alykanas has a variety of fun and exciting watersport activities, too, such as fly fishing, jet skiing, boat tours, tubes, and water skiing.
4. Crete
Crete is the cupid of travel destinations in Greece, so get ready to have your heart stolen! This honeymoon hotspot offers beach hopping, wine tasting, museum visits, and ruins exploration, among many other things.
You can experience all shades of blue sea with Balos beach, Falassarna beach for great nightlife, and Elafonissi beach for pink sand and one-of-a-kind sunset. There's also the Asteria Open Air Cinema, where you can watch romantic English movies out in the open or go for a romantic stroll in Chania Old Town while admiring the Venetian harbor lights.
Ultimately, make sure you and your partner go horseback riding along the beach and mountains and soak up the jaw-dropping view of Crete. Regarding romantic activities, Crete is one of the best places to visit in Greece for couples. But it's far from over, and there's still plenty to experience in Crete.
Travel Tip: Crete is one of Greece's best places to visit in May due to its comfortable temperatures, flourishing flora, and warmer waters.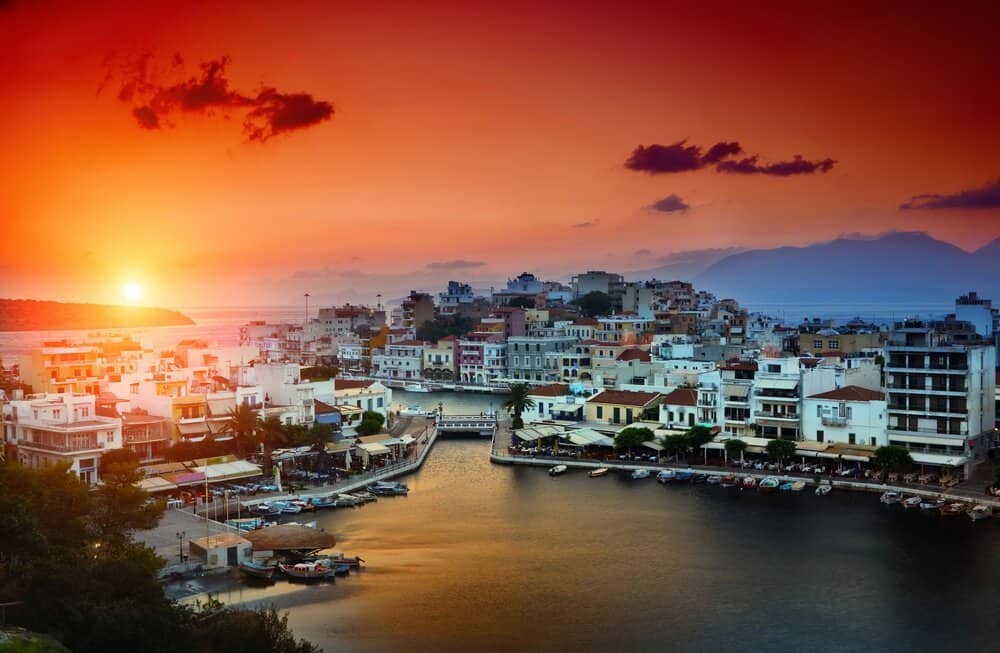 5. Mykonos
Mykonos is like a Greek yin-yang, where tradition and party unite to create a perfect balance that will leave you in awe. This seaside paradise is famous for its white-wash architecture, bustling beach clubs, and pristine beaches, ideal for outgoing couples.
You can spend your days and nights partying on the golden sands of Psarou Beach, wandering through the picturesque waterfront community of Little Venice, and enjoying snorkeling and scuba diving at Lia Beach. To have the most memorable experience, consider setting off on a romantic boat excursion to Delos Island. This island is a UNESCO World Heritage Site and the birthplace of Artemis and Apollo.
Travel Tip: Mykonos is one of the best places to visit in Greece in September due to lower accommodation prices and warm water for swimming.
6. Hydra
Discover the essence of Greek island living by visiting Hydra, where mules transport your luggage and horses transport you anywhere. Despite its small size, Hydra is a thriving community with impressive architecture and a spectacular landscape.
You can relax on beautiful beaches, such as Mandraki, St. Nicholas, Kamini, or Vlychos, or explore the shops and seafood restaurants in Hydra Harbour. To taste the island's rich culture and history, visit historic mansions and museums, such as the Hydra Museum Historical Archives.
For a more romantic experience, climb up Mt. Eros, the highest peak on the island, with your partner for a fantastic view of Hydra while discovering some of the most beautiful monasteries and churches.
7. Kefalonia
For a romantic weekend, go to the picture-perfect island of Kefalonia, where every turn is worthy of a postcard and appears almost too good to be true. Start by taking a boat ride to see the heavenly Melisanni Cave, then visit the traditional villages of Fiscardo, Agia Efimia, Assos, and Sami, and walk through Paleolithic ruins and Byzantine churches. Discover more architecture with Agios Gerasimos, the most impressive monastery on the island.
Additionally, you can swim and experience a range of water sports like scuba diving, speed boat rides, snorkeling, and more at some of the most beautiful beaches in Greece, including Myrtos, Petani, and Antisamos.
Travel Tip: Try Kefalonia's most famous meat pie, called Kreatopita, while sipping Robola, the island's most renowned wine.
Best Places To Visit in Greece With Family
8. Corfu
Corfu, also known as the greenest island in Greece, offers pristine beaches, exotic wildlife, and charming villages with centuries of history and culture.
Cool off at Aqualand, one of Europe's top water parks featuring more than 30 waterslides and 15 adventure pools, or check out the Corfu Aquarium for up-close encounters with the island's marine life. Also, hiking and cycling are popular pastimes while admiring the lush countryside's greenery and the island's diverse wildlife.
Complete your Corfu trip with a guided tour of Old Corfu town, a UNESCO World Heritage Site with charming neoclassical architecture. With various kid-friendly activities on the island, Corfu is one of the best places to visit in Greece with family.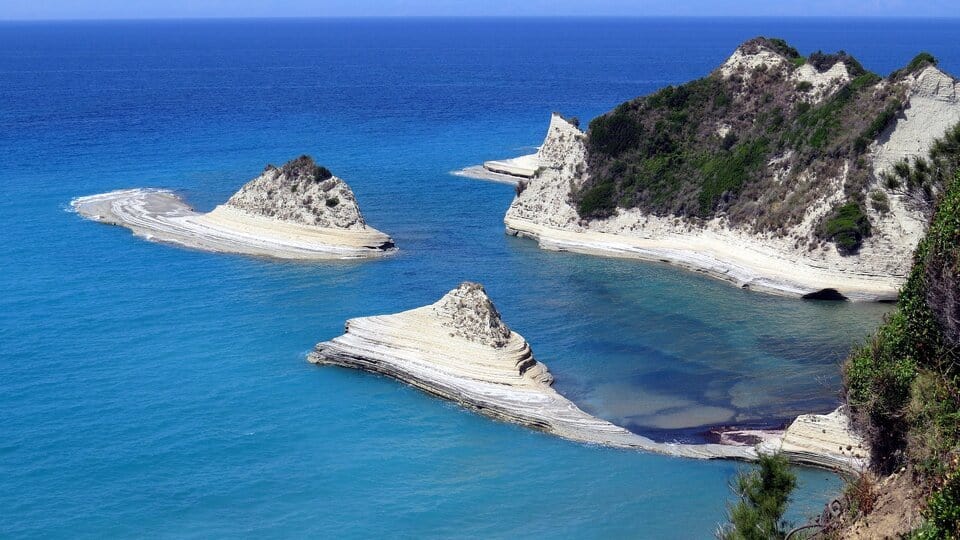 9. Athens
Athens, the center of ancient and modern Greece, is an ideal destination to combine adventure with an educational experience. Begin your holiday in Athens by visiting the famous Acropolis and National Archaeological Museum while learning about the history and culture of Greece. It's also worth checking out the Athens Planetarium, with shows and exhibits about astronomy and the universe.
You can experience more Greek life when you visit the Zappeion Halla and the Panathenaic Stadium, where the modern Olympics were revived, or walk through the Plaka neighborhood, one of Athens' oldest neighborhoods, a hub of shops, cafes, and restaurants. Of course, your Athens adventure would only be complete with sunbathing along Astir beach and Karavi Schinias.
If you're looking for something more entertaining, visit Allou! Fun Park, the biggest amusement park in Greece, and take a fun ride you've never experienced before. Finally, you can ride the toy-like Athens Happy Train for a 60-minute tour of Athens' famous ancient monuments, museums, temples, and more.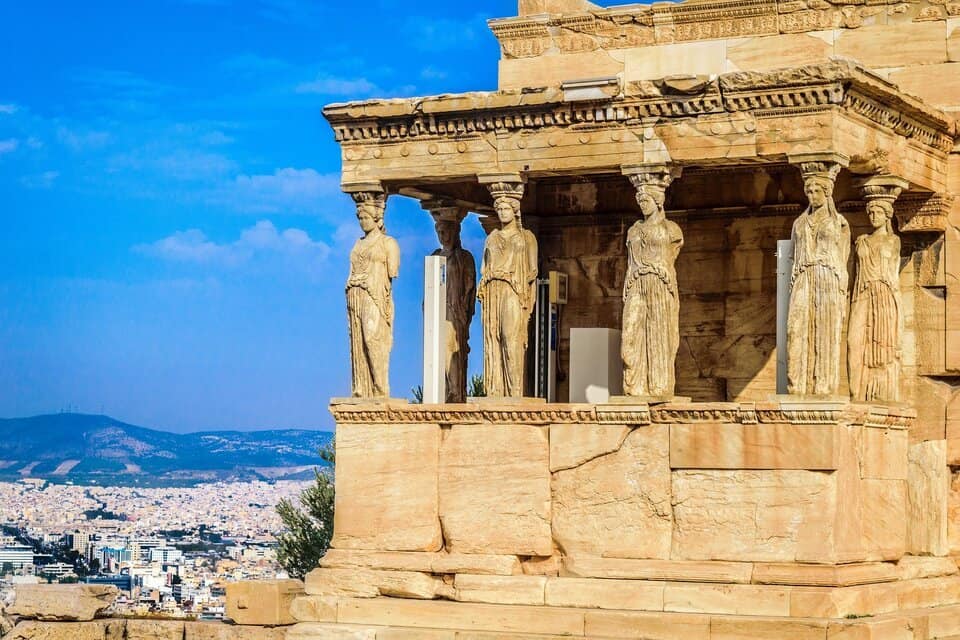 10. Naxos
Naxos is the best family holiday island! While the island is less crowded than Athens or Corfu, it is still a great place to explore mountainous villages and party at night. The island's beaches are great for kids and families like St. George Beach, Plaka, and Agios Prokopios, and you can windsurf and kitesurf at Laguna Beach Park.
You can visit the historic Venetian Castle or hike Mount Zas, the island's highest mountain, for stunning views of the island. Check out Portara's impressive marble gate for stunning sea views and a good playground for kids to climb the rocks. With so much to explore in Naxos, there is something for everyone, making it one of the best places to visit in Greece with family.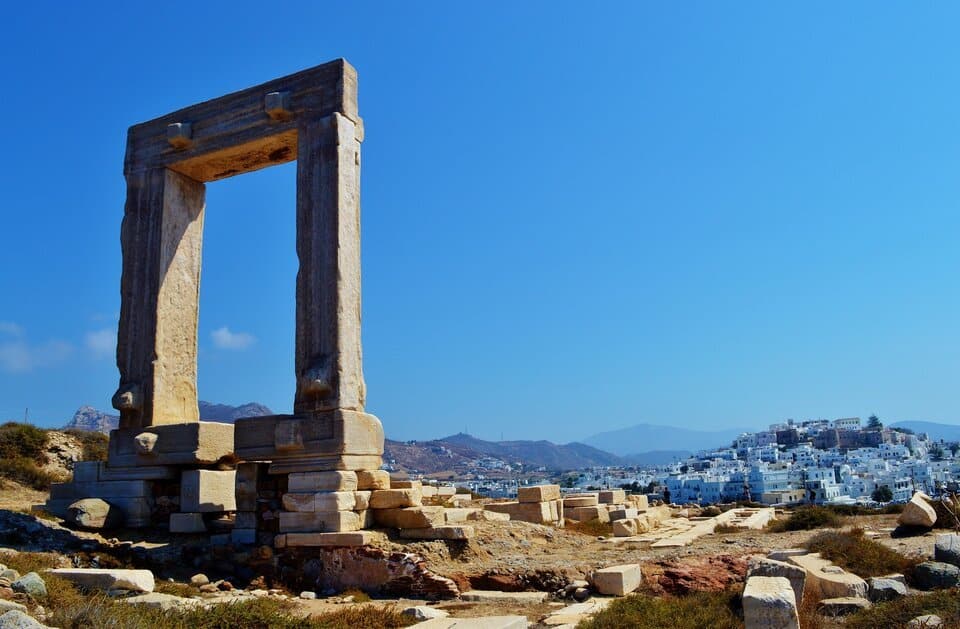 11. Paros
Paros is the classic recreation Greek island for both kids and adults. Like Naxos, it is also an excellent avenue for sports and games like diving, windsurfing, kayaking, and kite surfing due to its windy condition and sound waves.
Among the must-sees are the buzzing and picturesque towns of Naoussa, Parikia, and Piso Livadi. Look at the famous fine white marble on the Temple of Apollo, visit the Venetian Fortress of Naoussa, and splurge on the Aqua Paros Water Park, one of the largest water parks in Greece.
They also have kid-friendly beaches like Kolymbithres Beach and Marcello Beach, with gold-colored sands and shallow, clear water. You'll find various animals and plants on these beaches, such as colorful fishes, corals, sea cucumbers, and crabs your kids will love.
12. Kos
Kos, the birthplace of Hippocrates, is an island paradise in the Aegean sea that caters to all tourists, especially families. Take your family on a Greek history and medicine adventure at Asklepion archaeological site. During a day trip to Kos, see the Hippocrates Tree, thought to have been planted by the father of modern medicine, and explore the historic Kos Town Castle.
More than their Roman cities and archaeological sites, Kos is a green island with legendary bronzed shores, geothermal hot springs, and bright nightlife. Unwind at the lovely Tigaki beach, which features a sandy shore and crystal-clear waters, dip at the natural hot spring pool of Bros Therma, and finally, don't miss exploring the Lido Water Park, which has many water slides and rides for a day of fun.
Unique Places to Visit in Greece
13. Thessaloniki
As the captivating "Bride of the North," Thessaloniki is a beautiful city that offers an exciting fusion of ancient history and modern culture.
Prepare to be mesmerized as you explore the Thessaloniki waterfront, where you can cycle, jog, or relish the refreshing breeze. But that's not all – visiting UNESCO-listed Byzantine churches and monuments is a must-do activity. Visit the Byzantine church of Agia Sofia, Acheiropoiitos, and the Vlatadon Monastery. Finally, explore the magnificent crypt of the rebuilt church of Agios Dimitrios on a lovely walk.
Thessaloniki is among the unique places to visit in Greece owing to its exciting nightlife, significant arts, cultural scene, and stunning landscapes.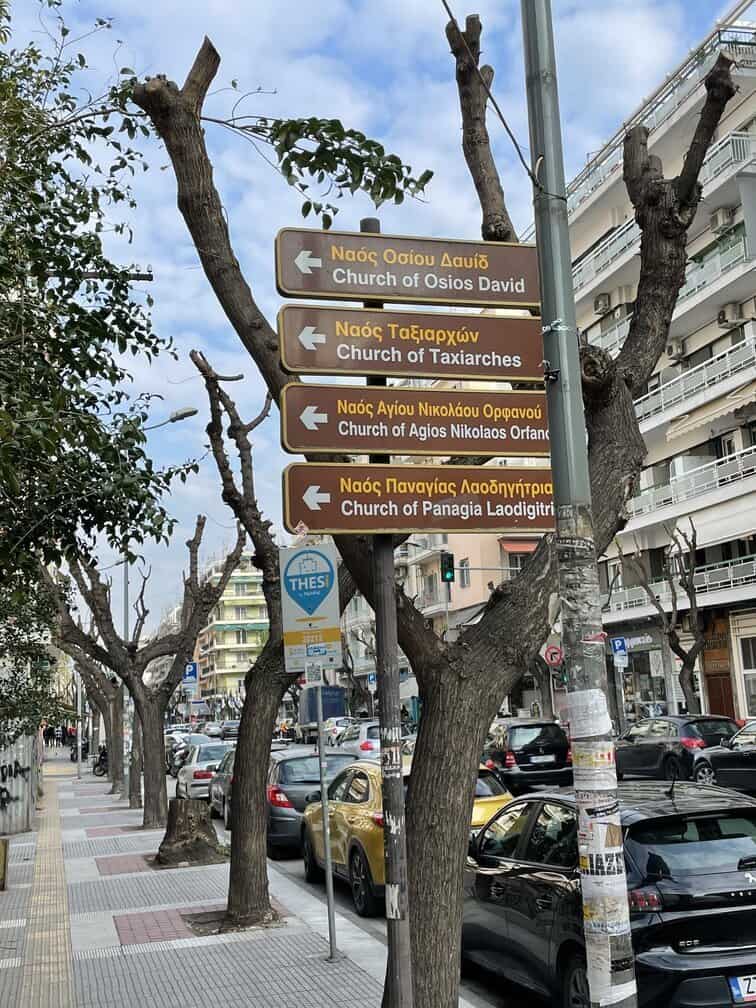 14. Knossos
Knossos is a mesmerizing destination renowned for its scenic olive groves, vineyards, and captivating Minoan archaeological sites, making it a top beauty spot on Crete.
The Minoan Palace of Knossos is a major attraction at the core of Minoan civilization. It contains an interconnected network of old buildings and the famed Minotaur labyrinth. Do you know what's exciting? A digital navigator lets you explore Knossos using a virtual and 3D audio tour.
Another historical attraction you must explore is the Heraklion Archaeological Museum, which houses many artifacts and treasures from the Minoan civilization, like the Snake Goddess figurine, fresco fragments, and much more. Besides the historic attractions, you can also stroll in the Cretan countryside and see Knossos's traditional villages and enchanting landscapes.
15. Rhodes
Rhodes is one of Greece's most multifaceted islands, where tourists come all year round, and the sun's out all year long, too! Start your exploration by visiting the Old Town of Rhodes, a UNESCO World Heritage Site with stunning medieval architecture and picture-perfect cobblestone roads. See the Palace of the Grand Master of the Knights of Rhodes, a 14th-century stronghold that has been restored.
A Rhodes trip is only complete with a visit to the Butterfly Valley, where you'll see a lot of colorful butterflies. For stunning views of Rhodes' east and west coasts, visit the Acropolis of Lindos or Monolithos castle. Last, remember to surf at Prasonisi beach and soak in Kallithea's natural hot springs before leaving the island.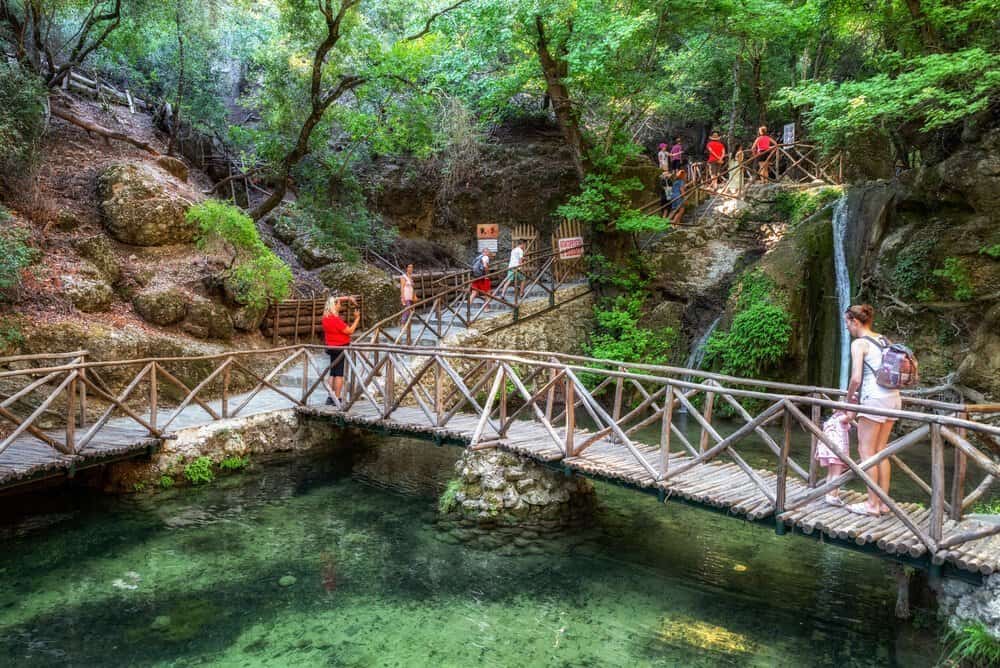 16. Katakolon
Katakolon is a historically significant destination that is well worth a visit. As the birthplace of the Olympic Games, it holds a remarkable place in history. Located in Western Greece, Katakolon is a small beach port that offers a delightful stroll around its streets, lined with souvenir shops, small cafes, and restaurants.
You can stroll around the town in less than an hour by hopping aboard the Katakolon Tourist Train to see the breathtaking views of the landscape and the Ionian Sea. You can also visit the charming Agios Andreas beach and bay as part of the same ticket. Bars and restaurants are just above the beach, and guests may borrow loungers and umbrellas.
17. Ikaria
Known for coffee, sex, and centenarians (100 years old and above), Ikaria is an ideal destination for couples seeking to immerse themselves in Greece's diverse and healthy culture.
These tranquil towns offer a peaceful atmosphere perfect for unwinding, with plenty of shops and restaurants to explore. You can easily reach the island's beaches by taking the bus. You can participate in island tours and outdoor activities like sailing, kayaking, cycling, hiking, stargazing, and everything else Ikaria offers.
For accommodations, the coastal villages of Armenistis, Evdilos, and Agios Kyrikos are the most popular choices. The best time to visit Ikaria is in spring when the weather is pleasant and the island bursts with vibrant nature.
18. Delos
If Greek history and mythology interest you, Delos is a must-see! This lonely island, roughly 10 kilometers southwest of Mykonos, is considered the birthplace of Apollo and Artemis and an important archeological site today.
Visit the different antique temples and sculptures, including the well-known Terrace of the Lions, which oversees the sacred lake and is one of the most photographed tourist destinations. You may also visit the Temple of Isis and its museum, which displays a magnificent collection of site relics. Hiking up Mt. Kynthos, which offers panoramic views of the ruins and surrounding farmland, is another activity you can look forward to.
Travel Tip: Delos has no accommodations, but a quick boat trip from Mykonos will take you there. Book your hotel in Mykonos in summer as early as possible, as these spots fill quickly.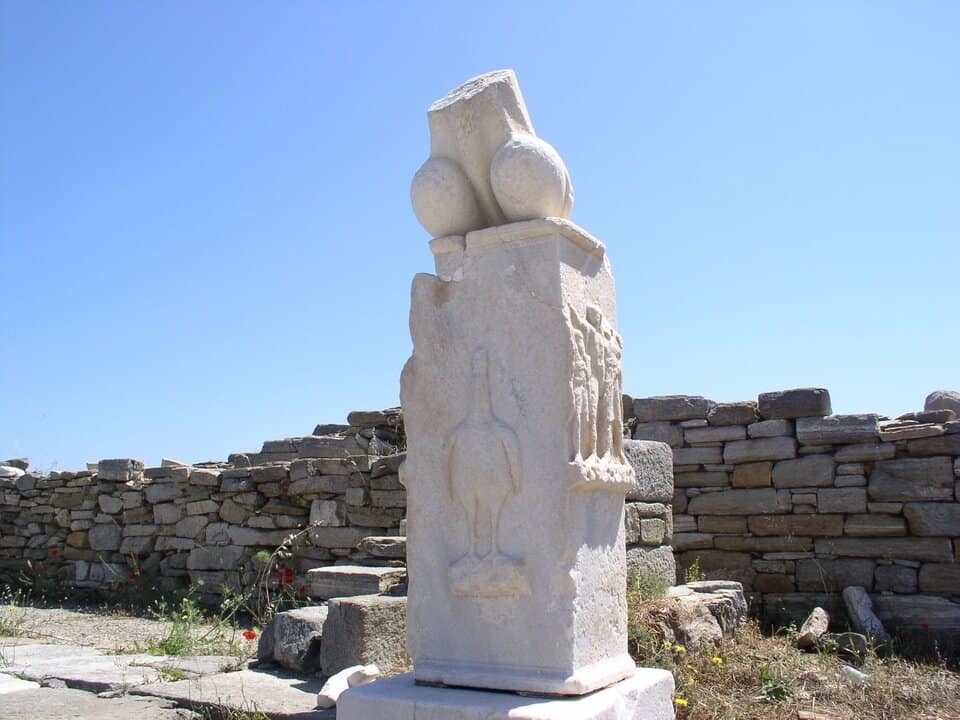 19. Skyros
Skyros, one of the unique places to visit in Greece, boasts a complex network of hiking trails, magnificent beaches, and traditional architecture waiting to be explored.
Chora, the capital village of Skyros, is widely regarded as the most beautiful uphill village on the island. Two of its most prominent landmarks are the Byzantine Castle and Monastery of Saint George, both situated on a hilltop overlooking the city. After sunset, Chora becomes an excellent spot for a leisurely walk and a drink, as it is where most hotels and bars are located.
If you're interested in activities other than beach-going, Skyros is an excellent choice for hiking too. With its comprehensive network of hiking trails that traverse its entirety, hiking is the ideal way to discover the island's natural beauty.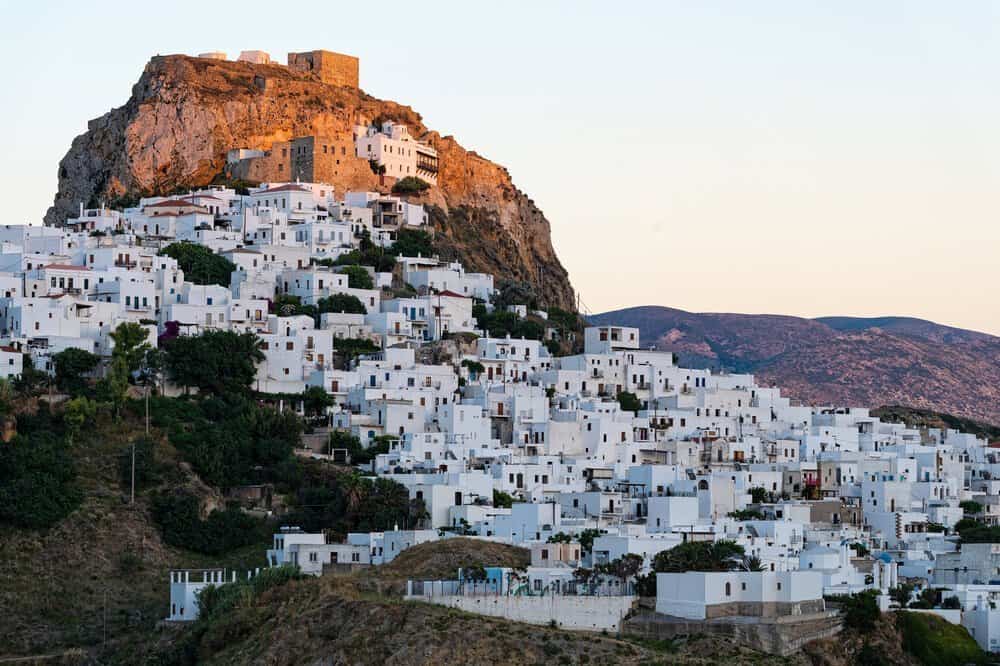 20. Kythera
Visit the beautiful island of Kythera and enjoy its numerous exciting activities! Begin your beach-hopping adventure by seeing the magnificent beaches of Kaladi, Fyri Ammos, and Diakofti, each with a unique charm. Take scenic treks to see spectacular vistas of the island's rugged scenery for nature lovers, like the Mylopotamos waterfall path and the Avgo Gorge trek.
Learn about Kythira's fascinating past by visiting several archaeological sites and museums. The Venetian Castle at Chora, the Mycenaean Acropolis of Palaiokastro, and the Byzantine Monastery of Myrtidiotissa are all must-sees. Finally, visit the spectacular caverns of the island, such as the famed Cave of Agia Sophia, Cave of Agios Ioannis, and Cave of Agios Andreas, which provide unique and ancient experiences.
21. Skiathos
Skiathos is a remarkable treasure trove of natural wonders, with beautiful beaches, pristine waters, and green terrain.
The island is a popular tourist destination because its exciting nightlife draws young people worldwide. Although the island is small, it has more than 60 gorgeous beaches, each of which has a unique appeal. The well-known Koukounaries, Banana, and Lalaria beaches are included.
On the southeast coast of Skiathos, there is a charming small sanctuary of colorful buildings and a bustling harbor you can explore. The island is deeply rooted in culture and history, allowing tourists to discover ancient sites and monuments such as the Bourtzi Fortress, the Monastery of Evangelistria, and the Medieval Castle.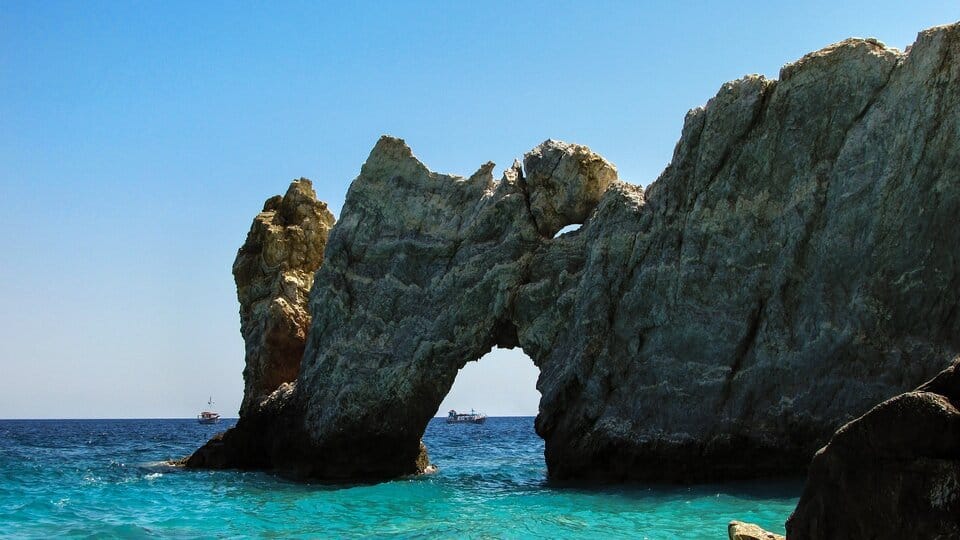 FAQs
Is 7 days enough to visit Greece?
Your seven days in Greece may be sufficient to explore some of the most popular tourist attractions, including Athens, Santorini, and Mykonos. Still, you will need more time for relaxation or off-the-beaten-path explorations. The only way to experience Greece's rich scenery and cultural offers is to stay there for extended periods.
What is the most beautiful part of Greece?
Santorini is described as Greece's most beautiful island because of its spectacular white-wash buildings perched on cliffs overlooking the Aegean Sea and its renowned sunsets, which paint the sky in a spectrum of colors. Its beautiful surroundings and romantic atmosphere make it a popular choice for tourists looking for a relaxing and enjoyable vacation.
What part of Greece is best for a holiday?
Corfu is a superb Greek vacation destination because it blends Venetian architecture, beautiful beaches, and gorgeous hiking paths. It's also an excellent choice for environment lovers and history fans searching for a relaxed island vibe. Furthermore, the best area of Greece for your holiday still depends on your interests, budget, and travel style.
What are the top five things to see in Greece?
Greece is a beautiful country with so many things to see and do. The top five things to see in Greece are the Acropolis in Athens, Santorini's Oia village, the Shipwreck beach, Corfu town, and the Palace of Knossos.