Welcome to the home of deep-dish pizza, blues, and world-class museums, Chicago!
In this dynamic city, there's always something fresh and mesmerizing to discover, from sports enthusiasts to foodies to art lovers.
Check out Navy Pier, 360 Chicago, and the Art Institute of Chicago, three of the city's most popular tourist destinations.
So, get ready to discover a city that never stops rolling as we take you on a tour of the best places to visit in Chicago!
Key Takeaways:
The best places to visit in Chicago for free are Millenium Park, Navy Pier, and Lincoln Park.
Some of the best things to do in Chicago for couples include visiting the Art Institute of Chicago and the Field Museum of Natural History.
The City Hall Rooftop Garden and Willis Tower Skydeck are some of the most beautiful places to visit in Chicago.
The best places to eat in Chicago are in Oriole, Birrieria Zaragoza, and Hermosa.
Best Places To Visit in Chicago For Free
1. Millenium Park
Millennium Park is a must-see destination in Chicago which offers many exciting activities ideal for tourists looking for free things to do in Chicago.
Some areas you may visit include snapping a photo with the famous Cloud Gate, often called "The Bean," visiting the Jay Pritzker Pavilion for a free performance or movie, and a stroll through the Lurie Garden.
Remember to visit the Crown Fountain to see interactive digital art.
2. Bloomingdale Trail
The Bloomingdale Trail in Chicago, popularly known as the 606, is a 2.7-mile elevated trail you can enjoy biking, walking, or running because of the beautiful views of the city.
The path links six neighborhood parks and artworks and is a must-see for those looking for interesting free things to do in Chicago.
3. Navy Pier
The Centennial Wheel, the Chicago Children's Museum, and the IMAX Theatre are just a few of the attractions Navy Pier offers visitors to Chicago.
You may also take advantage of visiting the Smith Museum of Stained Glass Windows, Polk Bros. Park, Art Institute of Chicago, Millennium Park, and the summertime fireworks shows, all for free.
4. Magnificent Mile
Chicago's Magnificent Mile is a shopper's dream, with high-end boutiques, department stores, and luxury brands scattered, perfect for window shopping.
You may visit the Chicago Water Tower, stroll through Millenium Park, or attend a free event like Magnificent Mile Lights Festival during the holiday season.
Take advantage of admiring the architecture of some of the prominent structures of the John Hancock Centre and the Wrigley Building.
5. Lincoln Park
Chicago's Lincoln Park has a wide range of enjoyable activities, all for free.
Visit the Lincoln Park Conservatory, stroll through the Lincoln Park Zoo for peace, and then along the waterfront to take in the breathtaking sights of Lake Michigan.
Eat something at one of the many eateries or cafes along Clark Street, or attend a performance at the Steppenwolf Theatre.
6. Chicago Riverwalk
The Chicago Riverwalk is one of the best places to visit in Chicago for free because it offers a variety of activities, including people-watching, picnics, and sightseeing.
Stroll along the gorgeous boardwalk, launch your kayak or paddleboard, or take good pictures of the city skyline along the riverwalk.
You may also visit public art exhibits and free live music events while trying out the Chicago-style hot dogs and deep-dish pizzaS that the local restaurants provide.
7. Lincoln Park Zoo
Big cats, primates, penguins, and reptiles are just a few animals you can see at the Lincoln Park Zoo in Chicago.
You can participate in activities like viewing animal training demos, feeding farm animals in the zoo, and strolling along the beautiful gardens inside the perimeter.
The zoo is open daily from 10 AM to 5 PM for free.
Best Things To Do in Chicago For Couples
8. Art Institute of Chicago
Visiting the Art Institute of Chicago is one of the best things to do in Chicago for couples because it offers a romantic and cultural experience.
Explore the museum's impressive collection of art and artifacts, including works by Monet, Picasso, and Van Gogh.
Stroll through the serene gardens, grab a coffee at the café, and enjoy the stunning skyline views from the terrace.
9. 360 Chicago
360 Chicago is perfect for couples seeking an exciting shared experience from 1,000 feet above the ground, providing breathtaking panoramic city views.
You may enjoy cocktails and small nibbles at the bar after taking an extraordinary lift journey to the observation deck.
Try the Tilt, a tilting platform that tips you over the edge on the 94th floor of the John Hancock building, for a more adrenaline rush.
Children under three are admitted free, children aged three to eleven are charged $20, and those aged twelve and above are charged $30 for admission.
Weekdays early morning or late afternoon, are the best times to visit because they are less busy.
10. Adler Planetarium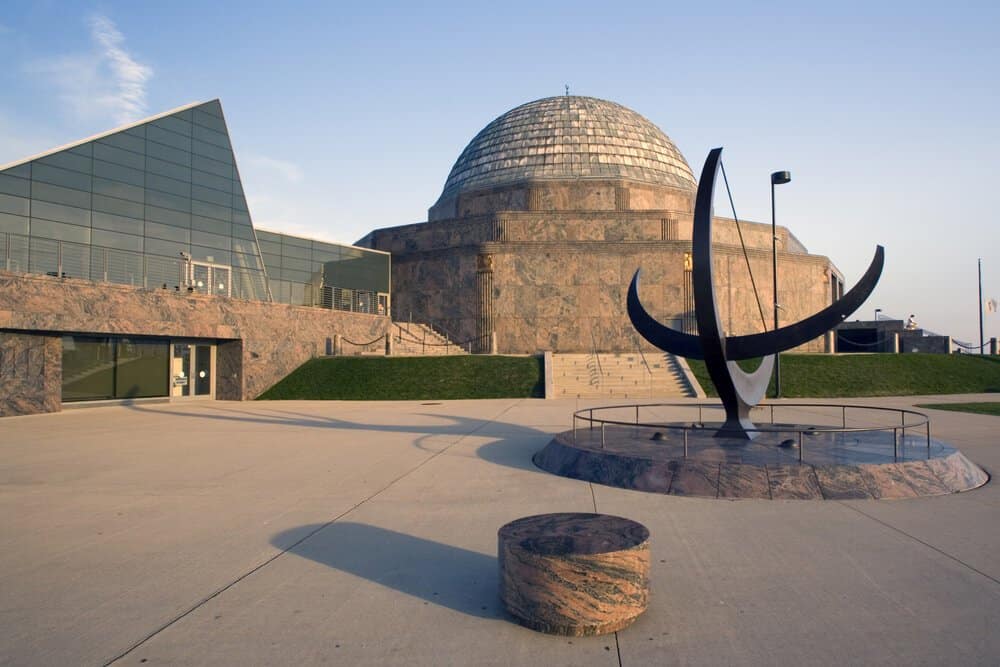 For lovers traveling to Chicago, the Adler Planetarium is the perfect location because of its highlight Grainger Sky Theatre, which offers films, interactive exhibitions, and the opportunity to see the night sky.
Adult admission costs begin at $24 -$35 but are reduced for students, the elderly, and the young.
Summer is the ideal season because you may attend outdoor performances and events.
11. Field Museum of Natural History
Couples can enjoy a range of exhibitions and events at Chicago's Field Museum of Natural History, like exploring Sue, the world's most giant and complete T-Rex, or travel back in time to ancient Egypt.
You can also experience the Underground Adventure, where you can shrink to the size of a bug!
The basic admittance ticket costs $30, the Discovery pass costs $37, and the all-access pass costs $43 for the Out of State Adult.
To avoid crowds, the ideal time to visit is during the off-season from September to February.
12. Shedd Aquarium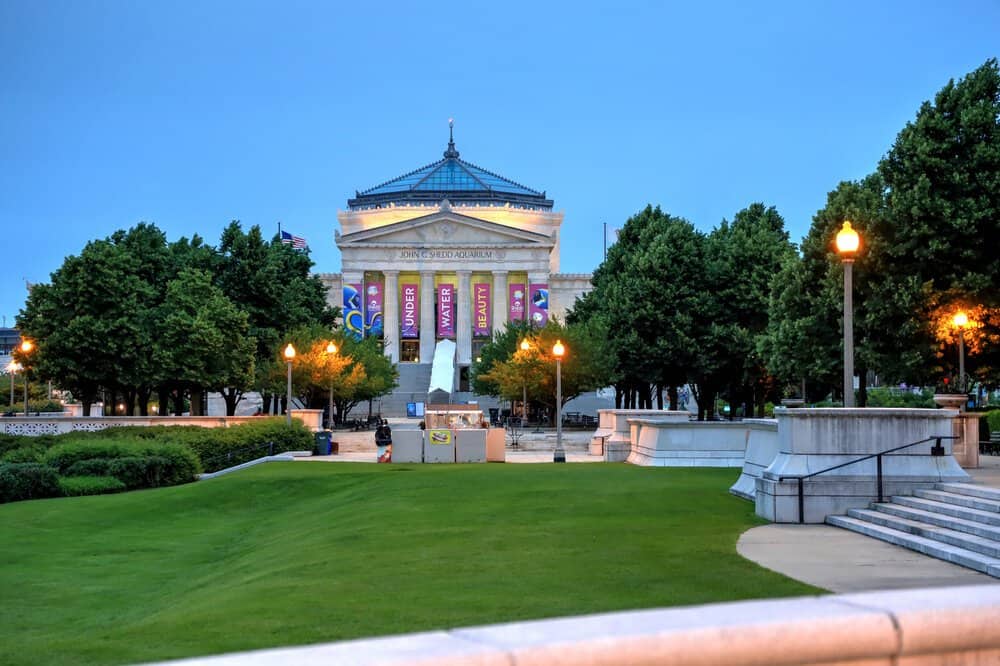 The Shedd Aquarium in Chicago provides a unique aquatic experience with approximately 32,000 creatures. c
As a couple, you can visit exhibits like Amazon Rising, Caribbean Reef, and Wild Reef, watch penguin and dolphin presentations, and take advantage of the 4-D experience and the opportunity to interact with stingrays.
To avoid crowds, visit during weekdays or the off-season.
13. Chicago Theater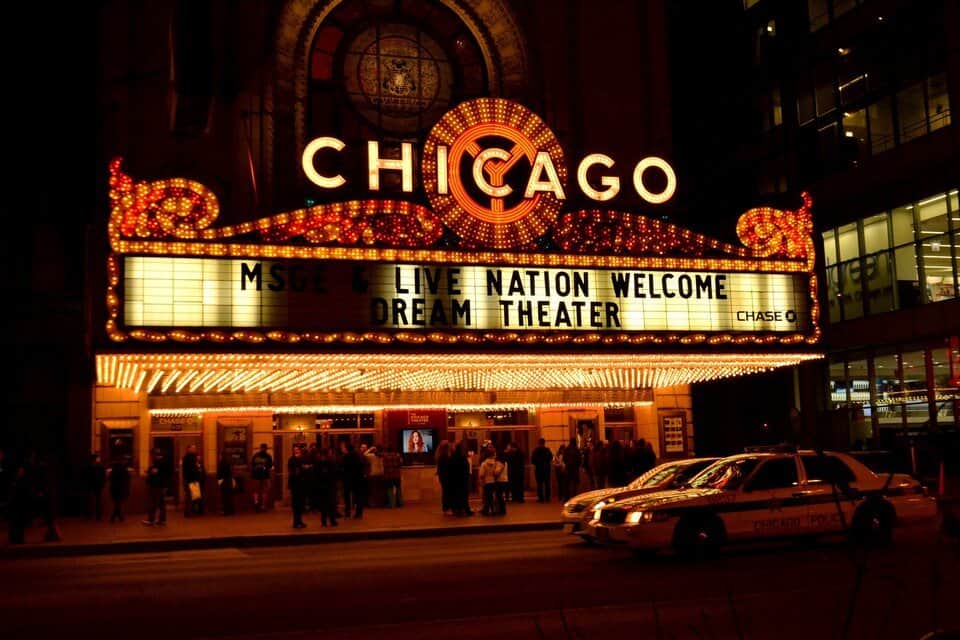 The Chicago Theatre is a historical monument and a must-see for couples who want to learn about the city's rich history and gorgeous architecture.
Before the concert or any event, grab dinner at one of the surrounding restaurants for a more romantic evening.
The most significant time to visit is in the autumn or spring when the weather is pleasant, and the city is alive with activity.
Prices to Chicago Theater may differ depending on the events and seat locations.
Most Beautiful Places in Chicago
14. City Hall Rooftop Garden
Chicago's City Hall Rooftop Garden is one of the most beautiful places in Chicago, serving as a tranquil haven in the middle of downtown, giving breathtaking views of the city's skyline.
The garden is one of Chicago's most picturesque locations where you can unwind on benches while taking in the vibrant plants and flowers and taking pictures of the surroundings.
Visit the garden during spring and summer, as it's the most beautiful and perfect for photo ops.
15. Buckingham Fountain
One of Chicago's must-see and most stunning locations is Buckingham Fountain, which is found in Grant Park, providing you with a spectacular display of water, light, and music.
The hourly water shows and the nighttime light displays are must-sees and will leave you with fond memories.
The fountain is open daily from 8 AM to 11 PM throughout the summer months of June, July, and August, making those the ideal times to visit.
16. Chicago Botanic Garden
Anyone looking for picturesque locations in Chicago should take advantage of the Chicago Botanic Garden.
On these 385 acres of lush gardens and scenic scenery, you can see many breathtaking collections of plants and flowers, serene paths around the lake, and tranquil Japanese gardens.
Remember to see the model railroad garden, greenhouse, and art exhibits while there.
The garden is in full bloom in June, making it the ideal month to visit. Depending on the visit's day, the admission ticket cost may change.
17. Rockefeller Chapel
The University of Chicago is home to the magnificent Rockefeller Chapel, a work of art in architecture.
It's one of Chicago's most stunning locations and a must-see site for anyone interested in music, art, or history.
The chapel organizes a variety of performances, talks, and activities all year long, with December being the ideal month to go because of the stunning Christmas celebrations.
18. Little Village Murals
When visiting Chicago's stunning locales, you must view the Little Village Murals, where you can witness vivid and colorful murals highlighting the neighborhood's cultural diversity and heritage.
Visit all the murals on a walking tour to discover the artistic heritage and character of the neighborhood.
Summertime is the perfect season to travel because of the pleasant, sunny weather.
19. Willis Tower SkyDeck
The 103rd floor of Chicago's Willis Tower is an observation deck called SkyDeck that provides beautiful panoramic city views.
For an exciting view of the city below, you can step out onto "The Ledge," a glass box that protrudes 4.3 feet from the skyscraper.
Additional activities include interactive exhibits and a theater performance about the tower's construction.
Simple admission for adults costs $30 – $40 and $22 – $36 for youth.
For cleaner skies and better visibility, the summer months of June through August are the best times to visit.
20. North Avenue Beach
North Avenue Beach offers beautiful views of the city skyline and Lake Michigan and is well-liked for swimming, tanning, and people-watching.
On this beach, you can enjoy the wide sandy beach, rent bikes, play volleyball, and buy local food and drinks from nearby beach houses.
When the weather is nice, summertime is ideal for traveling to North Avenue Beach to soak up some sun.
Best Places To Eat in Chicago
21. Oriole
Oriole Chicago is one of the best visited and best places to eat in Chicago because of its distinctive and enjoyable menu, which constantly changes to highlight seasonal and local delicacies.
Only supper is served at Oriole from Tuesday through Saturday, with seating at 5:30 PM and 8:30 PM.
The restaurant has two Michelin stars, so it frequently has a long waiting list, so making reservations in advance is advised.
22. Birrieria Zaragoza
A family-run Mexican restaurant, Birrieria Zaragoza, is well known for Mexican cuisine, especially its Birria, a slow-cooked pork dish.
The Birrieria Zaragoza has been receiving excellent reviews because of the great food and the relaxing environment, making it the ideal place for a quick and delectable supper.
The restaurant is open from Tuesday through Sunday, with fewer hours on Sunday.
Visiting during lunch or early dinner is the best option to avoid the vast lineups.
23. Rose Mary
Modern Italian eatery Rose Mary offers inventive and imaginative takes on classic fare with a focus on seasonal and local foods.
The restaurant offers pasta meals, seafood dishes, meat dishes, and a lively environment and serves delectable cocktails throughout supper.
Rose Mary is available for dinner from Tuesday through Sunday but is closed on Mondays.
Booking a reservation in advance is advised because the restaurant is well-liked and frequently busy.
24. Johnnie's Beef
Italian beef sandwiches are the signature dish at the informal Italian-American eatery Johnnie's Beef.
The main item on the menu is beef sandwiches, which come with various selections and toppings.
Since the restaurant only stays open until 3 PM and gets busy afterward, lunch is the best time.
25. Hermosa
Hermosa is a casual, family-owned eatery in the Hermosa neighborhood which serves authentic Mexican cuisine like burritos and tacos paired with a variety of drinks like Mexican beers and margaritas.
The restaurant is open seven days a week, so make sure to make a reservation to secure a spot by contacting the restaurant directly.
Top Places To Visit Near Chicago
26. Six Flags Great America
Six Flags Great America is one of the top places to visit near Chicago because of its numerous thrill rides, including roller coasters, water slides, and family-friendly attractions.
It is a theme park in Gurnee, Illinois, with well-known attractions like the roller coasters Goliath, Joker Free Fly, and Raging Bull.
Aside from various activities, you can also enjoy live performances and delectable food from the area.
27. Brookfield Zoo
Brookfield Zoo is a fantastic spot to visit with family or friends, where there are many animals to see, including lions, tigers, bears, and others.
You can also learn about these species' habitats and how they thrive in the wild.
Petting and feeding goats, viewing the butterfly display, and participating in numerous educational programs and events are among the options.
For a fun way to experience the park, ride the carousel or take a tram tour.
28. LEGOLAND Discovery Center
The LEGOLAND Discovery Centre has a variety of enjoyable activities for both children and adults.
You can ride LEGO-themed rides, construct and play in LEGO-themed play zones, watch 4D movies, and learn new building techniques from expert builders.
You may also go on a LEGO Factory Tour, visit MINILAND, and participate in a LEGO-themed treasure hunt.
Remember to visit the LEGO store and pick up a keepsake or two.
29. Oak Park
Oak Park is a Chicago suburb recognized for its magnificent architecture and rich history.
The Frank Lloyd Wright Home and Studio, the Ernest Hemingway Museum, and the Oak Park Conservatory are all open to the public.
The neighborhood also has a thriving arts scene with various galleries and theatres and numerous parks and outdoor recreation areas.
Casual cafes and good dining establishments are also available in the area.
30. Abraham Lincoln Presidential Library and Museum
A variety of engaging and instructive displays, artifacts, and presentations centered on the life and legacy of Abraham Lincoln is available at the Abraham Lincoln Presidential Library and Museum.
A few exhibits that you can check out are our "Ghosts of the Library," "Journey One: The Pre-Presidential Years," and "Mrs. Lincoln's Attic."
The museum also offers a variety of special events, talks, and educational programs in which you can participate.
FAQs
What is the number one attraction in Chicago?
The city's number one attraction is the 3,300-foot-long Navy Pier in Chicago extending out into Lake Michigan. A musical carousel, an IMAX theatre, a Ferris wheel, and several dining and retail options are just a few of its entertainment possibilities.
Where is the nicest place in Chicago?
Millennium Park, home to the well-known Cloud Gate sculpture, lovely gardens, and a range of cultural activities all year long, is one of Chicago's most beautiful spots. The Magnificent Mile, a bustling shopping area dotted with upscale shops and eateries, is another fantastic location. Lastly, the Navy Pier is a prominent location with stunning views of Lake Michigan and various entertainment, dining, and retail opportunities.
What month is best to visit Chicago?
May to September are the finest months to visit Chicago when the weather is pleasant and bright. During this season, you can partake in outdoor pursuits, including strolling along the lakeside, attending outdoor events, and dining al fresco. It's essential to remember that July and August are the busiest months for tourists, which could result in higher pricing and more people on the streets.
How many days do you need in Chicago?
Several factors, including the purpose of the visit, interests, and budget, determine the number of days required to explore Chicago. However, I recommend staying at least 3-4 days to see the city's main attractions, such as Millennium Park, Navy Pier, the Art Institute of Chicago, and the Willis Tower. Taking a food tour, going to a sporting event, or touring the city's neighborhoods all enhance the experience.
Related: