Delight your eyes and taste buds on the city that stands at the heart and soul of Greece—Athens! With its rich cultural heritage and vibrant neighborhoods, it's a city you won't forget. Visit the Acropolis fortress, which is on the list of UNESCO World Heritage Sites, and the Archaeological Museum, which has some of the most well-known ancient artifacts in the world.
To taste modern Athens, check out Monastiraki District and Ermou Street for the best bars, hotels, restaurants, and shopping areas. Please take advantage of the beautiful beaches of Yabanaki and Astir and their exciting adventures.
Finally, talking about Athens would only be complete by mentioning its food! Athens' food is phenomenal, from moussaka, a lasagna-like dish, to grilled lamb chops. So get your calendars out and prepare to experience Greek culture and nightlife with these 39 best places to visit in Athens, Greece, in 2023!
Key Takeaways
Athens is a city worth visiting for its cultural heritage, bustling neighborhoods, and wonderful cuisine.
The Acropolis of Athens is a UNESCO World Heritage Site and a world-renowned Greek architectural complex that is a must-see destination in the city.
Additional must-see Athens sights include the Parthenon, Temple of Athena, Acropolis Museum, and Ancient Agora.
Some of the top restaurants in Greece may be found in Athens, including To Kati Allo, Aleria Restaurant, and Grana.
Athens' nightlife is vibrant, with numerous taverns, clubs, and open-air theaters to choose from.
There are many inexpensive activities to do in Athens, such as biking around the city and exploring the vibrant areas of Plaka and Anafiotika.
Other cities outside of Athens where you can experience Greek life are Mykonos, Corinth, Nafplion, and Meteora.
Best Attractions in Athens
1. Acropolis of Athens
The Acropolis in Athens is a world-renowned Greek architectural complex that has been the star attraction when visiting Greece's capital. The Acropolis is an ancient city situated 156 meters above ground, called the "City on the Air," which features many significant archaeological buildings and provides an incredible view of the whole of Athens.
Take a full, informative walking tour of this UNESCO World Heritage Site and walk through the major highlights like the Parthenon, Acropolis Museum, Temple of Athena Nike, and Temple of Olympians Zeus and Hephaestus.
2. Acropolis Museum
The Acropolis Museum is one of the world's best and most valuable museums. It has over 3,000 unique pieces from ancient Greece. The Archaic Acropolis Gallery is located on the first story, the Gallery of the Acropolis Slopes is on the first floor, and the Parthenon Gallery, which exhibits exquisite sculptures like the Head of Alexander the Great statue, is placed on the third floor.
Audio guide handsets are available, making it a perfect site to visit with your family. What's more interesting is that they open the cafe and restaurant within the museum on Fridays and Saturdays, allowing you to eat while admiring the archaeological excavation.
3. Temple of Olympian Zeus
The Temple of Olympian Zeus provides a different taste of ancient Greek history. This old beauty, also known as Olympieion, was one of the enormous temples built in the ancient Greek world, with an area of half a hectare.
As you explore the site, wander through the Temple of Kronos and Rhea, get a nice view of the remaining 17-meter marble columns, and feel the grandeur of the attraction by passing through the Arch of Hadrian. You should also try the multilingual audio tour while exploring the site for a more immersive experience.
4. National Garden
Visit the National Garden of Athens for free, and you won't be disappointed! Located in the center of Athens, this 15.5-hectare majestic beauty is a relaxing paradise to see 40,000 plants, 7000 gardens, six lakes, and many more recreational places like playgrounds, libraries, and cafes.
For animal lovers, there is also a small zoo inside the park containing goats, ducks, peacocks, and turtles, which kids enjoy. For a unique family experience, you can take a private Greek family games tour and learn about the games ancient Greeks played. Without a doubt! Strolling through the National Garden is one of the best things to do in Athens.
5. Temple of Hephaestus
Dubbed the "Most Preserved Age-Old Greek Temple," the Temple of Hephaestus is one of the ancient world temples that remain remarkably untouched. It is dedicated to Hephaestus, the god of metal workers and fire, and Athena Ergane, the goddess of crafts and pots.
Just looking at and admiring the temple gives you the ancient Greek vibe. You can see the metopes at the front, which illustrate the exploits of Heracles; the sides show the exploits of Theseus; and inside the temple, you can see calligraphic decorations of mythological scenes of battles. If you're coming from the Acropolis, you can reach this temple on foot in 15-30 minutes.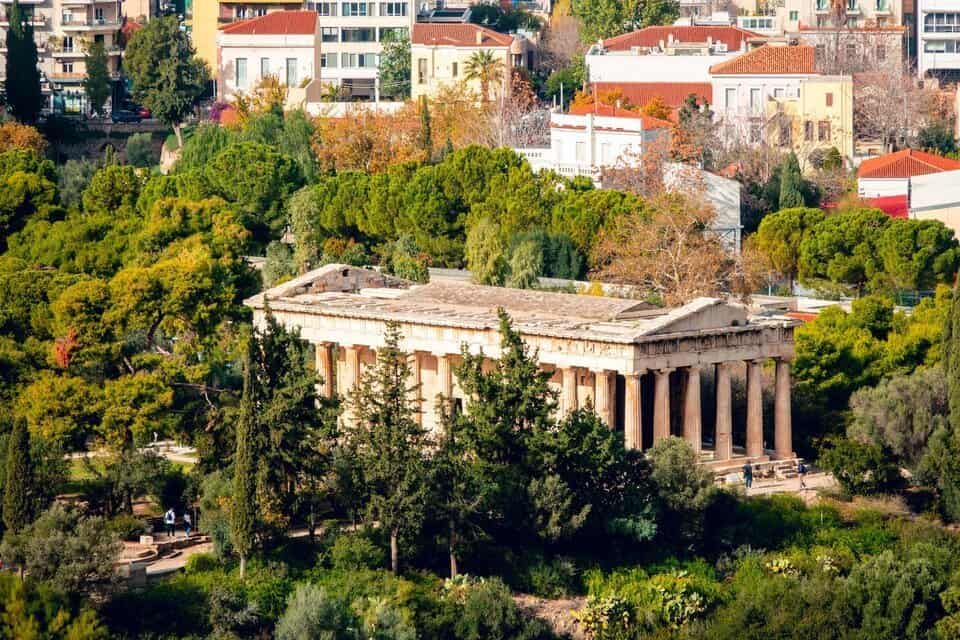 6. Parthenon
The Parthenon is likely to appear in photographs of Athens or tourist advertisements. The most famous monument dominating the top of the sacred Acropolis hill, Parthenon, served as the symbol of democracy in Athens and was dedicated to the goddess Athena.
A fascinating aspect of the temple is its old-style Doric architecture and some Ionic elements. Explore the Parthenon with exciting and knowledgeable exclusive tours to witness all these.
Even though you cannot enter the Parthenon directly, viewing it from its perimeter is still an unforgettable experience in Athens.
7. Ancient Agora
Continuing from the Acropolis, the Roman Ancient Agora, the former marketplace of Athens, should be on your list too! Like the Acropolis, the Ancient Agora is an expansive archaeological site with many ancient landmarks like temples, public buildings, statues, and monuments.
Roam freely among the most famous, like the Stoa of Attalos, which contains the Agora museum, the main entrance Gate of Athena, the Temple of Hephaestus, and the prominent Ottoman structure Fethiye Mosque. Check out the site as it is open daily from 8 AM to 3 PM; it is pretty big, so plan for at least 2 hours to see everything.
8. Theater of Dionysus
Seeing the very first and grandest theater in the world right before your eyes on your vacation to Athens would be an unforgettable experience. The Theatre of Dionysus, an arena accommodating 17,000 people, was the cradle of theater, drama, and the performing arts.
Relax on a stone bench and picture yourself in the audience of a play by one of the Greek classicists such as Aeschylus, Sophocles, or Euripides. The al fresco theater is accessible from 8 AM to 5 PM, so drop by before climbing the Acropolis.
9. Panathenaic Stadium
Try to put yourself in the shoes of an old Olympian as you walk across the Panathenaic Stadium. This stadium is one of the most significant and unique places to visit in Greece, as it has hosted countless games over the centuries. Stroll around the stadium while taking in the stunning symmetry, or go for a quick run on the athletic field.
Regrettably, the stadium is only a tourist attraction and no longer holds sporting events. On the plus side, the stadium hosts a reenactment of the ancient games performed by actors wearing classical Greek attire and organizes concerts and other events.
10. Monastiráki Square
Take in the sights of one of Athens' oldest and liveliest neighborhoods, Monastiráki Square, and get a feel for the local culture. When you stand right in the middle of the square, you can see a lot of shops, historic structures, bars, and restaurants. Some notable and best places to visit in Athens are Hadrian's Library, the Ancient Agora, and the Panagia Pantánassa church.
On Sundays, you can find Greek treasures at the Flea Market, like books, antiques, clothes, and handcrafted items you can take as souvenirs. You may also get some of the finest traditional Greek cuisines, such as Moussaka, Spanakopita, and Feyrouz with minced meat and salad, around the plaza.
11. Museum of Cycladic Art
Astonish yourself with some of the highly prestigious ancient artifacts and the famous white marble figurines at the Museum of Cycladic Art. The museum is a collection of the complete Cycladic, ancient Greek, and Cypriot art worldwide. Explore the most important prehistoric potteries, jewelry pieces, vases, and figurines from different periods.
There are also guided tours, educational lectures, workshops, and family programs perfect for children and adults. If you want the best experience, head to the cafe onsite for coffee and pastries while admiring the museum's aesthetics.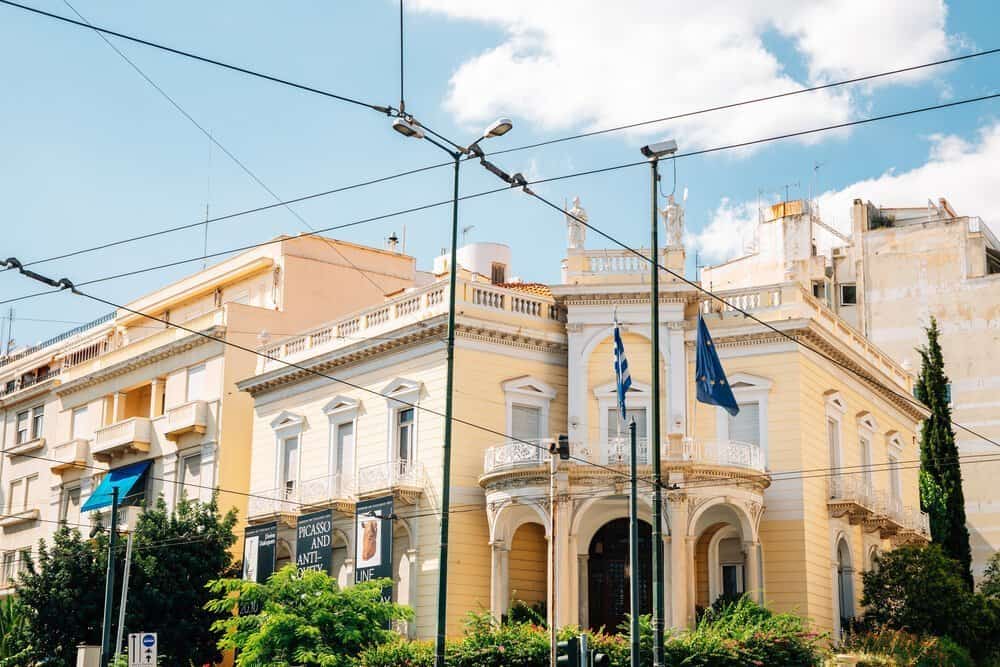 12. Temple of Athena Nike
Even though it's the smallest of the Acropolis' many temples, the Temple of Athena-Nike is a historical and architectural masterpiece. The temple was built primarily from Ionian limestone and marble to honor the Greeks' victory over the Persians.
The image of Athena-Nike in the cella is the masterpiece of the building's many carvings and sculptures, so you should take it. Also, read the signs to learn more about the history of the buildings. The Temple of Athena is located on the same slope atop the Acropolis as the Parthenon, giving you the same breathtaking panoramic view of the city.
13. Benaki Museum
The Benaki Museum is the place to go if you want a whirlwind tour of the history of Greek civilization. Whether you're a history buff or not, the Benaki Museum is still one of the best places to visit in Athens because of its rich collection of artifacts that can feed your eyes and mind.
Explore the vast collections of historic heirlooms, Byzantine arts, Islamic arts, Asian arts, Pre-Columbian arts, and much more. You can also check out their website's calendar for upcoming temporary exhibitions and events.
Bring your phone and headphones if you fully intend to do any self-guided tours, as all displays feature QR codes that can be scanned for information in various languages.
14. National Archaeology Museum
The National Archaeology Museum is Greece's largest museum and houses many ancient Greek antiquities and sculptures. The museum is home to an enormous collection of ancient artifacts, including a gold death mask (often recognized as the Mask of Agamemnon), a bronze statue of Zeus, Nestor's cup (also known as the Dove Cup), and much more.
The Antikythera mechanism, an ancient Greek mechanical device used for astronomical observation, is another must-see. In addition, the 118-year-old archaeological library housed there is worth a visit for its collection of books and periodicals.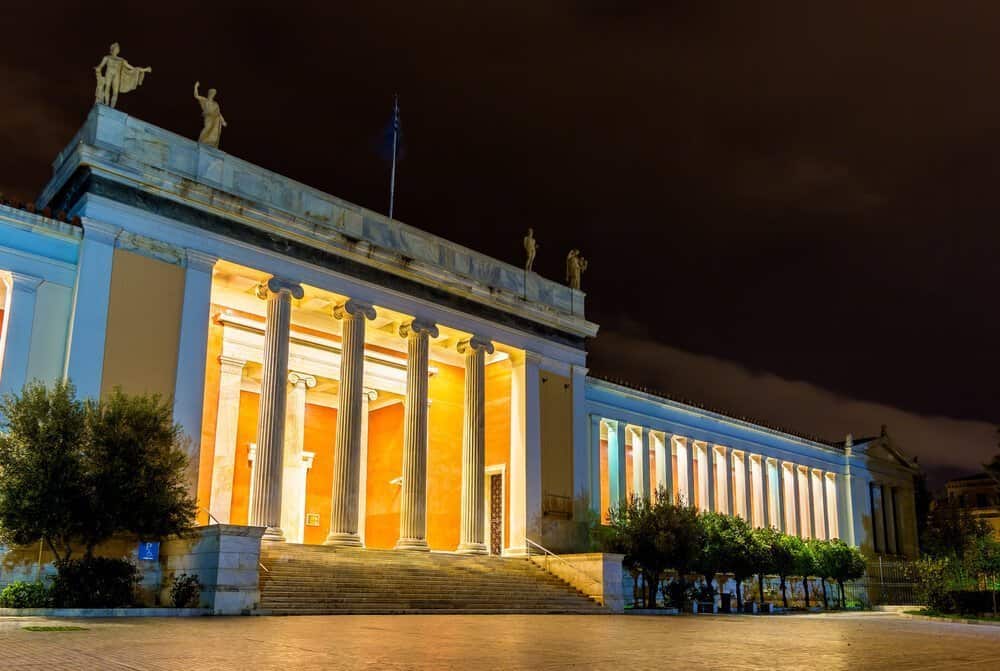 15. Temple of Poseidon
You may recognize Poseidon from Disney's Hercules and DC's Aquaman, but did you know an actual temple in Athens is dedicated to him? That's right, and we're talking about the Poseidon Temple. At the tip of Cape Sounion, you'll find the marble remains of a temple built in the Doric style, which traces its origins 2,500 years ago.
The temple is an hour's drive from the Acropolis of Athens and adjacent to the coastline so that you can respect and appreciate both the architectural features and the breathtaking views of the Aegean sea. After admiring the temple's columns and inscriptions, you may easily access private beaches from there if you're ready for a dip.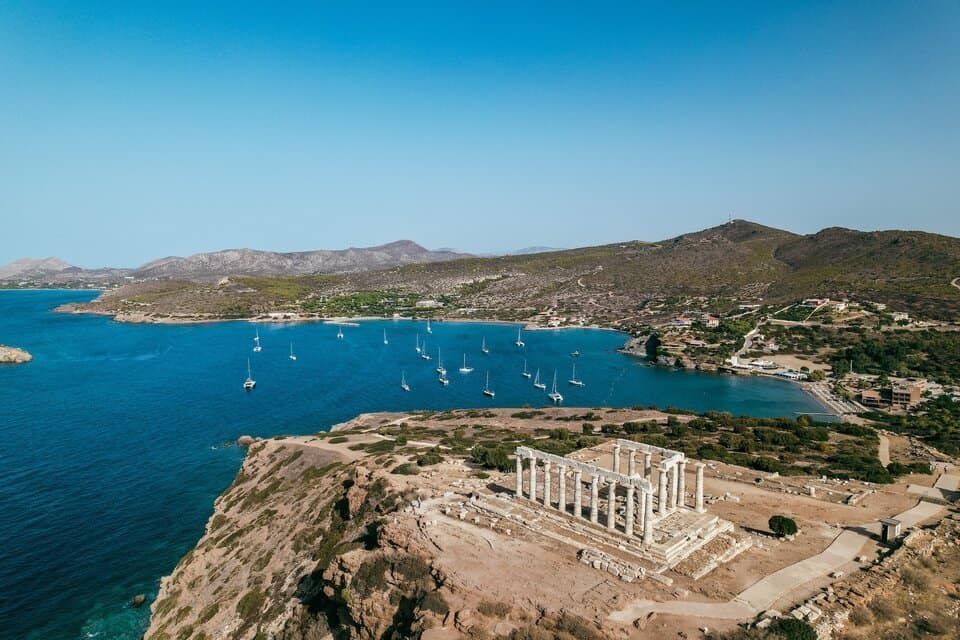 16. Philopappos Hill
Just in front of the Acropolis, hiking Philopappos Hill is one of the best things to do in Athens. This park, situated on a 147-meter hilltop, is accessible 24 hours a day and can be reached on foot in under 15 minutes. Yet the climb is well worth it for the breathtaking panoramic view that includes the Acropolis and other ancient landmarks. While taking in the sights, you may even organize a picnic.
On the same hill, if you have an hour to spare, you may visit Socrates' Prison, where the philosopher spent his final days before his execution. The grave of Roman consul Julius Philopappos, the Philopappos monument, and the ancient political area of the Pnyx are additional must-sees.
Best Restaurants in Athens, Greece
17. To Kati Allo
It's "love at first bite" at To Kati Allo, one of the best restaurants in Athens, Greece. Just next to the Acropolis Museum, this homey family-run taverna in Athens offers the best homemade Greek meat, seafood, and chicken, with many vegan options.
You can try souvlaki, moussaka, grilled fish, spanakopita, and Greek salad. You may even spice up your dining experience with more of their specialties, like grilled octopus, traditional dips like tzatziki, and stuffed grape leaves.
18. Aleria Restaurant
Nothing beats the Mediterranean flavors of Aleria Restaurant in Athens, which combines traditional Greek flavors with contemporary cooking methods. Their menu is perfectly crafted with well-balanced premium products, in-season produce, and sustainably caught fish.
If you enjoy seafood, try the stuffed squid with fennel and orange or the octopus carpaccio with fava bean puree. Slow-cooked lamb with artichokes and truffle oil is a delicacy for meat lovers. Furthermore, the restaurant's wine list is outstanding and offers a variety of Greek and foreign wines that complement excellently with the food.
19. 360° Cocktail Bar
360° Cocktail Bar is your best bet if you're searching for the ultimate cocktail adventure in Athens! This charming rooftop bar-restaurant in the middle of the city provides breathtaking 360-degree panoramic views of Athens. It is the ideal setting for any event, from a romantic evening out to a night of celebration with friends.
360° Cocktail Bar caters to the city's fashionable and sophisticated audience, offering a diverse selection of cocktails to satisfy every palate. Their trained bartenders will create the perfect drink for you, whether it's a crisp Athens Sunset, a classic 360° Martini, or a distinctive Acropolis Sour.
20. Granada
If you plan to visit Agia Paraskevi Church, it is highly recommended to check out the Granada restaurant afterward. It's the perfect place to enjoy delicious Greek and Mediterranean dishes in a cozy, relaxed atmosphere.
They offer a variety of delicious meals, including tapas, scallops, and risotto, that will surely satisfy your taste buds. Plus, remember to pair your meal with a good glass of wine!
The best part? You don't have to break the bank to dine at Granada. The prices are reasonable and affordable, so you can enjoy a great meal without worrying about overspending.
21. Klimataria
Are you looking for a memorable dining experience while visiting Athens, Greece? Look at one of the best restaurants in Athens, Greece, Klimataria! Walk through the doors of Klimataria, and you'll feel transported to a bygone era of traditional Greek culture.
With mouthwatering food, a warm ambiance, and a rich history that will enchant you, this lovely taverna delivers an authentic flavor of Greek hospitality.
Something on the menu fulfills every craving, from classic delicacies like Moussaka and Souvlaki to lesser-known jewels like Kleftiko and Horta. As you devour each delectable item, you'll be enchanted by traditional Greek music, which will take you even deeper into the heart of this incredible culture.
Best Things to Do in Athens At Night
22. Visit the Gázi District
Athens' Gázi neighborhood is one of the city's most exciting after-hours hotspots. Walk down Iera Odos, a pedestrianized street lined with shops, cafes, and restaurants, to kick off your evening.
Gazi Technopolis used to be a gasworks, but it was turned into a place for music, theater, and dance. Lohan, a famous club among locals and visitors, is just one of many in this area where you can get your dance on until the wee hours of the morning.
23. Visit the Psyri District
You can't go wrong with Psyri District if you're searching for the best happy hour nightclubs. Participate in the vibrant nightlife and enjoy live music at one of the numerous venues, where you can hear everything from traditional Greek music to contemporary bands.
Psyri is also home to some of the region's finest restaurants serving regional and international cuisine. Take advantage of the exciting nightlife of the Psyri District in Athens.
24. Take a Guided Tour
A nighttime guided tour of Athens is a must-do for any visitor to Greece. It blends ancient history and modern culture. Visit the Acropolis to see the Parthenon, one of the world's most famous ancient structures. Visitors can try traditional Greek food and listen to live music in Plaka, the oldest neighborhood.
Other tour highlights include the Temple of Olympian Zeus, Ancient Agora, and Panathenaic Stadium, which hosted the first modern Olympic Games in 1896. The tour will take visitors to some of Athens' best bars and clubs to experience its lively nightlife.
25. Attend a Pub Crawl
Athens has a vibrant nightlife, and pub crawls are a popular way to explore the city's bars and clubs. Psirri, Monastiraki, and Gazi are popular pub crawl spots in Athens. Athens Pub Crawl, Athens Nightlife Tours, and Athens Bar Tour offer pub crawl tours.
Free shots and drink discounts are typical on these tours. They also allow travelers and locals to enjoy the city's nightlife safely.
Drink responsibly and follow the tour company's safety guidelines if you go on an Athens pub crawl. Also, wear comfortable shoes and dress for the weather and the bars and clubs you'll visit.
26. Party Until Dawn at Various Clubs
There are numerous clubs where you can dance until dawn arrives in Athens, famous for its exciting nightlife. Lohan Nightclub, run by Lindsay Lohan herself, and The Clumsies, known for its creative cocktails, are two examples of these popular establishments.
Bolivar Beach Bar is another well-liked club because of its beachfront location and its roster of live bands and DJs. Six Dogs, BIOS, and A for Athens are other well-known groups. There are plenty of places to party the night away in Athens.
27. Watch a Movie at an Open Air Cinema
Relax with a bottle of fine wine in hand and take in a film at an Athens, Greece, open-air cinema. Tourists can join in on what the locals do all the time in the summer. Many different theaters can be found in other parts of Athens, each providing its atmosphere and entertainment—popular open-air cinemas.
Cine Thisio, Cine Paris, and Cine Aegli are three of the most well-liked outdoor theaters. These theaters show new releases and older classics from Greece and worldwide. Seating at outdoor theaters is usually quite plush; some even sell concessions.
Taking in a film under the stars in Athens is a beautiful way to unwind and take in the city's sights and sounds.
Cheap or Free Things To Do in Athens, Greece
28. Visit the Pláka District
The historic district of Plaka is one of the oldest and most colorful neighborhoods and offers you a lot of free or cheap things to do in Athens, Greece. You can start leisurely strolling through Adrianou street in Plaka while enjoying the architecture, shops, art galleries, etc.
You can also enjoy the Plaka local food without breaking the bank as they offer local dishes like moussaka, kebab, or keftedes at affordable prices. One of the main highlights is witnessing the changing guard at the Tomb of the Unknown Soldier in Syntagma Square every hour for free.
29. See the City From Lykavíttós
Isn't it amazing how magical the sunset can be when viewed above all of Athens? You can do so by climbing Lykavittós Hill, the city's highest point at an elevation of about 277 meters. The more convenient method to reach the mountaintop is via the funicular railway, but hiking up is still an option if you're up for the exercise.
The experience will be even more thrilling if you arrange a reservation in advance at the restaurant at the very top. Packing your food and arranging a picnic is a cheap and romantic alternative if you're on a limited budget.
30. Sightsee Athens by Bike
Renting a bike and riding around is the best way to see the city and is also one of the cheap things to do in Athens, Greece. Depending on how long you rent a bike, you can travel anywhere from the city's core to its shorelines.
You can follow the traditional circuit around the hill to see the Acropolis and its neighboring attractions, including the Parthenon, Roman Forum, and Ancient Agora.
A coastal path is a terrific option if you're looking to get away from the metropolis, as it will take you to the neighborhood of Glyfada or towards the south of Athens, where you can take in beautiful views of the sea.
It's important to remember to be cautious on the road by always wearing a helmet, according to traffic signals, and staying inside designated bike lanes.
31. Visit the Anafiotika Neighbourhood
One of the many free or cheap things to do in Athens is to explore the alleyways of the Anafiotika neighborhood. The whitewashed homes of this picturesque Greek town near the Acropolis and Plaka are well-known worldwide. Going through the charming community and taking stunning photos to post online is a breeze and costs you nothing.
The Metropolitan Cathedral of Athens, the city's largest church, is accessible to visitors. In addition, the Herod Atticus Theater regularly hosts free performances.
Furthermore, the enormous public space of old ruins at Ancient Agora is a free place to visit if you want to get a feel for what life was like in ancient Greece.
32. Shop in the Monastiraki and Flea Market
Monastiraki is filled with numerous marketplaces and souvenir shops where you may find goods at low prices. Discounted clothing, rare vintage things, handmade arts and crafts, and low-priced silver and gold-plated brass jewelry may all be found here. Olive oil, spices, and honey are just some of the relatively cheap foods here.
Postcards, keychains, and refrigerator magnets are available for a low price and make excellent souvenirs to take home. Shop around and negotiate with vendors to get the cheapest bargain.
Best Places to Visit Near Athens
33. Corinth
Corinth, Greece, is a fascinating city with a rich history and numerous archaeological sites. You may see the Temple of Apollo and the ruins of Ancient Corinth, both fascinating. If you prefer outdoor activities, there are some magnificent beaches along the Corinthian Gulf and mountains to hike in. There are also several beautiful vineyards and wineries to visit if you enjoy wine.
Finally, there's the Corinth Canal, renowned for scenic boat trips, and the city boasts a bustling market and a few museums, including the Archaeological Museum of Corinth. Corinth has a lot to offer in terms of sights and activities.
34. Mycenae
Come and venture into the ancient cities of Mycenae, which are rich in history and provide a variety of fun activities, on an exciting adventure. Begin your expedition with a quick trip back in time, where you may see the famous Lion Gate, the Palace of Agamemnon, and the Treasury of Atreus.
After that, you can visit the Archaeological Museum of Mycenae, which houses a fascinating collection of antiquities. No vacation to Mycenae is complete without hiking to the top of the hill to see the Mycenaean Acropolis and the city panorama.
Experience Mycenae's cultural activities by attending a concert or theatrical production highlighting the city's rich history and legacy. Take advantage of the opportunity to immerse yourself in the essence of Mycenae thoroughly!
35. Nafplion
If you're looking for a destination with cultural diversity, rich history, and beautiful beaches, Nafplion is the place to go. This gorgeous coastal city, known as modern Greece's first capital, has much to offer, including the fantastic views of Palamidi stronghold, Bourtzi Castle, and the Archaeological Museum of Nafplion.
It's also an excellent place for couples looking for a romantic getaway. Enjoy a stroll around the Old Town's lovely streets, which feature neo-classical architecture and charming cafes. Nafplion is also famous for beachgoers because of its crystal-clear waters and sandy beaches, such as Arvanitia Beach and Karathona Beach.
Furthermore, this stunning setting is a gastronomical wonderland, offering various delectable Greek cuisines like fresh seafood, grilled meats, and traditional desserts such as baklava and loukoumades.
36. Epidaurus
Explore the surreal attractions and destinations of Epidaurus. Embark on a guided tour of the renowned Ancient Theater of Epidaurus, one of Greece's most iconic theaters, featuring unparalleled acoustics still utilized for various performances today.
You could also go to the magical Sanctuary of Asclepius, an ancient place where people go to get better from their illnesses. Situated just outside Epidaurus, the sanctuary boasts a temple, stadium, and other structures.
Lastly, bask in the stunning shores of Tolo, Kondili, and Karathona Beach, where you can relish a memorable vacation experience!
37. Mykonos
Mykonos contains the best places to visit near Athens, where you can enjoy the pulsating nightlife, swim in stunning beaches, and stroll through picturesque towns. Mykonos is a simple upgrade if you want more than the archeological monuments in Athens and is only a 2-hour boat trip from Greece's capital.
Enjoy the pristine waters and beautiful landscape of beaches like Paradise Beach, explore the charming village of Chora, party the night away at The Garden, and try some of the island's famed sausages.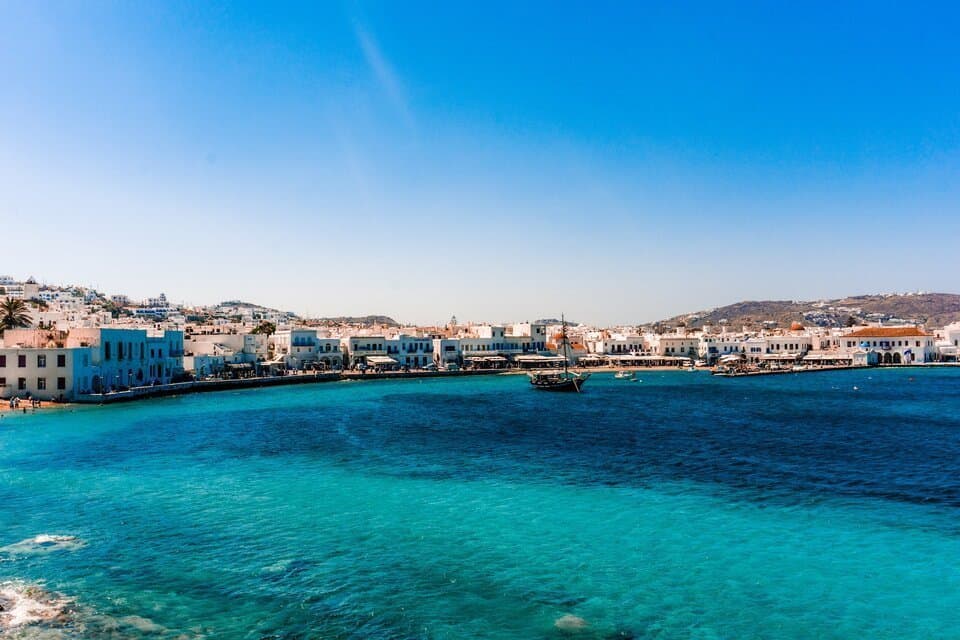 38. Meteora
A trip to Meteora, which is only four hours from Athens, has the great promise to be one of the most unforgettable vacations if you appreciate thrilling adventures with a dash of history. Because of the city's numerous towering rock formations, Meteora has become widely recognized as one of the rock-climbing destinations in Greece.
Popular and challenging climbing destinations include the Grand Cave, the Monastery of Agios Nikolaos Anapafsas, and the Agia Triada. If you want to try climbing with ladders and cables, Via Ferrata is preferable.
39. Delphi
Delphi, the holiest of sacred places, is a sanctuary consecrated to the Greek god Apollo. The Delphi Archaeological sites, including the Temple of Apollo, the Stadium, the Ancient Theater, and the famous Castalia spring, are the primary highlights of your tour to Delphi.
If you're hunting for something more adventurous, take a hike to Mt Parnassus, which prides a magnificent landscape and is a popular tourist activity.
Best Places to Stay in Athens
Staying in Athens is influenced by your budget and lifestyle; if you want to visit in a luxurious setting, the Hotel Grande is an excellent choice. This historic hotel in the city's heart boasts excellent rooms, a rooftop patio with breathtaking views, and a spa.
Visitors on a limited budget may prefer the AthenStyle Hostel, which offers cheap dormitory-style accommodations and individual rooms with shared utilities.
The guest house is conveniently positioned in Athens' center. It has a rooftop bar with stunning views of the Acropolis. Athens Backpackers Hostel, Athens Lotus Hotel, and Herodion Hotel are other options.
Is Athens Worth Visiting?
With its rich history and vibrant culture, staying in Athens is an excellent choice. Explore the splendor of the Parthenon temple and other ancient ruins, regarded as the most famous location in Athens, through various relaxing activities.
You can also visit the Acropolis Museum, which exhibits many of the site's antiquities. Historical sites include the Ancient Agora, the Temple of Olympian Zeus, and the Roman Agora.
Tourists can taste modern Athens by visiting neighborhoods like Monastiraki and Psirri, home to trendy cafes, restaurants, and shops. Many parks and outdoor spaces also exist, including the National Garden and Lycabettus Hill.
Ultimately, anyone interested in history, culture, or architecture must visit Athens.
FAQs
Is 2 days enough to see Athens?
Two days may be enough to view some of Athens' landmarks, such as the Acropolis and the Parthenon. Still, more time is required to properly explore and appreciate the city's rich history, culture, and gastronomy.
What is Athens, Greece, best known for?
Athens, Greece, is renowned for its ancient history and architecture, especially the Acropolis and Parthenon, and its contributions to philosophy and democracy. It is also recognized for its vibrant city life, delectable cuisine, and stunning beaches.
Is 3 days in Athens too long?
It all depends on your hobbies and travel preferences. If you are interested in history, culture, and gastronomy, three days in Athens is sufficient to tour the city leisurely. If you're primarily interested in beaches or outdoor activities, consider spending less time in the city and more time in the surrounding areas.
Is Athens cheap for tourists?
For tourists, Athens can be quite affordable, particularly in terms of lodging and meals, but expenses can vary depending on your travel style and the season. Enjoying Athens on a shoestring budget is feasible, but it is also possible to splash out on luxury hotels, fine restaurants, and guided excursions.
Related: