When the snow starts falling, and the lakes freeze over during December, Canada transforms into a winter paradise!
You can enjoy skiing at Grouse Mountain, ice skating on the Rideau Canal, or marveling at the Northern Lights dancing above Churchill in Manitoba. This vast, snowy land offers thrilling adventures and peaceful experiences for everyone.
Grab your jacket and warm up as I guide you through the 22 best places to visit in Canada during winter!
Key Takeaways:
Some of the best places to visit in Canada during Christmas are Whistler, Vancouver, Ottawa, Churchill, and Edmonton.
Banff National Park, Grouse Mountain, Marble Mountain, and Jasper National Park are four of the best places to visit in Canada during the winter.
A few tips for visiting Canada during the winter include packing warm clothing, dressing in layers, drinking plenty of water, and using public transport instead of bringing a car.
Best Places to Visit in Canada During Christmas
1. Whistler, BC
One of the best places to visit in Canada during Christmas is Whistler, BC. Why? It offers a blend of winter activities and relaxing opportunities, making it ideal for families!
When I say there's much to do here, I genuinely mean it. Each activity will push you out of your comfort zone! Try snowmobiling, snowshoeing, the Peak 2 Peak gondola, winter ziplining, heli-skiing, and even snowcat tours.
Canada in winter temperatures ranging from -4 to -10 degrees Celsius will get your adrenaline pumping as you ski or snowboard across the 8000-acre terrain in Whistler Blackcomb, North America's largest ski resort.
2. Montreal, Quebec
Christmas holidays in Montreal, Quebec, are cheerful, festive, unique, and bright as they celebrate Canadian traditions and European roots. German markets are popping out around town for food and gifts; French-Canadian dishes like cartons, meat pies, and salmon pies are served in restaurants; and French holiday choir performances are held in churches.
For a magical and entertaining winter stroll around town, admire the light and decoration displays in Jacques Cartier Square and Mont-Royal Park.
Of course, the winter holidays would only be complete with trying out sports activities like ice skating, which is best in Parc La Fontaine, or at the Bonsecours Basin's old Port Natrel Skating Rink.
3. Toronto, Ontario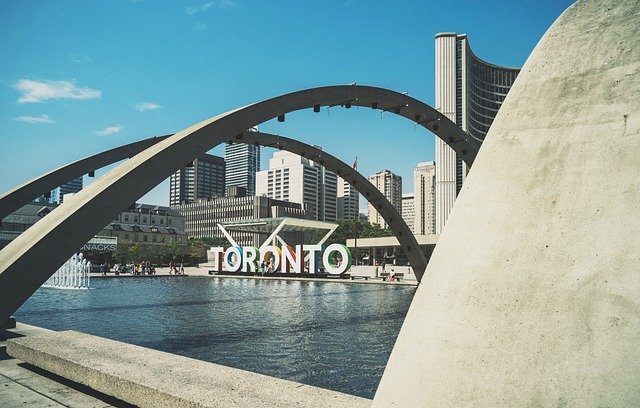 Toronto becomes a winter haven during Christmas with bright lights, winter festive events, cultural shows, and, most significantly, sports!
If you're up to trying some winter sports, skiing, snowboarding, sledding, and winter walks are available around town. There are also many skating rinks around town, like the Harbourfront Center and Nathan Phillips Square.
To witness the beautiful bright Christmas lights, don't miss out on the annual Cavalcade of Lights parade, which marks the start of the winter seasons, the Toronto Light Festival for some incredible art-injected light displays, and explore more Christmas light displays at Little Italy, Greektown, and Roncesvalles.
4. Vancouver, BC
Not as heavily snowy as the other cities and states in Canada, Vancouver still has its frosty spark and magical gems that attract many, giving enough reasons for you to spend your holidays in town.
One, the snow sports you can explore in the city are world-class; from skiing and snowboarding at the best-of-the-best ski resorts like Grouse Mountain and Cypress Mountain to ice skating in Robson Square, it gives that lively and memorable experience.
You can bring your kids to Stanley Park with a showcase of thousands of Christmas lights or the Vancouver Aquarium for winter-themed activities perfect for children. The Vancouver Christmas market is also something you should consider, as it is not your typical Canadian market but exhibits more German foods and gifts.
5. Ottawa, ON
Ottawa, ON, is one of the most recommended and best places to visit in Canada during winter because of the number of Christmas and winter activities available, whether indoor or outdoor.
If you want the best and most fun skating experience in your life, I suggest you experience the 7.8-km Rideau Canal Skateway, and you're not just skating in an ordinary rink but the largest naturally-frozen skating rink in the world.
Aside from that, as sparkling lights illuminate the town, explore the Christmas markets, concerts, festivals, and landmarks around town, especially Parliament Hill and Confederation Park. If you're with your family, another must-try is Stanley's Olde Maple Lane Farm, with lots of outdoor winter activities, games, and goodies to buy.
6. Halifax, Nova Scotia
As you embrace the Christmas spirit, you'll surely love how festive and charming Halifax, Nova Scotia, becomes with its sparkling Christmas light shows, events, festivities, and concerts.
Being the "Balsam Fir Christmas Tree Capital of the World," one of the most famous events you shouldn't miss is the Christmas tree lighting ceremony at the downtown Grand Parade with live music and activities.
From there, you can go from place to place freely, watching holiday shows in the Neptune Theatre and light shows in Glow Gardens, the Halifax Public Gardens, and the Halifax Waterfront.
7. Charlottetown, PEI
Charlottetown, PEI, has been known for its sandy beaches, but what do you think happens to this excellent summer destination during Canada's winter months? It becomes a festive winter wonderland— parties, food, markets, winter activities, holiday shows, performances, and festivals left and right!
You can try so many winter recreations, including winter walking, cross-country skiing, snowshoeing, skating, and multi-use of groomed winter trails around the town, all for free.
After adrenaline-pumping winter sports, why don't you try out exploring some of the best events in the town, like the Ice City Festival to witness the ice sculptures, the WinterDine for a showcase of the town's delicacies, and the Charlottetown Christmas Festival to make the most of your magical Christmas?
8. Quebec City, Quebec
Spending Christmas in Quebec City is like spending it in a European country! Just imagine walking through the cobblestone streets with festive ice sculpture decorations everywhere or skating at D'Youville between the snow-covered historical and charming architecture of Old Quebec; everything feels like France.
You can't forget the European-style markets lining up during Christmas, especially the German market serving German delicacies, arts, crafts, and delicious treats.
Although you can enjoy their favored skating and tobogganing to see the magnificent town from a higher point of view, outside the city's perimeter are also a bunch of winter sports you can add to your list. Snowshoeing, cross-country skiing, and ice fishing are among the few.
9. Winnipeg, Manitoba
During the blissful Canadian winter months, Winnipeg becomes a beautiful Christmas village jam-packed with activities, events, and Instagrammable-worthy Christmas light installations.
As you roam around the town, you won't help but notice the Festival of Trees and Lights at the Manitoba Museum and the incredible light displays at Assiniboine Park Zoo. To capture and love the one million lights twinkling altogether, head over to Canad Inns Winter Wonderland.
Winnipeg, especially in Manitoba Provincial Parks, is also an avenue for some winter sports & recreations that your family will love, including cross-country skiing, dog sledding, snowshoeing, horseback riding, and the most kid-friendly activities like dog sledding, ice fishing, and igloo building.
10. Churchill, Manitoba
If you want a little bit of an outlandish and unique Christmas holiday in Canada but still crackling with natural beauty unfolding right before you, Churchill in Manitoba is the place to be! Why? Mixed with the powerful freezing temperatures from -18 to -26 degrees Celsius is the sight of the dancing lights of the Northern Lights; it's a relaxing sight to witness!
There are also several exciting outdoor winter activities in Churchill, Manitoba, that I'm sure you'll enjoy. Go bird watching at the Bay Forest or Subarctic Tundra, try out the traditional transportation mode of dog sledding across the white powdery fines of snow, and manage the migrations of beluga whales and polar bears across habitats.
11. Calgary, Alberta
Calgary, Alberta, is one of the best places to visit in Canada during winter for families, as there are fun activities to enjoy, like Christmas sleigh rides, enchanting light tours, and plenty of festivities and attractions.
One of the highlights is the Christmas presentation at Heritage Park, where you can step back in time and experience a Christmas with horse-drawn wagon rides and beautifully decorated historic homes.
The city is adorned with light displays at Calgary Zoo Lights, Lions Festival of Lights, and Spruce Meadows Christmas Light Drive Through.
Of course, the Canadian holiday experience is only complete with ice skating! Head to Olympic Plaza downtown Calgary for a skating session with friends and family.
12. Edmonton, Alberta
Edmonton, Alberta, holds the title of "Canada's Festival City" for a reason. During Christmas, the city transforms into home to various events and celebrations. From the enchanting Festival of Trees to the Candy Cane Lane Light Display and the delightful Silver Skate Festival, there are plenty of mini festivities to enjoy.
The chilly weather provides the backdrop for cross-country skiing at the Strathcona Wilderness Centre, ice skating at Victoria Park Oval, and tobogganing at Rundle Park.
Moreover, Edmonton is a haven for gift shopping, with its Christmas markets scattered throughout the town. Let's not forget about West Edmonton Mall – Canada's largest mall – where you can find a lot of gift stuff and an abundance of Christmas-themed ornaments.
13. Victoria, BC
Victoria, BC, is one of the best places to visit in Canada during Christmas. The entire town comes alive with a mesmerizing display of decorations and sparkling lights, creating a holiday atmosphere.
No matter where you go or in which direction you look, Victoria is adorned with lights throughout the Christmas season. From the Butchart Gardens and historic Craigdarroch Castle to the bustling streets of downtown and the enchanting Festival of Trees, an old-world holiday ambiance fills the air.
The mild winter climate in Victoria adds another dimension to your visit allowing you to indulge in activities. Savoring a winter tea, participating in festivals, and embracing outdoor adventures like ice skating, hiking, and whale watching are just a few of the many enjoyable experiences this charming city offers.
14. Squamish, BC
Squamish provides views of snow-covered mountains during the Christmas season. One of the best ways to experience this is by riding on the Sea to Sky Gondola.
There are plenty of activities, such as snowshoeing, mountain biking, snow tubing through picturesque forests, or winter hiking, to reach scenic mountain viewpoints. These activities allow you to appreciate Squamish's beauty truly.
When you're back in town, take some time to explore the holiday markets and enjoy the ambiance of waterfront restaurants. You can join carolers singing under the night skies for a festive experience.
15. Banff, Alberta
Banff is a place to visit for a lovely winter vacation, thanks to its beautiful scenery. You can enjoy skiing at world-class resorts like Banff Mount Norquay and relax in the hot springs surrounded by snow-capped peaks.
Not only that, but the town's lodges are beautifully decorated, and there's a lively Christmas market right in the heart of downtown Banff. I highly recommend attending all the Christmas events they organize, like Night Rise at the Banff Gondola and In Search of Christmas Spirit: A Christmas Story.
Best Places to Visit in Canada During Winter
16. Grouse Mountain, BC
Grouse Mountain is one of the best places to visit in Canada during winter for couples and families, as it offers different types of activities that you and your family can enjoy! You can try out the fastest-growing winter activity, snowshoeing, or go for outdoor skating or a more romantic scene.
When you are with your other half, high skiing while gazing through the majestic clear skies of beautiful stars is also-a must-try for the locals. Lastly, try fine dining for a more relaxed and elegant experience.
17. Marble Mountain, Newfoundland
The true definition of a winter wonderland can be seen in Marble Mountain! You can experience different activities, from simple snowboarding and skiing to heart-pumping North Atlantic Ziplines.
Marvel around through snowmobiling. You can also visit White Hills Resort, another excellent location for winter activities.
18. Banff National Park, Alberta
If you are thinking of the best places to visit in Canada during winter, one of the best contenders is Banff National Park—a place filled with breathtaking sceneries and fun-filled activities.
Home to three world-class ski resorts, Lake Louise Ski, SkiBig3 at Banff Sunshine Village, and Banff Mount Norquay, it is guaranteed that you will experience the best skiing and snowboarding in Banff.
You can also see the unrealistic beauty of the Northern Lights, especially on a more clear night. Lastly, you can also have a great time doing other activities like dog sledding and ice skating.
19. Jasper National Park, Alberta
Jasper National Park is considered one of the best Canadian winter destinations, beaming with natural beauty and heart-pumping outdoor activities like ice climbing, where you can challenge yourself to a thrilling yet exciting action.
After that, you can also go for a wildlife viewing where you may have the chance to see different wildlife like bighorn deer and wolves. Lastly, explore the park's trails riding their fat bike with wide tires designed to withstand the weather conditions in Jasper National Park.
20. Niagara Falls, Ontario
Niagara Falls captivates the heart of its visitors with its exceptional natural beauty, and enticing things that you can do that vary from indoor to outdoor activities. Visit Skylon Tower, one of the best attractions in Niagara. You can see the picturesque views of the area 775 feet above the falls.
Another must-see attraction is the Winter Festival of Lights; it features over three million sparkling lights along the 5- kilometer route. The Icewine Festival is the famous winter event in Niagara every January, where you can sample great-tasting wines from local wineries.
21. Trois-Rivières, Québec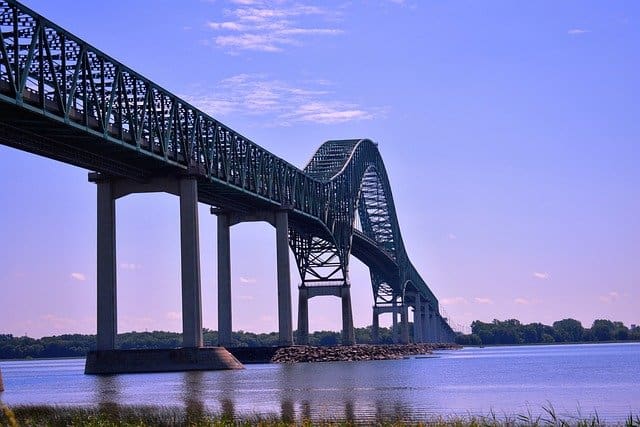 "A winter to remember!" –perfectly describes your visit to the Trois-Rivières, where you can indulge in different fun-filled activities. Please pay a visit to Old City, considered the main draw for the tourist because of its beautiful history and pristine architecture, while enjoying the winter views.
Another well-known event in Trois-Rivières is the Grand Prix de Trois-Rivières. It is a three-day racing event that features tons of races along the circuit. You can enjoy watching the races and the festive environment.
Lastly, go for a guided sightseeing river cruise on the St. Lawrence River. At the same time, you were learning about the industrial city.
22. Mont Tremblant, Québec
A festive and exciting place–that's how people who visited Mont Tremblant describe the place. As one of the best places to visit in Canada during winter, it's true because it has great activities that you or your family can enjoy. Skiing and snowboarding are outdoor activities you can enjoy in the area.
You can also marvel around its winter wonderland by exploring Mont Tremblant finally, enjoy the lively music and delicious foods in their winter festivals.
Tips on Visiting Canada During the Winter
Visiting Canada during winter ensures a marvelous and unforgettable experience but remember that you have to consider doing the following tips to ensure a hassle-free travel experience.
First is packing warm clothing, such as heavy jackets, gloves, woolen scarf, and hats. Make sure to pack the appropriate—clothing for your trip.
Dress in layers. It is vital to keeping you warm in Canada's winter weather.
Drink plenty because cold weather can be dehydrating. Ensure you drink plenty of water and warm drinks like coffee and hot chocolate.
Check the weather forecast regularly to keep you notified and be prepared for changes in weather conditions.
Public transportation is advisable, safer, and more convenient than driving alone.
Choosing the best accommodation is a must. Always choose the best hotel, hostels, or even private resorts appropriate for the weather. Always look for a place with great amenities like indoor pools, fireplaces, and hot tubs, perfect for the freezing weather.
Canada is a perfect place to stay during winter, but you must be prepared to maximize and enjoy your stay here.
FAQs
Which Canadian province has the best winter? 
Due to its abundant snowfall and iconic winter festivals, Quebec is often considered to have the best winter in Canada. It also has fun-filled winter activities and sports that many travelers enjoy. 
What is the warmest part of Canada during winter?
The west coast of Canada has the warmest spots during winter, specifically Victoria and Vancouver. The Pacific Ocean helps moderate the area's cold weather, making it the warmest place in Canada during winter. 
Is Toronto colder than Vancouver? 
Toronto is Colder than Vancouver during winter because of its geographical position. Toronto is more inland, unlike Vancouver, which is more coastal. 
Which city is better: Montreal or Toronto?
Only your preference can answer this question because both places have unique features. Toronto is widely known for its cosmopolitan vibe and urban settings, while Montreal offers more culturally related scenes and a bilingual environment.
Related: