Craving a mouthwatering slice of authentic, flavour-packed pizza in Toronto? You're in luck because this city is home to a multitude of popular pizza joints, both within the city and nearby.
Whether you want classic pizza flavours or slices with unique twists and appearances, the top 20 pizza spots on this list will satiate your cravings. Keep reading to embark on a delightful pizza adventure and try the best Italian pizza in Toronto.
Best Pizza In Downtown Toronto
1. The Fourth Man In The Fire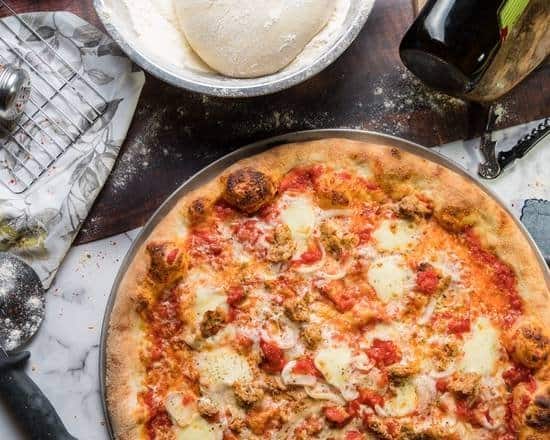 Located on Dundas Street, The Fourth Man in the Fire is one of the must-visit pizza places in Toronto you should not miss.
It offers classic pizza flavours such as pepperoni and Hawaiian but also hosts vegetarian options and a "Build Your Own" pizza, allowing you to choose the exact flavours you're seeking the way you want to.
Apart from pizza, you can also enjoy Bonzos, hero sandwiches and salads at this restaurant. Just note that beverages here are strictly non-alcoholic.
2. King Slice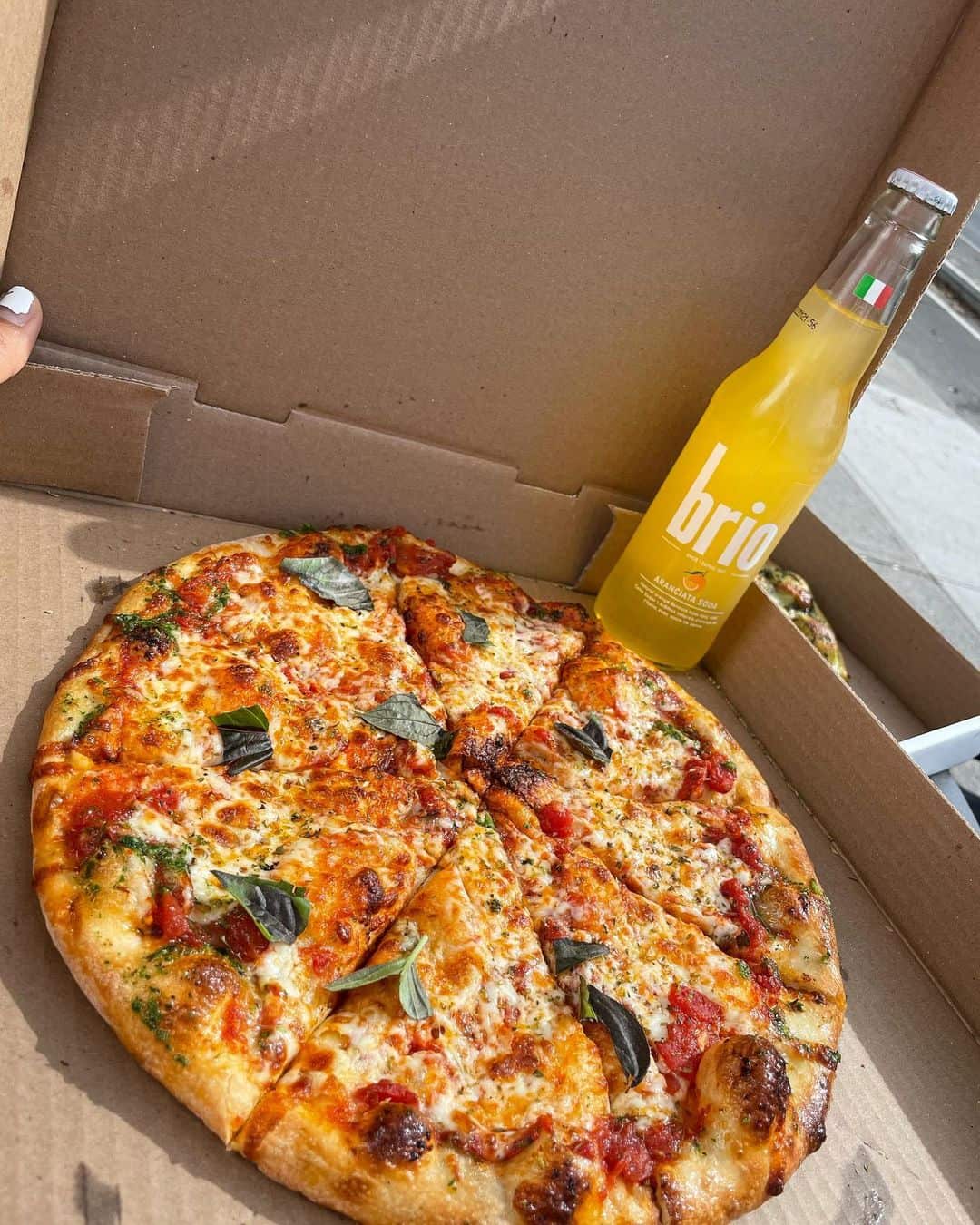 For more than 20 years, King Slice has been a go-to destination for Torontonians in search of authentic, homemade pizza flavour.
With their stone-oven cooking method, signature handmade garlic dough, and homemade sauce crafted from ripe tomatoes, you can surely taste the comforting flavours of home from every bite you take.
This restaurant has two branches: one located on Bloor Street and another on Queen Street. Both are open from 11 AM to 12 AM daily, but the one on Queen Street extends its hours until 4 AM on Fridays and Saturdays.
3. General Assembly Pizza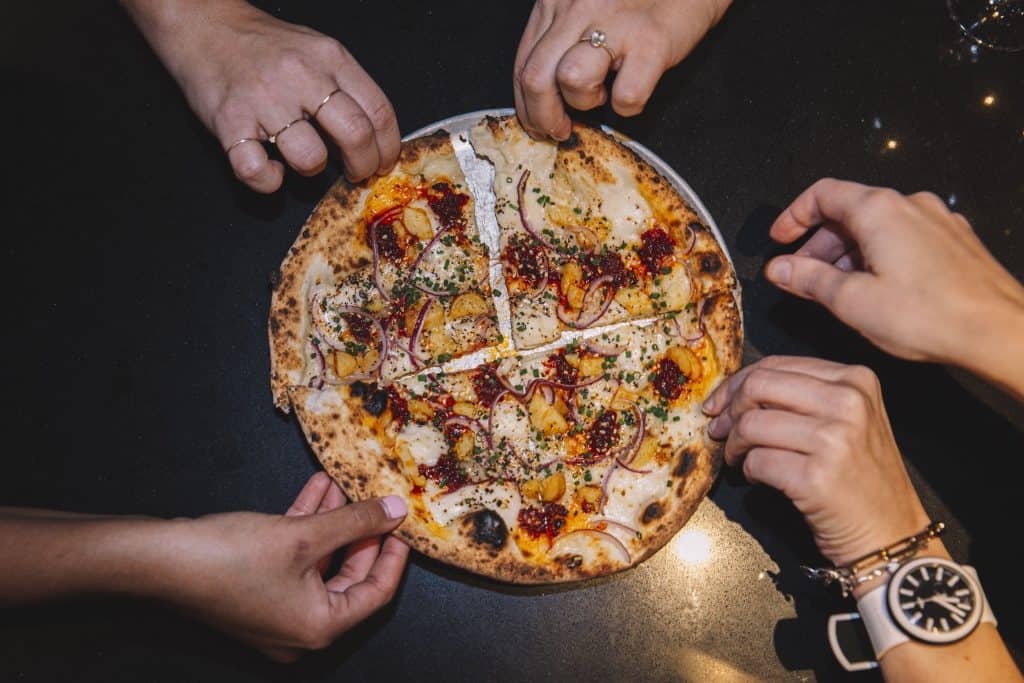 Need a place to hang out with your friends while enjoying the best pizza in Toronto? Drop by the General Assembly Pizza, conveniently located near the Toronto Entertainment District.
Their thin-crust pizzas are ready in under 10 minutes and are perfectly portioned for individual servings. So, you and your friends can satisfy each of your cravings while minimizing leftovers.
Fun fact: The General Assembly Pizza was the restaurant that launched the world's first pizza subscription service. So, if you feel like digging into a pizza any day of the week, definitely check out this restaurant, as it also has the best pizza delivery in Toronto.
4. Salt & Tobacco
Salt & Tobacco goes beyond being just a pizza place. It's a haven for community and friendly encounters as the restaurant's small space encourages friendly interactions with fellow diners.
Wanna have a boozy weekend? Salt & Tobacco has got your back,
Its 10 different pizza selections shine best when paired with a cold pint of beer or wine. As a bonus, you'll get free sparkling water as a complimentary drink.
5. Tutti Matti
Enjoy fresh pizza, bread and pasta simultaneously by visiting Tutti Matti. Despite being best known for its burrata and wild boar ragu pinci, this restaurant also features some of the best wood oven pizza in Toronto.
As a family-centred restaurant, most of the meals in Tutti Matti are crafted to be shared in groups. So, make sure to estimate how much your table can eat to avoid having unnecessary leftovers.
6. The Parlour
Indulge in Neapolitan-style pizza in Toronto by dining at The Parlour, a place filled with a stylish yet laid-back atmosphere.
Apart from their best-selling pizzas, this restaurant features uniquely-plated dishes and appetizers you won't be able to resist taking pictures of.
The best part? Cocktails are also available, and they pair perfectly with the classic pizza slices and sides, such as meatball minis and lettuce wraps.
7. Fabbrica
"Slow food served quickly" is what Fabbrica offers its customers through its acclaimed Roman-style pizza. By aging the dough for 72 hours before baking, this restaurant serves some of the best pizza in Toronto downtown, along with handmade pasta and roast porchetta.
The food here isn't exactly cheap, with whole pizza boxes reaching $55, but you'll understand the reason behind the price when you take your first bite.
8. Planta
Vegans, you'll certainly fall in love when visiting Planta, a 100% plant-based restaurant situated on Bay Street.
It features plenty of mouthwatering dishes, including vegan sushi, pad thai and burger, but its plant-based pizza will always have a special spot in my heart.
Wood-fired and topped with cashew mozzarella, a slice from Planta's pizza will surely satisfy your pizza cravings while allowing you to adhere to your diet.
Best Pizza In North York
9. North Of Brooklyn
With 6 stores scattered around North York and Toronto, North of Brooklyn is one of the most convenient restaurants to visit on this list. It features 9 different flavours that go beyond the classics, including Vodka Verde, which is made of vodka sauce, mozzarella and pecorino.
Apart from pizza, you can also enjoy fresh salad and garlic knots at North Of Brooklyn. Note, however, that this pizza joint only serves canned and non-alcoholic drinks.
10. Pizzeria Libretto
Pizzeria Libretto is the home of authentic Neapolitan pizza that's cooked in high-heat brick ovens and comes out with a puffy and flame-blackened crust. It hosts over 10 pizza selections, and vegan and gluten-free versions are also available.
If you want a refreshing drink to go with your pie, you'll have plenty of non-alcoholic and alcoholic options ranging from common soda to cocktails and wine.
Best Pizza In The West End
11. Pizzeria Badiali
Drop by Pizzeria Badiali, a neighbourhood slice shop in Toronto's west end. All pies here feature a homemade fresh sauce and a blend of at least two different cheeses, ensuring you'll enjoy a stretchy and savoury bite until you reach the crust.
Their dips are my personal favourites from the shop. I've tried all of them, but I was particularly impressed with hot honey that I didn't expect it to go along very well with pepperoni pizza.
No seating is available inside the shop, but patio tables are offered throughout and near the summer season.
12. Blondies Pizza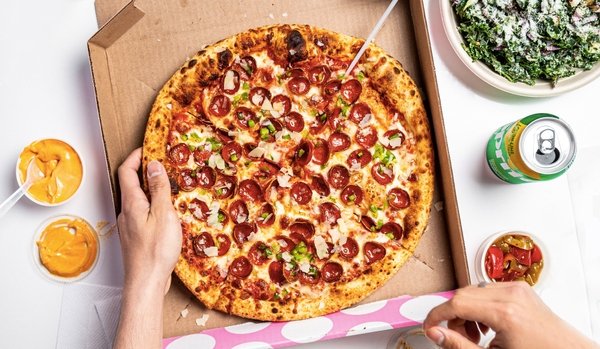 Freely choose between tomato-sauce-based pizza and alfredo-based pizza when dining at Blondies Pizza. All pies are made from scratch and cooked in a non-traditional Moretti Forni conveyor oven that lets you enjoy freshly baked pizza in less than 5 minutes.
If you're feeling adventurous, you can customize your pizza and choose from 6 different meat toppings, 6 types of cheese, and 10 vegetables.
I highly recommend that you don't miss out on the restaurant's soft serve. It satisfies that sudden sweet craving many of us get after enjoying a cheesy pizza delight.
13. Levant
So, you've already heard of, and likely tasted, Italian and Neapolitan pizza. But have you already experienced the unique flavour explosion of Sicilian pizza?
If not, you'll be in for a big treat when dining at the Levant, the pizzeria that combines rich Middle Eastern ingredients with the traditional focaccia base of a Sicilian pizza.
Pair your slice of pie with Levant's creamy hummus and the Palestinian dessert kunafa for a well-rounded and extremely satisfying food experience.
Best Pizza In the East End
14. One Night Only Pizza
When the pandemic happened, a family who used to host pizza parties at home let their friends drop by the porch and take to-go pizza instead.
Soon after, word of mouth spread among friends, neighbours, and of course, social media. So, the family tradition that was dubbed the "One Night Only Pizza" naturally grew into a secret-like takeout porch for the entire community.
Despite the original ONO pizza recipe not being created by a professional chef, demand for the pie grew. And fast forward to years later, the One Night Only Pizza restaurant now holds its spot as one of the best pizzas in Toronto.
15. Descendant Pizza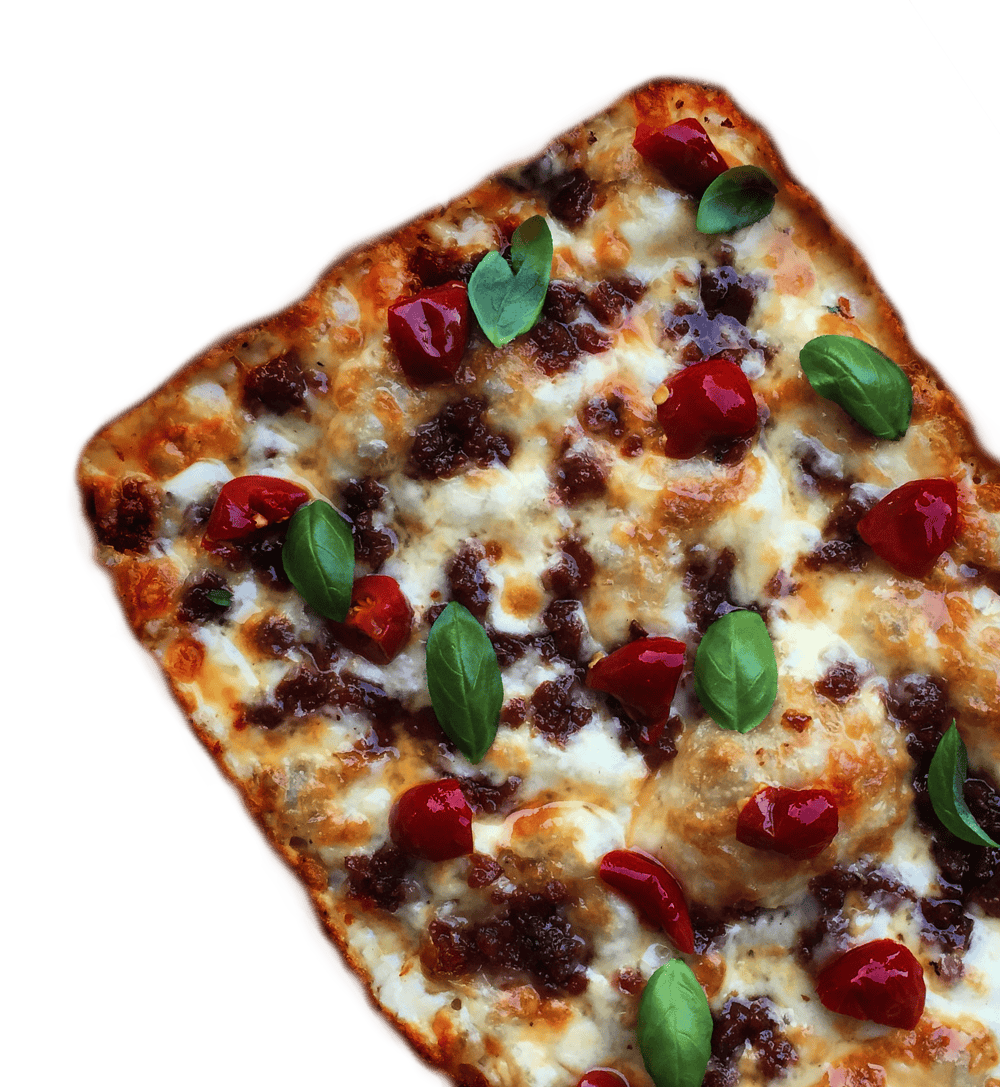 Featuring a thick Sicilian crust, not-too-heart-friendly amounts of cheese, and a thick layer of signature red sauce, Descendant Pizza's square-shaped pizza is a definite must-try if you want to explore pies that have a unique touch.
Unlike traditional pizza, the Descendant Pizza's sauce is trickled on top of the bubbling cheese instead of being used as a base, adding an unfamiliar but eye-pleasing twist to the classic pizza layers that many of us are used to.
16. Maker Pizza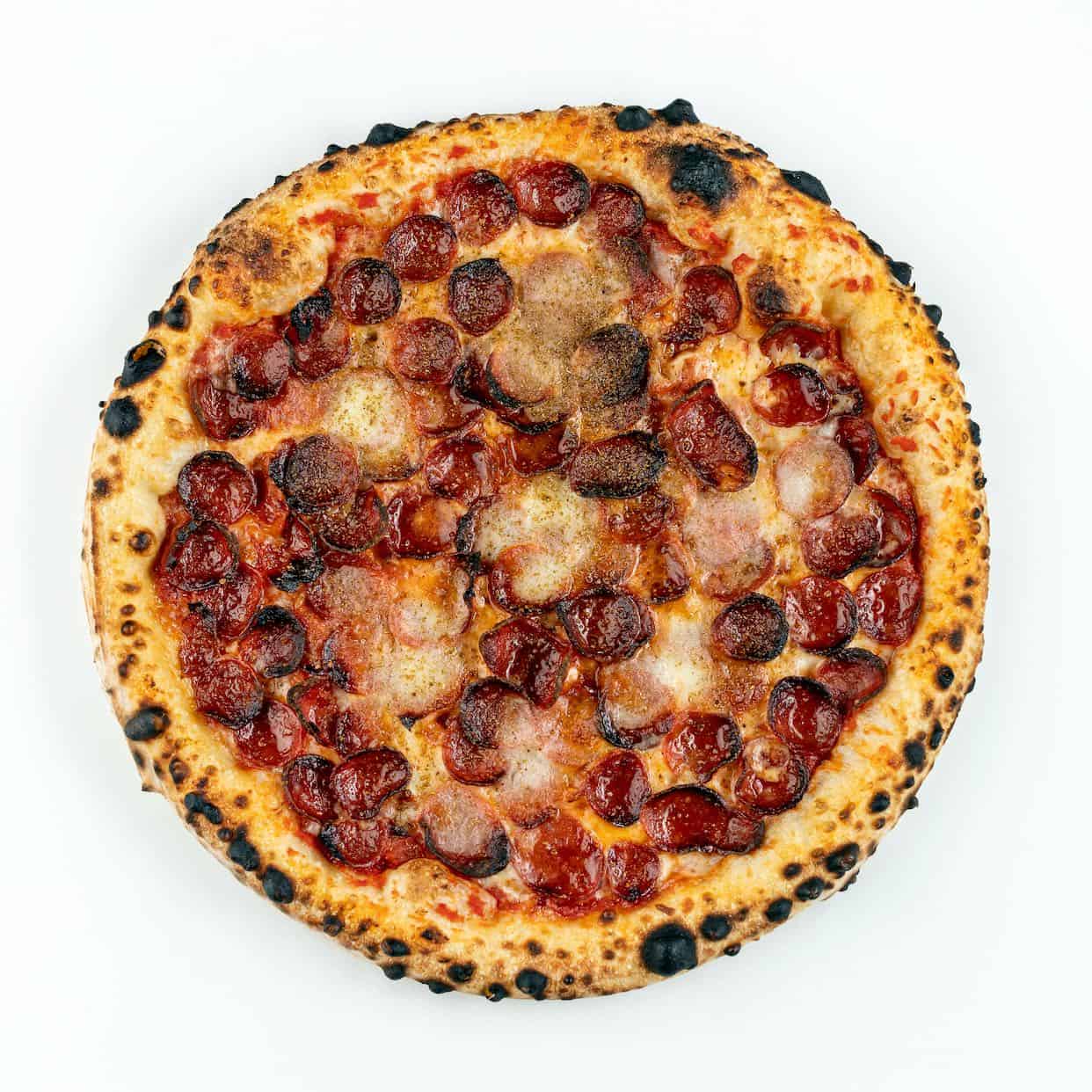 Pizza, chicken wings, garlic fingers and chocolate chips. These are just a few of the delicacies you can enjoy at Maker Pizza, which promises to only serve perfectly-made pizzas to customers.
On top of the usual vegetables, meat, and cheese toppings, the pizza here can be customized with honey-flavoured crust finishers such as sesame crust and poppy seed crust. So, you can get more creative with how you want your pizza to turn out!
17. Slowhand Sourdough Pizza
If you want a light, airy and crisp sourdough pizza that won't take ages to come out of the oven, this pizza place is a must-visit. It has a dog-friendly and very IG-worthy patio, perfect for afternoon get-togethers with friends or your weekly solo ventures.
Canned alcoholic drinks are available upon request, and you can even buy the shop's merchandise, including shirts, snapbacks and vinyl stickers.
Best Wood Oven Pizza in Toronto
18. The Good Son
If you want a fine dining experience while enjoying the best wood-oven pizza in Toronto, The Good Son is the first place you'd want to try.
Apart from pizza, this restaurant offers brunch-suited meals, common restaurant staples such as burgers, and lightweight desserts that complement the main dishes very well.
Guests are encouraged to share plates due to the slightly bigger portions of each food. So, don't shy away from tagging your group of friends when visiting The Good Son.
19. Pizzeria Defina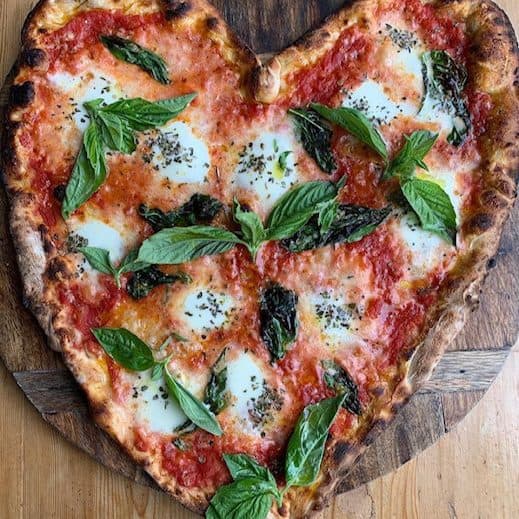 Acknowledged by Gambero Rosso itself, the internationally acclaimed Italian food and wine magazine, Pizzeria Defina can't possibly miss a spot in this recommendation list.
You can choose from 4 of their signature crusts: Roma, Napoletana, Kamut and Gluten-Free, which can each be transformed into 12 different flavours!
Dining with a friend who's not as into pizza as you are?
No worries, as Pizzeria Defina also has grilled food, vegetables, sides and fresh pasta ready to be served.
20. Revolver Pizza
The best way to wrap up this list is to introduce you to Revolver Pizza, an open-concept pizzeria that rotates its toppings seasonally. You can build your own regular or large-sized pizza or choose from the 15 flavours offered at the store.
Want a tip? Pair your pizza with the store's wood-fired calzones, and don't enjoy at least one of the nine desserts featured at this store, ranging from tiramisu to cheesecakes.
Don't forget to Pin this image for your future reference!
Related: