Who doesn't love going on vacations? But the pivotal question would be: Who wants to do the packing?
Traveling is exciting. Packing? Not so much.
Fortunately for the packing-anxious, there are packing tips for travel that literally soothe your emotional baggage about your literal baggage.
Packing lightly and efficiently is key to enjoying your trips more. Travel only with what is necessary because you do not need as much as you think you do.
To help improve the packing process more efficiently, use a travel packing checklist.
What is a Travel Packing Checklist?
A travel packing list is a list of items that assist you in deciding what to pack for your travels. It is also a written list of the things you need while you are on a trip.
Whenever I travel, I draw up a list of things to bring. It keeps me organized, and the odds of forgetting things are low.
You can create your own travel packing list (based on your needs) using the categories below. As needs vary from one traveler to another, add or deduct items as you see fit.
Documents – Passport, identification cards, plane tickets
Finances – Cash, credit cards, checks
Travel aids – Maps, guidebooks
Clothes – Jackets, tops, bottoms, underwear, socks
Footwear – Shoes, sneakers, flip-flops
Accessories – Hats, scarves, swimsuits, towels, pyjamas, sunglasses
Electronics – Laptops, mobile phones, chargers, adapters, power banks
Toiletries – Shampoos, soap, conditioners, toothbrushes, toothpaste, feminine products
Health – Prescription medications, first aid kit, glasses/contact lenses
You can find a more comprehensive travel packing checklist here.
How to Pack a Suitcase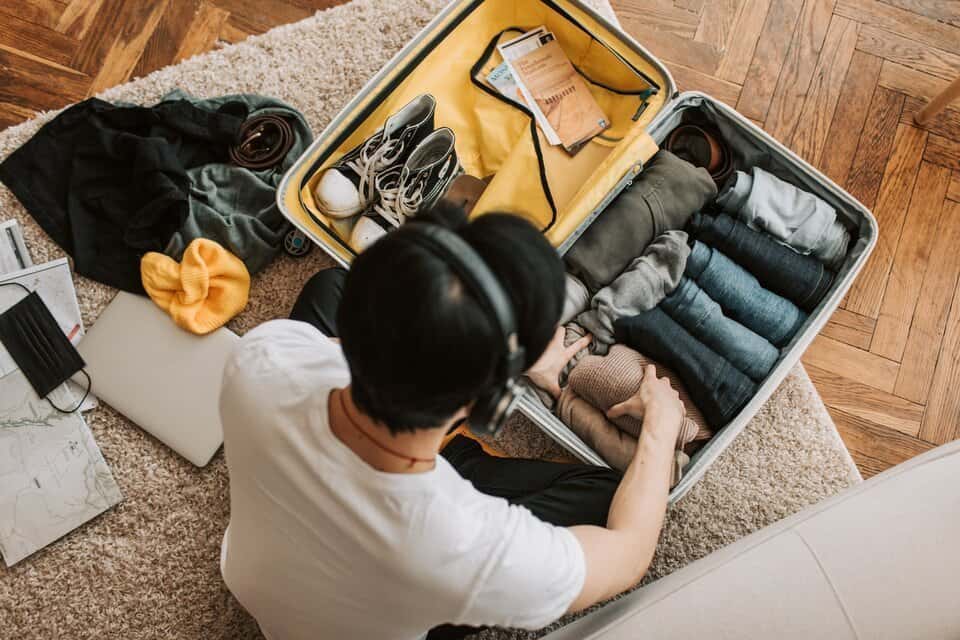 Anyone can pack a suitcase, but not everyone can pack efficiently. When it comes to traveling, the crucial thing to remember is to avoid bringing too many things and travel as lightly as possible.
The key to doing that is to use a suitcase no more than 22 inches tall. What's great about it is that it will work as a carry-on, so there is no need to check in any luggage.
Not having to check in luggage means skipping past the baggage claim carousel and avoiding annoying lost-or-delayed-bag situations.
In this blog post, I will emphasize the importance of packing lightly and bringing only your carry-on luggage, even during long vacations.
To start, here are some pointers to help you travel light.
Check the weather forecast for your destination. Do not bring gear that you will not need.
Find out what in-room amenities and toiletries your accommodations offer. Again, leave unnecessary items at home, such as hair dryers, which most properties often have.
Keep the 3-1-1 carry-on luggage rule in mind: One 1-quart bag with liquids not more than 3.4 ounces.
Create a travel packing list and write down the things you will bring.
In choosing your wardrobe, decide on a color scheme, and stick to it. Consider selecting clothes, accessories, sweaters, and scarves in neutral colors like black, white, or tan.
If you need to pack heavy or bulky clothing, wear them on the plane instead of stuffing them in your carry-on bag. This will leave ample space in your bag for other items.
1. How To Pack a Suitcase To Maximize Space
Start with these tips that teach you how to pack your things efficiently to maximize space.
Roll up your shirts and shorts to save space and to keep them wrinkle-free.

Lay down a shirt face down on a flat surface.

Fold back the arms to create a square, and fold them in half.

Roll it up from the bottom to the top.
Place each dress, dress shirt, or blouse on a hanger, and then arrange in single plastic dry-cleaner bags to prevent wrinkling.
For heavier clothing like sweaters and khakis, fold them into squares. As for bathing suits and lingeries, place them inside mesh lingerie bags.
Now, you are ready to pack your bag.
Pile the square shapes first, then stack up the rolled clothes.
Put shoes and flip-flops into the corners. To save more space, place the socks inside the shoes or into empty spaces.
Place the toiletry bag on top of the folded clothes, so you can easily reach them.
Put the plastic-wrapped clothing on top, fold them over and fit it in the bag.
Once you figure out how to pack a suitcase to maximize space, stick to your created list. Avoid adding anything else once you have packed everything in.
2. How To Pack a Suitcase For 1 Week
Are you heading off on an island vacation? Here is a guide on packing for this getaway.
For starters, pack only one suitcase. If you bring only a carry-on, you will save on checked bag fees, and you can hop on your next flight without worrying about extra luggage.
So, what should you pack for a 7-day trip in your carry-on?
Knowing how to pack a suitcase for one (1) week helps you minimize lugging around heavy stuff. Refer to the travel packing list you previously created. Lay out all the items where you can see them.
For the week-long trip, your packing list should ideally include the following:
Four shirts
Two pairs of shorts or skirts
Two mix-and-match dresses
One sweater or jacket
A pair of pajamas
One athletic attire
Two bathing suits
Socks
Underwear
Scarves or shawls
Jewelry
A pair of flip-flops
A pair of sneakers or slip-on athletic shoes
Toiletries
3. How To Pack a Suitcase For 2 Weeks
If you think it is impossible to fit two weeks' worth of wardrobe in a carry-on, then this section is for you.
Plan your wardrobe ahead of the departure date. Keep your color palette in mind to make mixing and matching easy. Simplify things by sticking with neutral shades that you can pair up interchangeably.
Here is how to pack a suitcase for two (2) weeks and what to include:
Four pairs of bottoms (pants, shorts, leggings, jeggings, or skirts)
Eight tops (shirts, blouses, or lightweight button-downs)
Two jackets to layer for warmth
Three or four mix-and-match dresses if you plan to go somewhere fancy
Four bathing suits
Casual sandals
Light jacket with a hood
For each week of your stay, you should ideally have two pairs of bottoms and four shirts. Follow the same packing method enumerated above.
As mentioned, wear your bulkiest clothes – your thickest jacket and a pair of sturdy shoes, like boots – on your travel days to save space in your suitcase.
The wonderful thing about traveling light is that besides the carry-on bag, you can bring one personal item, such as a backpack or duffel bag.
So, you can keep valuable items – like your passport, wallet, and laptop – in your personal item.
4. Tips For Packing For a Long Vacation
If you plan for a long trip, start packing weeks in advance. This gives you time to create a complete travel packing list and purchase additional items if needed.
Pack three pairs of shoes – one pair for dressier occasions and two pairs of functional and comfortable shoes.
Bring solid toiletries instead of the liquid kinds, which take up the most space and are prone to spill too. Plus, they can be bothersome to pack if you are only checking a bag and need things to be TSA-compliant.
Smart Packing Tips For Travel
Whether you are packing for a trip to another state or another country, you will find packing overwhelming if you are clueless on how to pack smartly.
You want to prepare for every possible situation, but at the same time, you must make sure not to overpack. That said, let us look at smart packing tips for travel that help make the packing task simpler.
5. Packing Tips For International Travel
Packing light is again one of the fundamental packing tips for traveling abroad. Aside from that, here are other valuable tips for packing for international trips.
Pack all your travel documents in a separate bag or folder and carry them in your hand luggage. Your passport, tickets (plane, bus, ferry, or train), hotel reservations, maps, and guides should all be within reach.
Pack clothes that serve more than one purpose and that you can wear in multiple ways. They should ideally go smoothly from outdoors to dinner clothes. It is worth noting that no matter the length of your trip, it is best to limit yourself to seven days' worth of attire.
Plan for colder days and evenings by bringing lightweight clothing you can use as a layer atop your other clothes. This gives you a variety of outfits with the extra wardrobe.
Use packing cubes that compress to maximize space in your suitcase. Bring plastic bags, too, since these are useful for various purposes during your trip.
6. Packing Tips For Air Travel
Use a small, lightweight carry-on bag. For your personal item, choose a daypack or a tote, not a suitcase, regardless of the size.
Your personal item often functions as a catch-all for odds and ends. Anything you might need in transit should go into your personal item. These include:
Travel documents

An extra layer of clothing during cold flights

Electronics (laptop, tablet, or headphones)
Among the essential packing tips for air travel is to check your carry-on bag. See if you have items that can get you held up at security or cause them to dump your items and inspect the contents.
7. Packing Tips For Traveling Light
Avoid packing "just in case" items. This is perhaps one of the most ignored packing tips for traveling light. Heed this advice and do not bother packing them at all.
Pack light and quick-drying clothing material. Performance fabrics are lightweight and help your body breathe well. They also do not retain odor after several uses. They also keep moisture away from the body.
Choose a lightweight synthetic or down-insulated jacket for a warm outer layer. Quick-drying socks and underwear are also worthy investments.
Pack a pair of multi-use light trail-running shoes, which you can use for walking, running or hiking.
8. The 1-2-3-4-5-6 Rule
The 1-2-3-4-5-6 rule refers to the general guideline of packing that should be sufficient for two weeks. This would get you through six days before you need to do laundry. Beyond that, include swimwear, rainwear, and other items you need.
1 hat
2 pairs of shoes
3 bottoms
4 tops
5 pairs of socks
6 pairs of underwear
Packing Hacks
I have learned the art of being a minimalist when it comes to luggage. One significant benefit to this is that I have fewer things to lug around, and I use up less time packing up. Less luggage equals less trouble, which definitely works for me.
See below a couple of packing hacks I use myself. It is amazing how these simple things can do wonders for travel preparations.
9. Packing Cubes and Options
Packing cubes are excellent packing suitcase hacks for organizing items and saving space in a rectangular piece of luggage. Use separate cubes for different purposes. For example, use a cube for electronics, another for chargers or adapters, one for smaller items, and so on.
Packing cubes keep your stuff in better condition during travels. Clothes are dry, clean, and less wrinkled. Pack the cubes full to prevent wrinkling. Arrange them in a way that the contents are easy to pull out.
Aside from packing cubes, other options that help in efficient packing are available. These include mesh laundry bags, Ziploc bags, bed linen bags, and space bags. They are affordable substitutes and cost only $2.
10. Wardrobe Planners
Use an online wardrobe planner to plan your outfits for up to two weeks. Apart from organizing your wardrobe, it also downsizes the number of clothes you bring and saves time when choosing what to wear.
To use an online wardrobe planner, upload photos of your clothes and accessories, then mix and match the pieces to create combinations. Use it to make your packing list and an outfit calendar. You can print out the combinations before your departure and save time on getting ready while on your trip.
Packing Do's and Don'ts
Packing do's, and don'ts were created for a reason: to help make travel smoother. Knowing what and what not to do makes your trips less distressing.
11. What and What Not to Bring in Your Carry-on
Below is a list of some of the things you are not allowed to bring in your carry-on:
| | |
| --- | --- |
| What's not allowed | What you can do about it |
| Liquids that are over 3.4 ounces (100ml) or do not fit into your permitted liquids bag | Pack solid toiletries such as solid shampoo bars, solid conditioner bars, toothpaste tabs, solid sunscreen, repellent sticks, and laundry soap sheets. |
| Straight razors and blades for safety razors | Bring only disposable or electric razors, as they are allowed in your carry-on. |
| Powder-like substances in quantities larger than 12 oz. (350 mL) | While powder is permitted in your carry-on and checked baggage, you must place it in a separate bin as it may require additional screening and container inspection. |
| Self-defense items, like pepper spray or mace, are not allowed in carry-ons. | You can bring one 4-oz. can of mace or pepper spray in your checked luggage, provided it has a safety mechanism to avoid accidental discharge. |
| Any item that anyone can use as a weapon (such as baseball bats, golf clubs, ski poles, or hockey sticks) | If you're a sports enthusiast and feel the need to bring your sports gear, the option is to check them. |
12. Packing Don'ts
Do not pack your money, credit cards, or traveler's checks in your suitcase. Pack them in your carry-on or personal item instead.
Do not bring electrical appliances like hair dryers and curling irons. Most accommodations will have them anyway.
Do not overpack. Check carry-on luggage weight and size restrictions. Your allotted carry-on weight is the weight of your personal item plus your carry-on luggage.
Final Thoughts
Learn the smarter and faster way of packing with these packing tips for travel aimed at helping you master the art of traveling lightly. With less to haul around, you have less gear to track and less things to pack.
Use the simple hacks for enjoyable and memorable getaways. With these twelve tips and tricks, you can make your business and leisure trips less stressful and more enjoyable.