There are currently 63 national parks in the United States, and every park offers different landscapes and activities to enjoy during December.
When planning a winter vacation, you can hike in Zion National Park, savor the temperate weather for water activities at Virgin Islands National Park, or indulge in thrilling extreme sports at Yosemite National Park.
Here is a list of the 16 best national parks to visit in the USA in December!
Best National Parks to Visit in December in the USA
1. Zion National Park
You might be wondering which national park to visit in winter first. Topping the list is one of the best national parks to visit in December, not just in Utah but all of the USA: the Zion National Park. The combination of the red-colored sandstone cliff formations and the pure white snow here creates a stunning landscape to take photos or stare at.
Beyond the beauty, Zion National Park in December offers winter activities and sights to discover that can quickly fill your day. You can embark on invigorating winter hikes, try snowshoeing or cross-country skiing, observe wildlife in their habitat, or drive along the captivating Zion Canyon route. Don't miss out on visiting the red Kolob Canyon and Lava Point by hiking along the Kolob Terrace trail for a panoramic view of the national park from above.
2. Joshua Tree National Park
Another paradise found in California for those seeking both thrill and relaxation, the Joshua Tree National Park in winter is a must-visit park in the USA. This park has countless activities to make your vacation memorable, including winter hiking for stunning aerial views at the Hidden Valley or Indian Cove Nature Trail, rock climbing, wildlife viewing, and horseback riding.
The national park is also a considerable camping ground with approximately nine developed campsites where you can watch the best sunsets and continue stargazing at night. You can also walk through the Cholla Cactus Garden, with an intense concentration of human-sized cacti.
3. Grand Canyon National Park
Grand Canyon National Park is one of the best national parks in December because of its iconic and unique landscapes complemented by perfect winter recreations, making it #4 of the World's Best National Parks by US News and World Report. The heat in the Grand Canyon National Park can be super intense, so it's best to visit the park during the cold months, as travelers suggest.
With cooler temperatures, you can have a better experience hiking on Rim Trail and Bright Angel Trail, capturing photos of the park's unique desert ecosystem and rock formations, river rafting, mule riding tours, and some guided tours. You can participate in ranger-led programs along the rim of the canyons or join tours at the Tusayan Museum and Ruin to learn more about the area's history.
For the best views of the Grand Canyon, go to the Desert View Watchtower, or for a beautiful sunset, go to Hopi Point Sunset.
4. Virgin Islands National Park
Virgin Islands National Park in the Islands of St. John of the US Virgin Islands is renowned for its winter weather, making it stand out as a park. Since it is situated on an island, winter temperatures remain pleasantly warm. It means that during wintertime, you can enjoy activities like those they do in summer, such as relaxing and unwinding along the coastline.
Start by hiking on the Reef Bay Trail and America Hill to experience views of the Caribbean Sea. Take advantage of swimming at Trunk Bay Cinnamon Bay and exploring water activities like kayaking, paddleboarding, and sailing. Maximize your experience by visiting Coral Bay, a small town with many shops, restaurants, and cafes.
5. Rocky Mountain National Park
If you're interested in amusement activities perfect for families, consider going to one of the best national parks to visit in the USA in December, the Rocky Mountain National Park in Colorado. The park is famous for various winter recreations like sledding at Hidden Valley, wildlife watching where you can see 60 species of mammals like bighorn sheep, and winter bus tours that are heated for comfort while taking in the beautiful snowy views.
If you have the guts to level up the experience, try out their total of 335 miles of winter hiking trails going to Bear Lake, Emerald Lake, and Long Peaks, cross-country skiing, snow tubing, riding the fat ski bike, and seeking out professional tour guides for ice climbing.
6. Bryce Canyon National Park
Utah is a paradise for nature enthusiasts with its range of national parks. Bryce Canyon National Park stands out among the choices to explore in December. Once you set foot in this park, you'll be captivated by the awe-inspiring sights of thousands of orange and pink rock formations covered by snow emerging from the desert landscape called hoodoos.
Various winter sports are available in Bryce Canyon, including snowboarding, skiing, and sledding. You should attend famous on-site events like the Bryce Canyon Winter Festival, hosting winter competitions, and help to count species of birds during the Christmas Bird Count.
7. Great Smoky Mountains National Park
Great Smoky Mountains National Park along North Carolina and Tennessee's borderline is one of the best national parks to visit in the USA because it's free, has an undeniable biodiversity in the place of over 20,000 plant species, and a bunch of activities.
It is the most visited national park in America, and some of the most recommended hiking trails are the National Park Waterfalls, Cades Cove, and Appalachian Trail. Aside from winter hiking in the Great Smoky Mountains, other engaging activities you can try are fishing, cross-country skiing, snowboarding, snow tubing, and driving tours.
8. Death Valley National Park
A California's treasure and a photographer's paradise, the Death Valley National Park is one of the most stunning and memorable national parks to visit in December because of the scenery. And there are shades from clouds, so roaming the park is comfortable.
As hiking is the most popular thing to do in the park when the cold months start, surely there'll be so many beautiful things to see in the park, including the Mesquite Flat Sand Dunes, Badwater Basin, and the Ubehebe crater.
There are also historical places you can visit such as the Wildrose Charcoal Kilns, Borax Museum, and the Furnace Creek. For best experience, climb to Dante's Peak and Telescope's Peak to see the best 360-degree views of the park.
9. Gateway Arch National Park
There is no denying that Gateway Arch National Park is one of the best national parks to visit in December in the USA because of its mild to moderate weather conditions. Located in St. Louis, Missouri, the Gateway Arch in the National Park is what it's famous for and is the tallest man-made monument in the US.
You can enjoy some activities, like biking, hiking, and even riverboat cruises. Some special events and activities happen in Gateway Arch National Park, like free holiday concerts that usually occur every December 4 at the old Court House. It is perfect because the weather usually peaks around the mid-40s Fahrenheit and overnight lows in the mid-20s Fahrenheit.
10. National Park of American Samoa
You should visit the National Park of American Samoa in December for several reasons. First, you can avoid the island's wet season, beginning in March and ending in November. December is the ideal time to visit the National Park of American Samoa because the daily temperature is only 81°F and 87°F during winter.
The National Park of American Samoa is located 2,600 miles southwest of Hawaii. The park is distributed across four islands: Tutuila, Ofu, Olosega, and Ta'ū. Lastly, The Park is known for its unique whale-watching experience, especially in December.
11. Everglades National Park
Located on the Southernmost tip of Florida's Mainland, just before the Florida Keys, is one of the best national parks to visit in December, the Everglades National Park. With the average temperature ranging from 59-78°F (15-25°C), December is the perfect time to see the vast wildlife of Everglades National Park.
There are birds and manatees to sight; as the weather drops, groups of animals often can be seen flocking together. Luckily, mosquito levels are few during the cold months compared to summer to fall, so roaming around the park is safe.
12. Biscayne National Park
Do you want to spend December doing water activities and enjoying the mild weather? Biscayne National Park is the perfect place for you, with its temperature ranging from 67°F to 77°F (19°C to 25°C) and the sea temperature around 77°F (25°C) on average, making swimming pleasant during December.
Located in southern Florida, just south of Miami, the Biscayne National Park consists of 95% water and is a great place to enjoy water activities during the mild weather of December, like snorkeling, diving, and fishing. You can also try their tours and cruises for the ultimate experience.
13. Capitol Reef National Park
You can enjoy plenty of fun and unforgettable activities when visiting the Capitol Reef National Park. Located in Utah's south-central desert, you can take your time to appreciate the park's natural beauty, like the red sandstone cliffs and rock formations coated with snow, creating a breathtaking landscape scenery perfect for selfies and groupies.
You can try plenty of winter activities, like hiking and snowshoeing, making it one of the national parks to visit in winter. Finally, you can also try their ATV-guided tours to explore the park's picturesque geological formations.
14. Yosemite National Park
Are you looking for fun-filled activities during December? Yosemite National Park might be the place you are looking for; located in California's Sierra Nevada mountain, you can start your adventure admiring the snow-capped mountains, frozen waterfall, and picturesque landscape views perfect for taking pictures as remembrance.
Yosemite National Park offers thrilling and heart-pumping activities like cross-country skiing, snowshoeing, and winter hiking. Do you know what's more exciting and would drop your heart? You can enjoy those activities for lower prices during December.
15. Arches National Park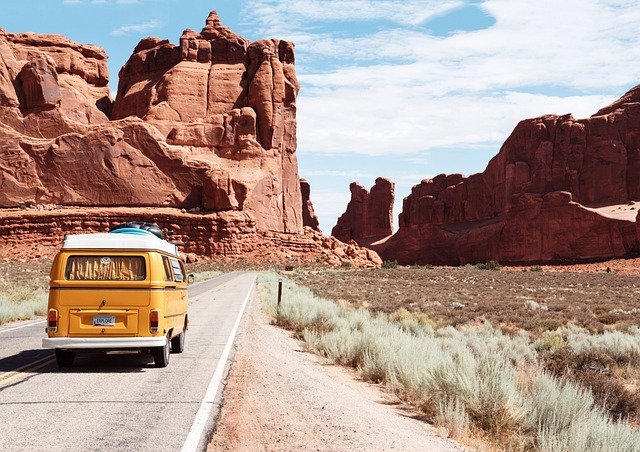 Arches National Park is one of the best national parks to visit in December because of its peaceful environment. It is a perfect place to relax and enjoy the breeze of the winter air away from crowded places. Take in the captivating views of its rock formations dusted with snow, creating beautiful contrasting colors.
You can also have an unforgettable time stargazing under the beautiful night skies of Arches National Park over a cup of hot coffee or chocolate. Take advantage of visiting during December because of the lower prices from lodging to guided tours and activities.
16. Sequoia National Park
Located in California's Sierra Nevada mountains, the Sequoia National Park offers a variety of winter activities. There's snow sledding in some designated areas, such as Grant Grove and Wolverton, cross-country skiing, and snowshoeing, all while enjoying the park's beautiful backdrop. You can also partake in the ranger-guided tours to learn the history and ecology of the park.
Why Should You Visit National Parks in December?
There are plenty of reasons why you should visit National Parks in December. During the cold months, there are fewer people, a great time to avoid crowds, creating a more solace travel. There are also lots of sale prices and affordable prices on lodging and guided tours compared to peak seasons.
Moreover, there are plenty of unique experiences that you can only try during December. For instance, some parts of the parks open only in December, like Everglades National Park, are closed during the summer due to high temperatures and humidity but are available in December when the weather is more cozy and parched.
Lastly, since the weather is nice, you can travel relaxed while enjoying the beautiful winter scenery.
FAQs
Is December a good time to visit Big Bend National Park? 
Yes, December is a great time to visit Big Bend National Park when the weather is mild and perfect for hiking. But always remember that you must set your reservations ahead of time because of upcoming holidays like Christmas and New Year to avoid unnecessary circumstances. 
Is Death Valley open in December? 
Death Valley is open in December. But be mindful that some facilities and roads might be temporarily closed due to certain harsh weather conditions. But you can still enjoy fun activities like star gazing, hiking, and camping. You can also visit Furnace Creek, which opens from 8:00 AM to 5:00 PM.
What is the best national park for New Year's? Which national park is best to visit first? 
Picking the best national park to visit for New Year's Eve is always based on your preference, but there are some National Parks that you can see. Zion National Park and Grand Canyon National Park both offer breathtaking winter sceneries. 
Related: