Are you dreaming of a winter vacation in Europe? You've come to the right place.
From cheap winter destinations to romantic winter getaways, this guide presents 25 of the best European cities to visit in the winter.
Regardless of whether you're looking for a warm escape or a budget-conscious option, our list features a wide range of destinations to help you make the right choice.
Best Warm Winter Destinations in Europe
1. Seville, Spain
Experience an Andalusian winter where days are sunny and temperatures are a nippy 14 degrees Celsius (57 degrees Fahrenheit). Things to do during the winter include:
Visit the picturesque Plaza de España, adorned with vibrant ceramic tiles and regional alcoves.
Also, marvel at the majestic Seville Cathedral, a UNESCO World Heritage Site housing Christopher Columbus' tomb.
2. Faro, Portugal
From December through February, the winter weather in this capital city of the Algarve region is moderate and bright, although it varies between harsh weather, wind, and rain.
Visitors can explore the ancient art of salt farming at the Ria Formosa salt mines, dating back to the Roman era.
Additionally, the area around Faro, Algarve, offers ideal birdwatching opportunities during winter, with mild temperatures attracting West European waders for refueling during autumn and spring.
3. Canary Islands, Spain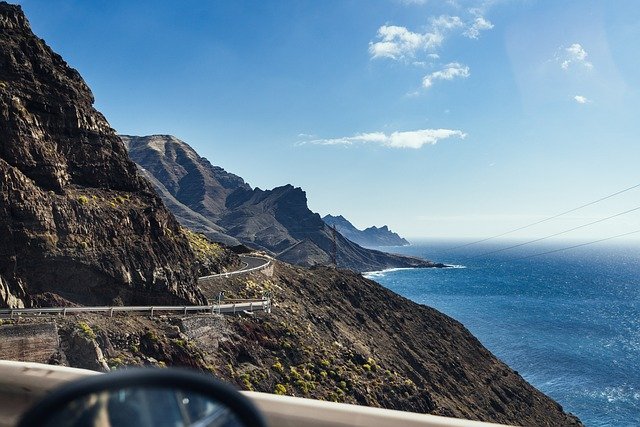 Get away from the cold weather in Europe and go to the Canary Islands, where it's always warm and sunny, with an average temperature of 22 degrees Celsius during December.
During the winter, head to Las Canteras Beach in Gran Canaria to witness an impressive sand nativity scene. This beautiful beach is located in one of Europe's top cities, offering a unique holiday experience.
4. The Azores, Portugal
Immerse yourself in the lush greenery of the Azores, even during the winter, when the average temperatures can range from 12/13 °C (53/55 °F) at night to 17/18 °C (63/64 °F) during the daytime.
Visiting the Azores during winter means fewer crowds and pleasant weather, which create the perfect setting for outdoor adventures like hiking, running, and island exploration.
Also, witness the incredible sight of various whale and dolphin species in their natural habitats—an unforgettable experience
5. Palermo, Italy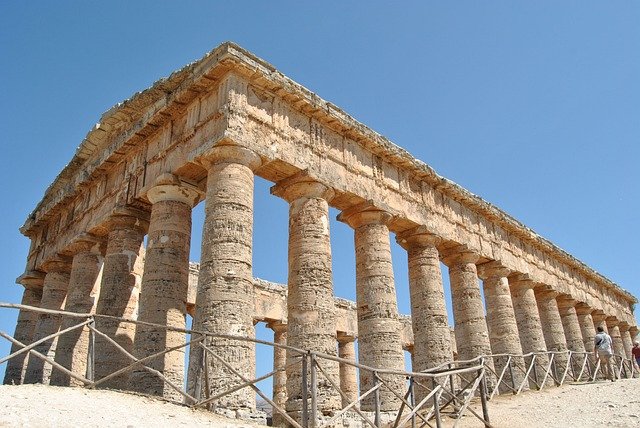 Winter is a great time to visit Sicily. The weather is mild, so you can explore Palermo's historic sites and enjoy yummy Sicilian food at local restaurants.
Discover the rich history of Palermo through its storied landmarks, like the Cathedral of Palermo, which tells the tale of the town's age.
Step inside for a glimpse into the past, and don't miss the eerie yet fascinating Capuchin Catacombs, where the wealthy once preserved their deceased loved ones for eternity.
6. Crete, Greece
Experience the charm of a quieter Greece during the winter months, when the temperature ranges from -14 degrees to 15 degrees Celsius (6 to 60 degrees Fahrenheit)
Chania, a charming walkable city, offers plenty of hidden gems to discover, including the Venetian Lighthouse, Old Venetian Harbour, Chania Old Town, Maritime Museum, Archaeological Museum of Chania, and Tabakaria Neighbourhood.
Also, even in winter, guided hikes remain a popular activity, with the easy and scenic Imbros Gorge being a standout option.
7. Cannes, France
Enjoy Cannes' glamorous ambiance even in winter, when sunny and wet spells alternate from December through February.
Stroll along the Promenade de la Croisette to experience the city's elegance and natural beauty. Take in the sights of the Cannes Film Festival venue and enjoy the city's sophistication.
Best Cheap Winter Destinations in Europe
8. Prague, Czech Republic
Discover Prague's charm during the winter season. Located in the temperate latitudes of the Earth, Prague experiences a temperate climate with winters that can be quite chilly.
Explore Prague Castle, Charles Bridge, and the Old Town Square without the bustling summer crowds. With affordable accommodations and fewer tourists, it's an excellent choice for budget-conscious travelers.
9. Istanbul, Turkey
Experience Istanbul's rich history and cultural wonders during the off-season.
Daily high temperatures decrease by 5°C, from 12°C to 9°C, rarely falling below 2°C or exceeding 18°C during the winter months.
Visit iconic landmarks like the Indoor Museums of Istanbul or celebrate New Year's Eve Turkish style. With lower accommodation costs and fewer visitors, you can learn more about the city's interesting history without going beyond your travel budget.
10. Budapest, Hungary
Enjoy Budapest's thermal baths and budget-friendly attractions during the winter. Expect chilly temperatures where the average is zero degrees Celsius (32 °F).
Catch a glimpse of the Hungarian Parliament Building while cruising on the Blue Danube.
The city's affordability, together with its nice winter atmosphere, makes it a great place to visit during this time of the year.
11. Krakow, Poland
Krakow is a magical place in the winter, despite being generally cold and cloudy during this time of year. Sometimes it even snows, but not too much.
There are many fun things to do, though, like visiting the Wawel Royal Castle and the main square.
There are also special Christmas markets and delectable food that won't break the bank. It's a perfect winter getaway.
12. Berlin, Germany
Embrace Berlin's vibrant cultural scene and winter festivities. Winter lasts from December to February when it's cold, with temperatures around 32°F (0°C) most of the time.
Visit the Berlin Christmas markets and see iconic landmarks like the Brandenburg Gate and Berlin Wall.
With affordable accommodations and a plethora of free attractions, Berlin is a budget traveler's paradise.
Best Romantic Winter Getaways in Europe
13. Paris, France
Traveling to Paris in the winter offers a unique set of activities and experiences that are not available during other seasons. During the winter months (December to February), the average temperature in Paris hovers around 8°C (46°F) to 9°C (48°F).
Winter turns Paris into a beautiful and magical place where couples can take a romantic stroll along the frozen Seine River, see the famous Eiffel Tower, and drink hot chocolate in cozy cafes.
The lovely atmosphere of the City of Love is even more special during this time of year, making it a perfect getaway for couples who want to spend quality time together.
14. London, UK
In London, winter brings a welcome reprieve from crowds, along with festive discounts and fun events.
Winter in London is characterized by cold temperatures, frequent rainfall, and an average temperature of 5.5 °C (42 °F). Despite the latitude, the weather is not freezing and is relatively mild.
London's winter atmosphere, on the other hand, is cozy and festive, with celebrations and decorations galore. Visit the British Museum and Buckingham Palace, and explore the city's twinkling holiday lights.
15. Barcelona, Spain
Visiting Barcelona in the winter has many advantages, including fewer crowds, lower prices, and pleasant weather. Periods of mild and sunny weather can occur, with highs around 15 °C (59 °F).
You can catch a glimpse of the amazing buildings designed by Gaudí, like the Sagrada Familia, and try delicious food from Catalonia during your winter visit.
16. Lofoten Islands, Norway
There are plenty of wonderful spots to visit in Norway during the winter. And Lofoten in the winter is one of those locations. In December, the average maximum temperature in Lofoten Islands is 3°C (37°F).
Come explore a beautiful winter destination with the stunning Northern Lights. With its dramatic natural beauty and the chance to witness the Aurora Borealis, the Lofoten Islands provide a unique romantic retreat.
17. Santorini, Greece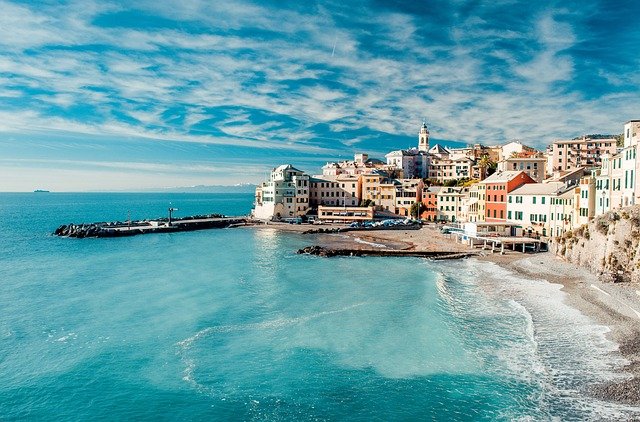 Contrary to what some people might say, Santorini doesn't close down during the winter months. In fact, the island has been open to visitors all year round since 2015.
Winters in Santorini are milder than in other parts of northern Europe. While temperatures may not drop below freezing, there can be snowfall.
Take plenty of Instagram-worthy snaps of Oia's picturesque whitewashed houses and blue-domed churches, head back in time to ancient Akrotiri, and enjoy a romantic beach walk.
Visit the Archaeological Museum in Fira to learn more about the history and culture of Santorini.
Related: Best Places to Visit in Greece
18. Venice, Italy
Winter in Venice is a serene and romantic season characterized by calmness, with lower prices, shorter lines, and fewer tourists, but occasionally experiencing flooding.
The weather for this time of the year is cold and damp, with the coldest months being December and January. Nighttime brings frequent light frosts.
Explore the Rialto Bridge area, take a romantic gondola ride, and visit Saint Mark's Square and Basilica. Shop for Venetian glass in Murano and find color on Burano Island.
Best Winter Cities in Europe
19. Rovaniemi, Finland
Santa Claus' hometown, Rovaniemi, offers a friendly atmosphere surrounded by Arctic nature in the capital of Finnish Lapland. In winter, it can experience cold spells of arctic origin, with the lowest recorded temperature reaching -47.5 °C (-53.5 °F) in January 1999.
Despite this, you can cross the Arctic Circle and explore the mystical land of Lapland, immersing yourself in local culture and breathtaking natural beauty. Try traditional Lappish foods, visit the Arktikum Museum, and take a sleigh ride or ski through the snowy landscapes.
Don't miss the chance to witness the mesmerizing display of the Northern Lights dancing across the sky
20. Zermatt, Switzerland
Zermatt is a renowned ski resort in the Swiss Alps, famous for its historic town and the iconic Matterhorn mountain, which is the most photographed mountain in the world and has been featured on every Toblerone bar since 1960.
In winter, the sun shines and the temperature rises above freezing during the day. But, during bad weather, it snows and the temperature stays below freezing even during the day.
Skiing and snowboarding thrive at the base of the Matterhorn, alongside winter fun like sledding and ice skating. Explore the surrounding glaciers via winter hiking and snowshoeing, or take in breathtaking views from Gornergrat and Matterhorn Glacier Paradise.
21. Copenhagen, Denmark
While Copenhagen is a charming destination year-round, it transforms into a winter wonderland during the colder months. Winters in Copenhagen are characterized by humidity, wind, and rain, with occasional snowfall.
During the winter, Copenhagen comes alive with festive cheer. You can ice skate at outdoor rinks, browse Christmas markets for tasty treats and drinks, and experience the magic of Tivoli Gardens.
22. Amsterdam, Netherlands
Amsterdam is a great winter destination because of its cozy atmosphere, hearty food, and twinkling fairy lights. Winter in Amsterdam is cold, with average temperatures around freezing (0°C or 32°F) at night and a few degrees above during the day.
Experience Amsterdam's Winter Paradise by exploring activities like ice skating and visiting a museum at bustling Museum Square.
Shopping at a festive Christmas market and celebrating National Tulip Day are also great ways to spend your time during your winter visit here.
23. Hallstatt, Austria
Hallstatt in winter is an amazing destination with stunning snow-coated mountains and colorful traditional architecture. December is a subzero cold month in Hallstatt, with average temperatures ranging from -6.5°C (20.3°F) to -0.1°C (31.8°F).
Visit the World Heritage Museum and the beautiful Catholic Church. For the more adventurous, go on a winter hiking trip at Hallstatt Lake. You'll see beautiful snowy mountains and be in a magical winter place.
24. Bruges, Belgium
Bruges is a beautiful medieval city that is even more special in the winter. Generally, winters along the Belgian coast are chilly, with temperatures averaging around 4°C (39°F). As you move inland, temperatures drop and rain becomes more common.
Experience Bruges' magic during the holidays by exploring its Christmas markets, taking a romantic canal cruise, and visiting the Gruuthuse Museum.
Climb the Belfry for panoramic views, sample delicious chocolates, and end the day admiring the Lake of Love's graceful swans.
25. Rome, Italy
Rome in winter can be unpredictable, but there's still plenty to do regardless of the weather. You might experience anything from freezing temperatures to spring-like conditions, so be prepared for both.
Visit the Vatican and Sistine Chapel, then take a cooking class to learn how to make authentic Italian dishes. See the sights without crowds, and check out the Christmas lights and markets. Go for an evening out in Trastevere and wander around the cute cobbled streets of Rome.
What is the Best Month to Visit Winter Cities in Europe?
The best month to visit winter cities in Europe depends on your preferences and the activities you wish to experience.
December offers a festive atmosphere, with Christmas markets and holiday celebrations in full swing. January is ideal for winter sports enthusiasts, as ski resorts are in their prime. February brings a quieter ambiance and the chance to witness the Northern Lights in some regions.
FAQs
Where is the warmest place in Europe in the winter?
The Canary Islands (Spain) and the Azores (Portugal) have the warmest winters in Europe. With comfortable temperatures and plenty of sunshine, these destinations are perfect winter getaways for those looking for a warmer climate
Is Portugal warmer than Spain?
In general, winters in Portugal tend to be mild compared to most of Spain. Winter temperatures are particularly mild in Portugal's southernmost Algarve region and Spain's Canary Islands.
What is the snowiest city in Europe?
Rovaniemi, Finland, is known for its abundant winter snowfall. As the official home of Santa Claus, this Arctic city is transformed into a winter wonderland of snowscapes and magical experiences.
Is Greece warm in December?
Winters in Greece are relatively mild, especially in the southern regions and islands. While it may not be as warm as in the summer, temperatures are still comfortable.
Related: