Dubbed the "Continent of Contrasts," Asia is a melting pot of different cultures, lifestyles, languages, and geography, so no dull moments are guaranteed!
Expect new things to do or sights to see in each country, from the gleaming and speckled beaches of Bali, the Maldives, and Thailand, to the world-class cultural attractions of Japan, Korea, Vietnam, and China.
To help you decide which of the best travel destinations in Asia are worth visiting, look up this list!
Key Takeaways:
The most famous places in Asia are the eastern countries of Japan, Hong Kong, and Korea, and the southeastern countries of Thailand, Indonesia, and Singapore.
The most beautiful places in Asia are Bali in Indonesia, Phuket in Thailand, the Maldives, Jaipur in India, and Mt. Fuji in Japan.
The top three Asian countries with the highest number of international visitors are China, Japan, and Thailand.
Hong Kong and Singapore are the two most expensive cities to travel to in Asia, competing with the US dollar's value.
Most Famous Places in Asia
1. Tokyo, Japan
Tokyo topping the list of the most famous places in Asia is not entirely surprising because of its uniqueness and beauty—from its skyscrapers, temples, shrines, healthy cuisine, top-grade transportation system, anime culture, and almost everything else in the city.
Not to mention that it is one of the safest countries in the world; what's more interesting about Tokyo is the mixture of futuristic technology and millennia-old historical sites shown in its glittering buildings with neon signs and iconic temples and museums scattered around the city.
Some of the most visited places you must explore in the city are the Tokyo Skytree, which offers thrilling adventures, Tokyo Tower, Sumida River, Ginza for the ultimate shopping and gastronomy experience, and the large artificial island in Tokyo Bay called Odaiba.
For a more cultural and historical experience, have a look at the fascinating Japanese structures like the Sensoji Temple, Meiji Jingu, Edo-Tokyo Open Air Architectural Museum.
Ultimately, don't miss out on experiencing and taking pictures at the iconic Shibuya crossing, where over two million people cross daily.
2. Bangkok, Thailand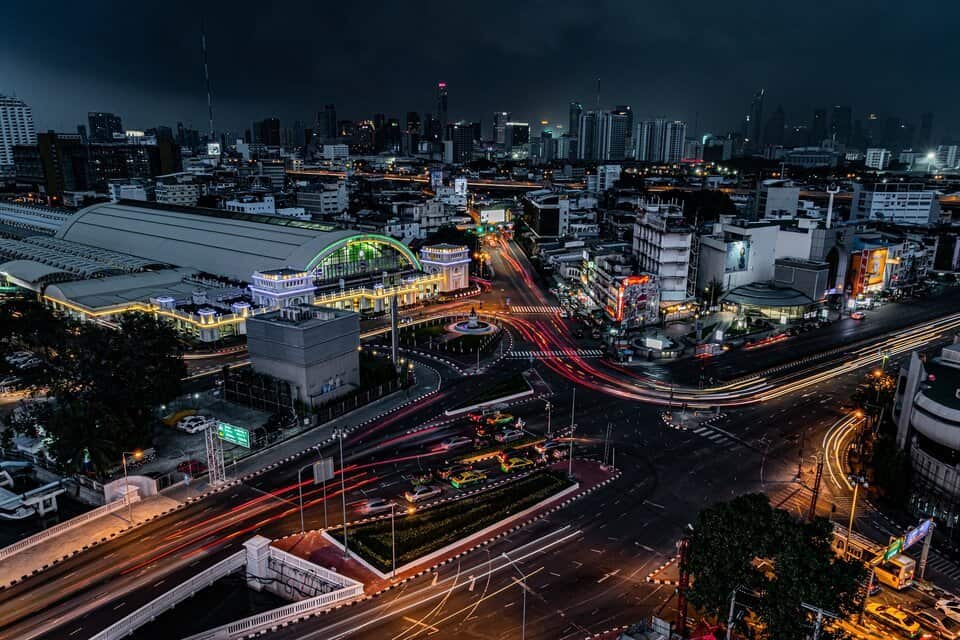 Bangkok, one of Asia's budget-friendly destinations with historical landmarks, is also a popular travel destination in Asia with therapeutic activities like the famous Thai massage, indulging in Thai street foods, enjoying the vibrant nightlife at one of the sky bars, and trying out their Tuktuk for the first time as transportation.
For some sheer luck, visit some of the most significant temples in Bangkok, like the royal temple complexes of Grand Palace and Wat Pho, famous for the reclining Buddha, and Wat Arun Temple, with a fascinating view of the Chao Phraya River and the sunset.
Bangkok, Thailand, is also a shopping haven where you can find and buy everything from cheap items to high-end luxury products, and the best area in Bangkok to do that is in the Siam and Sukhumvit areas. These include the Icon Siam, Pratunam, MBK, Airport 21, and Chatuchak Weekend Market.
Remember to try their one-of-a-kind floating markets like the ones in Damnoen Saduak, Amphawa, and Wat Sai.
3. Hong Kong, China
Hong Kong is a city of glamor and may be one of the most expensive places in Asia. Still, it's a city you'll fall in love with quickly due to its abundance of activities and tourist attractions—both historical and modern.
One of the most notable activities you must try is riding the Star Ferry or traditional red Chinese boats at Victoria Harbour, where you can see the impressive Hong Kong skyline with a touch of refreshing green mountains behind.
To get the best view of the bustling city of Hong Kong, ride the tram going up Victoria Peak, and you'll be amazed by the scenic angle of everything.
Check out the famous monasteries in the city, like the Ten Thousand Buddhas Monastery, Po Lin Monastery with the 34-m high Tian Tan Buddha Statue, and the Wong Tai Sin Temple. Of course, it would only be complete with wandering through the Temple Street Night Market for some shopping.
Moreover, a trip to Hong Kong isn't just to see the culture but to be entertained with attractions like Hong Kong Disneyland on Lantau Island, Ocean Park for aquatic adventures, Water World for indoor and outdoor water rides,
4. Kyoto, Japan
If you're up for a challenge to explore around 1,600 beautifully preserved Shinto and Buddhist temples and more of Japan's historical sites, Kyoto, Japan, is the place to be!
Some of the most impressive temples to explore are the Sanjusangendo Temple, Kyoto Imperial Palace, Kiyomizudera Temple, Fushimi Inari Shrine, and the Kinkakuji Temple.
More than the temples, Kyoto wouldn't be a world-class tourist destination without offering cultural and fascinating environmental spots and places. Lining up is the magical Arashiyama Bamboo Grove Forest with lots of bamboo 5-20 m height, Arashiyama Monkey Park Iwatayama, Kamogawa River, and Ninenzaka and Sannenzaka neighborhoods.
Your Kyoto trip would only be complete with exploring the city's most famous neighborhood, the Gion, where you can see geishas and maikos casually strolling around the traditional delight of the town and the Kyoto Railway Museum featuring Japanese trains.
5. Singapore
Singapore is a small yet one of the most prosperous and multicultural cities in the world — made up of Chinese, Indian, Eurasian, and Malay ethnicities, so you'll expect substantial cultural differences in some areas of the town.
A week's trip to Singapore is reasonable enough to explore and enjoy what the urban and nature offer. Some of the tourist spots you should include are the Resorts World Sentosa theme parks, Clarke Quay, Gardens by the Bay, Night Safari, and Marina Bay Sands for the best view of the Singapore skyline.
On your last day, take the opportunity to ride the Singapore Flyer and buy souvenirs at Orchard Road, where malls and food stalls are a lot.
6. Hanoi, Vietnam
One of the culturally-centered countries in Asia with immaculate nature, Hanoi in Vietnam is undoubtedly one of the top travel destinations in Asia this year!
Like how other travelers start with their Hanoi adventure, I suggest you go to the oldest area in Hanoi, The Old Quarter, and experience Vietnam's historic neighborhood.
With many top-tier tourist spots in the Old Quarter, you can fill up your day alone, like the Hanoi Opera House, Thang Long Puppet Theater, the National Museum of Vietnamese History, and the Dong Xuan Market.
More than the urban exploration, you can explore some prominent beaches near Hanoi, like the French-styled Do Son Beach and Tuan Chau Island in Halong Bay, with multiple luxury resorts and international restaurants.
7. Beijing, China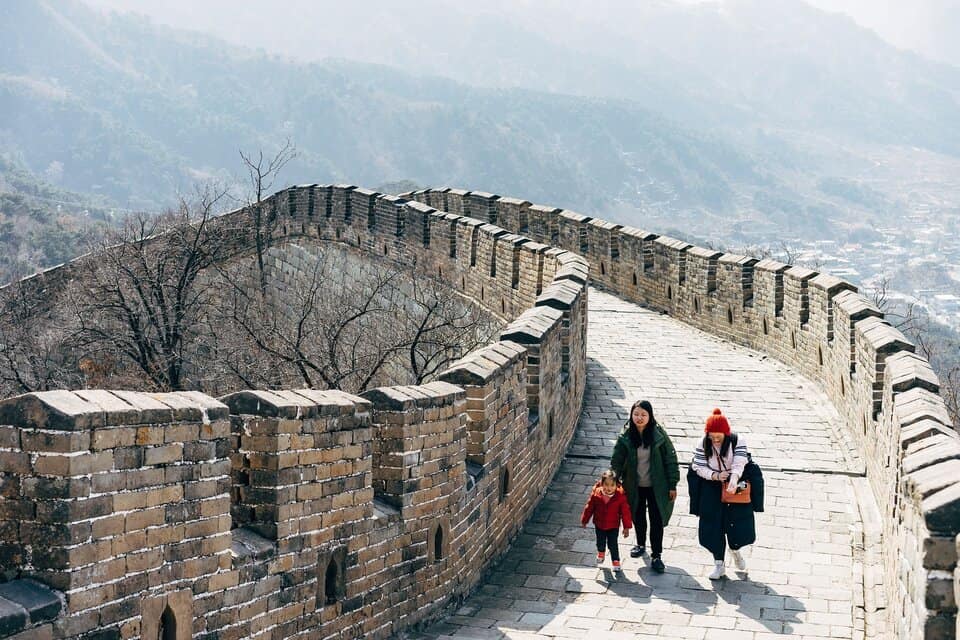 Did you know that Beijing has seven UNESCO World Heritage Sites? Yes, that speaks a lot for a city, undoubtedly making it one of the most famous places in Asia, with over 100M visitors yearly.
Also, It's clearly evident in its airport, the second busiest in the world, allowing travelers to visit Beijing in six days without a visa.
Topping the list of many places in Beijing to visit are the well-known defensive architecture Great Wall of China, the longest wall on the planet, and the Forbidden City, which showcases a traditional Chinese Imperial palace, the largest on Earth.
You must also visit the Summer Palace, the largest preserved landscape garden on the planet, which requires at least half a day to explore; Imagine how big it is, featuring a lake and hilltop mountains.
For more traditional Chinese architecture and culture, visit the Temple of Heaven, Tiananmen Square, which contains the National Museum of China, and Chairman Mao's Mausoleum.
8. Angkor Wat and Siem Reap, Cambodia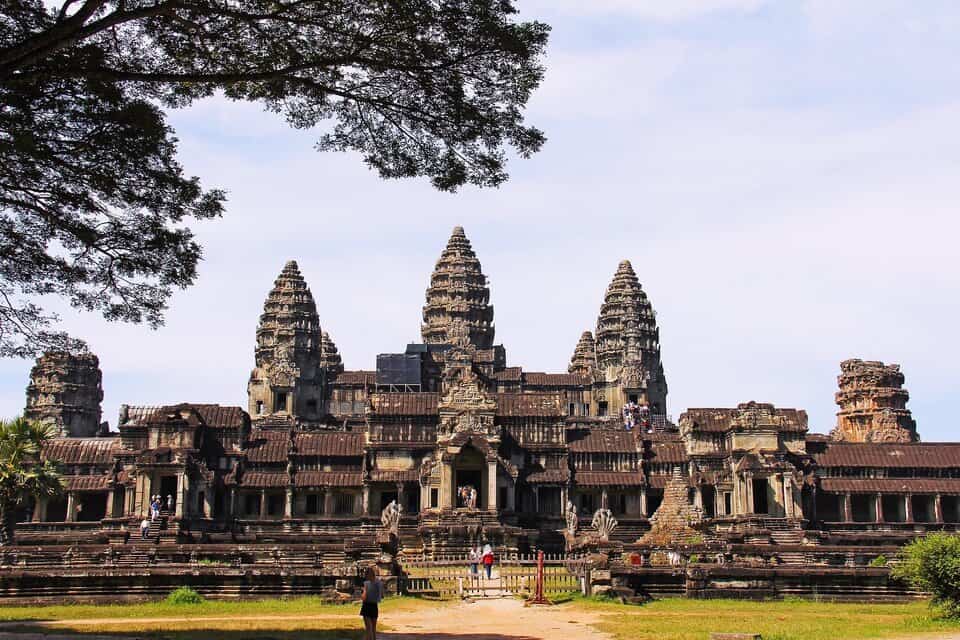 If you are a history buff and nature lover constantly amazed by majestic temples, Siem Reap is an absolute place for you!
Angkor Wat, situated in Siem Reap, is probably the most prominent Buddhist temple ruins in the world; Spanning over 150 hectares, this stone complex is the most renowned religious structure on Earth, giving you a sense of sacredness and human history.
Other worthy sites in Cambodia that many travelers recommend are the Bayon Temple, Ta Prohm, Banteay Srei, Angkor Thom, and Angkor Archeological Park.
9. Seoul, South Korea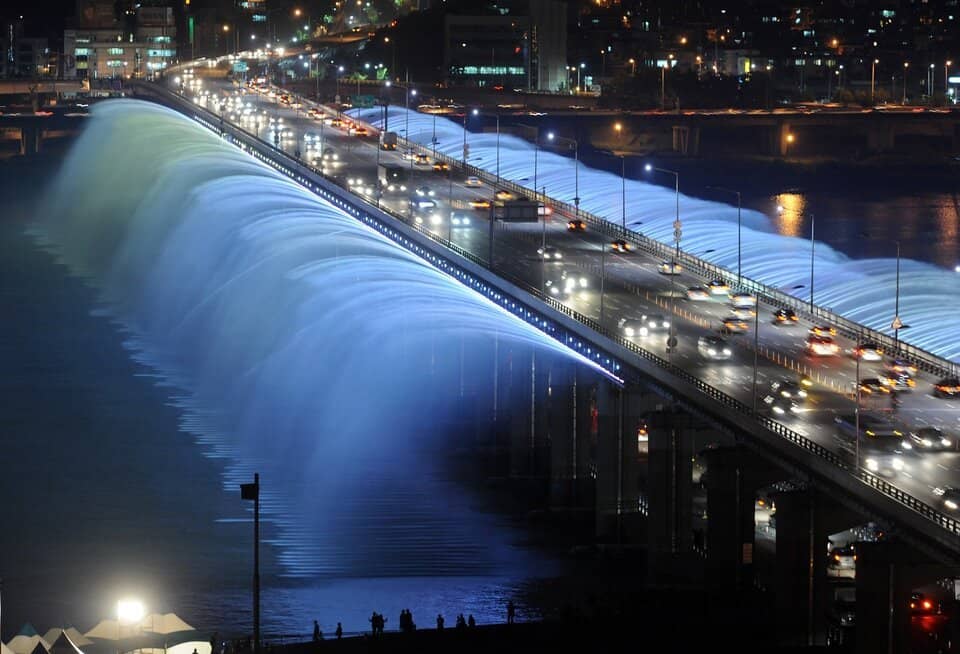 If you have wanted to make your K-drama fantasy a reality, now is the perfect time to go to the vibrant city of Seoul in South Korea, where culture and traditions never die!
To have some taste of Korean traditions and culture, head over to Gyeongbokgung Palace, where you may wander around wearing a hanbok, and if you do, your admission is free; Bukchon Hanok Village to experience the traditional houses, where some have been converted to tea houses, restaurants, and guesthouses, and Changdeokgung Palace, a UNESCO World Heritage Site.
For the modern go-to places in Seoul, explore the N Seoul Tower for a panoramic view of the city, Lotte World for rides and shopping, and Myeongdong for the best food and fashion.
Take in-depth kimchi-making classes at Museum Kimchikan, now a UNESCO Intangible Cultural Heritage of Humanity.
10. Kathmandu, Nepal
Nepal is one of the most underrated Asian countries, with many hidden gems and UNESCO World Heritage Sites in its capital city, Kathmandu!
Do not miss exploring and making memories at some of the seven UNESCO World Heritage Sites, including the Bouddhanath Stupa, the pagoda-style Pashupatinath Temple, Kathmandu Durbar Square, where markets and traditional houses are located, the monkey temple Swayambhunath Stupa, and the architectural masterpiece of Changu Narayan Temple.
If you're after adrenaline-pumping activities in Kathmandu, head over to Langtang National Park for some trekking and climbing recreation, and discover Nepal's diverse flora and fauna.
What makes your vacation in Kathmandu perfect is that the cost of goods in Kathmandu is cheap. If Kathmandu is on your bucket list, explore the city in two or three days between September and November for perfect weather.
11. Bhutan
No words can describe how magical and sacred Bhutan is with its vivid sight of the Himalayas and 70% of its area covered by forests, so most of what you see are shades of green!
Some of the places in Bhutan with jaw-dropping beauty are the Paro Valley, famous for its suspended structures, the royal capital of Thimpu; Punakha Dzong, the Switzerland of Bhutan, Bumthang, and the Phobjikha Valley, where black-necked cranes are abundant.
Take advantage of walking through the longest suspension bridge, Punakha Suspension Bridge, and trekking to the sacred site of Mount Chomolhari, which legends describe as the home of Goddess Jomo, believed to be the guardian of the Happy Kingdom.
12. Chiang Mai, Thailand
Pay a visit to the city's most famous temple, the mountaintop temple of Wat Phra That Doi Suthep, the highest peak of Thailand, Doi Inthanon, with views of waterfalls and tribe villages, and the walkable Old City with lots of restaurants, gorgeous streets, and grand temples.
Since the city is an oasis for Thailand's handicrafts, you can take lacquerware, silverware, textiles, woodwork, pottery, etc., as souvenirs.
Most Beautiful Places in Asia
13. Bali, Indonesia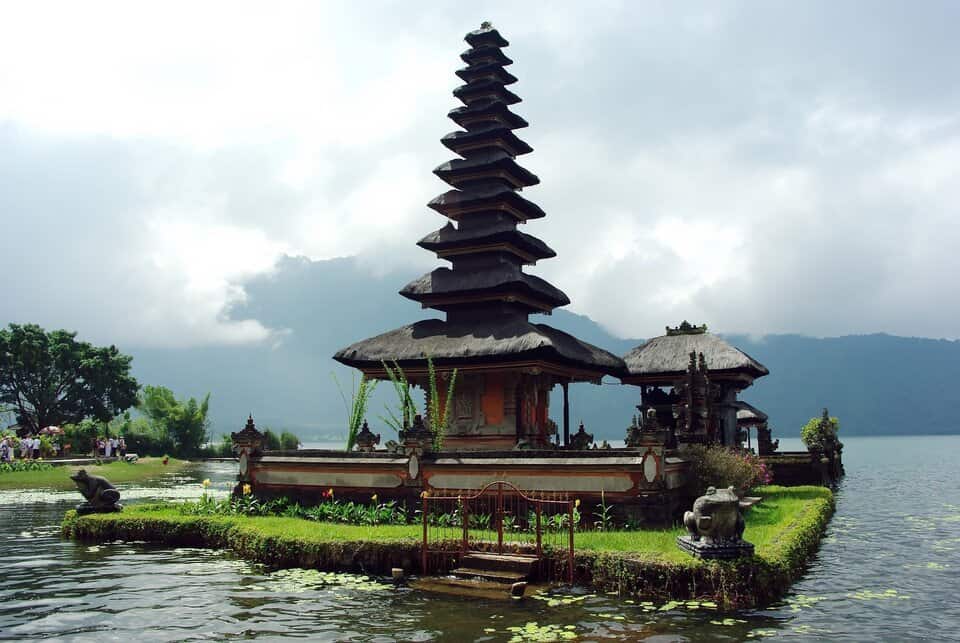 A diver's and surfer's paradise with picture-perfect scenery, Bali, Indonesia, tops the list!
Bali, Indonesia, is one of the best travel destinations in Asia that'll give you the honest-to-goodness island experience — from its lush green nature and imminent volcanoes to world-class ocean waves and majestic beaches, you'll have an unforgettable experience.
Kuta Beach is perfect if you want something budget-friendly and suitable for families and couples. Otherwise, if you're more pumped, Seminyak Beach, with its beachfront bars, watersports, and restaurants, will be to your liking.
Aside from riding out with nature, there are a lot of recreational activities you can try, like the jungle-themed Waterbom Bali waterpark, exploring the Sacred Monkey Forest Sanctuary with over 600 monkeys, and cleansing in the Balinese water temple of Tirta Empul.
14. Phuket, Thailand
Phuket has some of the most beautiful places in Asia — from its island beaches and Buddhist temples to its old towns, every part of the town is worth visiting.
If you're a beachgoer, go to postcard-worthy Phang Nga Bay, James Bond Island, as it is home to a lot of caves, flora and fauna, lagoons, and mangrove forests; the dreamy Similan Islands, Kata Beach, and Karon Viewpoint are popular beaches too.
If you love exploring the city, some striking landmarks are the Big Buddha at Nakkerd Hills, the Phuket Old Town to feel the charming vintage vibe of the city, and Wat Chalong, the biggest Phuket temple.
15. Maldives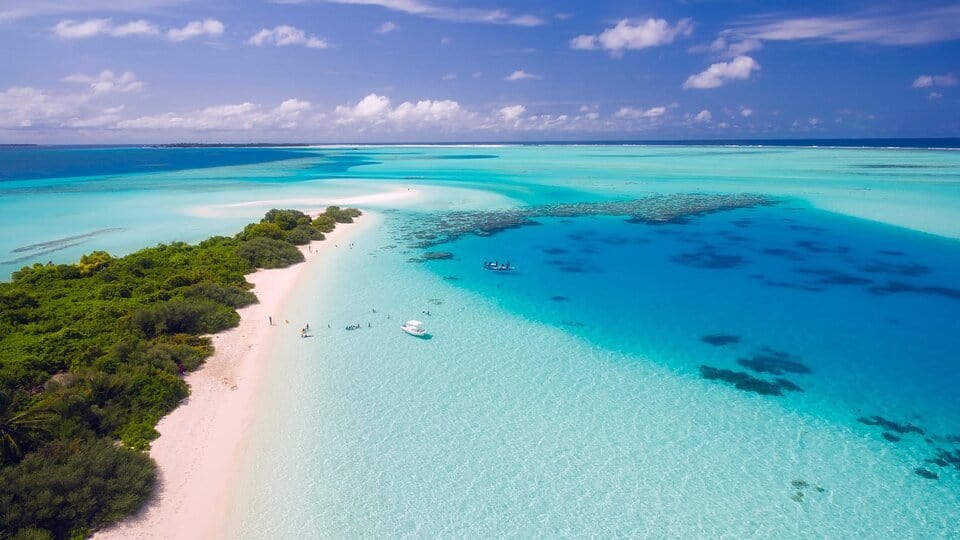 When you hear of the Maldives, what's the first thing that comes to mind? Well, for me, the luxurious crystalline beaches, overwater villas, and sun all year round make it one of the best travel destinations in Asia!
With dreamy white sand traversing the Indian Ocean and undeniably crystal clear emerald blue waters with colorful underwater life, we can't deny that the Maldives is an excellent avenue for various alluring water activities.
I suggest you not just sunbathe and achieve that tan skin but also engage in activities like surfing, scuba diving, snorkeling, windsurfing, kayaking, paddleboarding, and many more.
If you want the best beach getaway and get your picture-perfect photos, head over to some of the most visited beaches in Maldives, including Hulhumale Beach, COMO Cocoa Island, Landaa Giraavaru, and Angsana Ihuru.
16. Dead Sea, Israel
You might be wondering… What happens if we swim in the Dead Sea? Will we sink like a boat struck into something? Or will we die, as the name suggests? The science behind it is that since Dead Sea water has massive salt consolidation, they're much denser than our bodies… So we're going to float!
The Dead Sea is quite what the name suggests because no living organisms live there because they can't survive the explicitly high concentrations of dissolved salt.
As exciting and unique as it sounds to float on water without exerting effort, there are some cautions you need to follow, like soaking for only 10–15 minutes, not swallowing water to prevent a pulmonary disorder, and not letting water get in your eyes.
17. Mount Fuji, Japan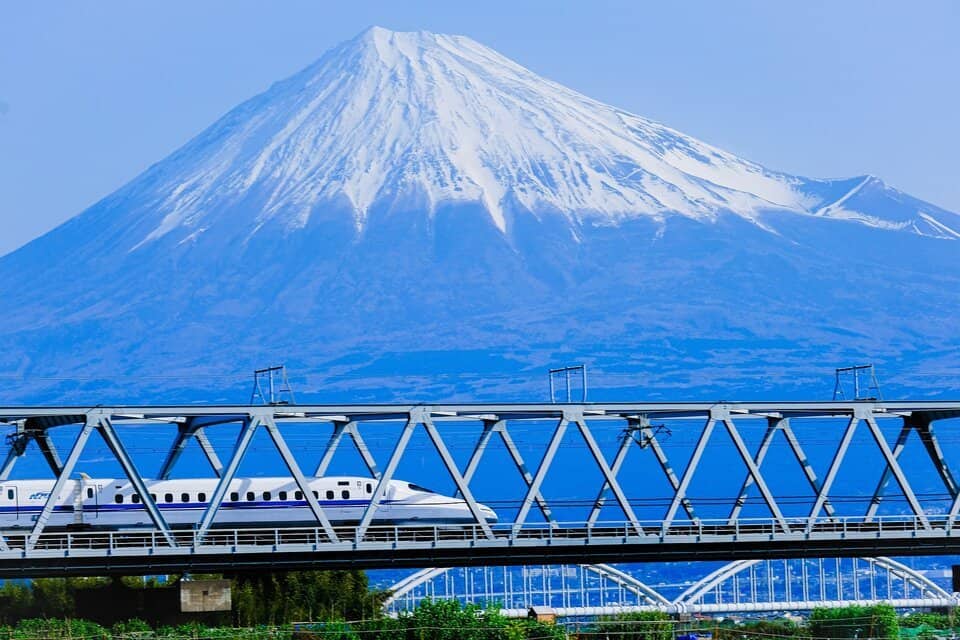 "Perfection"—there is nothing else to describe the distinctive conical form of this UNESCO World Heritage Site, Mt. Fuji, the sacred symbol of Japan's culture and the highest one in the country.
If you think that the only activity you can do at Mount Fuji is to sightsee the stunning scenery of the volcano, you're mistaken! You can join climbing tours, go camping, go fishing, go cruising, and try the ropeway running from Lake Kawaguchiko to Mt. Tenjo.
Your whole family would also love going to the Fuji Five Lakes and the "King of Coasters" Fuji Q Highland Amusement Park for the thrilling coaster rides at the foot of the mountain; imagine riding the coaster with the crimson-colored view of Mt. Fuji… spectacular!
If you're currently staying in Tokyo, don't think twice about going to Mt. Fuji, as it is just 100 km away, and you'll get many unique experiences.
18. Jaipur, India
If you haven't seen an entire city colored in different shades of pink, explore the "Pink City" of Jaipur, India. Everything is color-washed in shades of pink, including its gates, buildings, and architectural frontage.
Take pictures of the Rajasthani architectural style buildings, especially the Hawa Mahal palace, dubbed the "Palace of the Winds" with a sound air ventilation system and covered with pinkish and reddish tones of stones.
Some other notable tourist spots worth visiting are the architectural beauty of Amber Palace and the astronomical observatory site of Jantar Mantar, which contains ancient astronomical instruments like one of the largest sundials.
19. Bagan, Myanmar
Isn't it amazing to explore over a whopping 2000 temples in just one city? Bagan, Myanmar, the capital city of the ancient Burmese empire, is abundant in sacred Buddhist temples, monasteries, and stupas, featuring their detailed art and architecture — a UNESCO World Heritage Site deserving!
As you may know, Bagan is not all about temples; it's also a great place to explore a lot of other things, like riding the hot-air balloon for an aerial view of the Bagan archeological zone, watching the sunset at Irrawaddy River and exploring the local market for high-quality lacquerware and authentic Burmese cuisine.
Just show respect and abide by the imposed rules once you are in the city.
20. Ha Long Bay, Vietnam
It's not so often we see an island complex composed of over 1,500 islands and islets covered with limestone and shales, right? That is why many tourists love going to Halong Bay in Vietnam for a summer escapade.
Once a UNESCO World Heritage Site, Ha Long Bay in Vietnam is a perfect place for cave hopping, as there are plenty of big and mesmerizing caves like the Surprise Cave, Thien Cung Cave, and the Dark and Bright Cave.
More than the usual water sports activities available, Hai Au Aviation lets you experience their one-of-a-kind seaplane tour, where you'll ride a boat-like airplane from Hanoi to Halong Bay for 30-45 minutes.
I recommend you visit Halong Bay from October to December because of the best weather.
FAQs
Where are the top 3 most visited countries in Asia?
The GlobalData Travel and Tourism Intelligence Center index shows that the three most visited countries in Asia are China, with an estimated 40+ million international arrivals, Thailand, with 25+ million international arrivals; and Japan, with 20+ million international arrivals.
What is the most beautiful part of Asia?
If you're after deep cultural heritage and nature adventures such as beaches and mountains, Southeast Asia is the go-to place for Thailand, Cambodia, Vietnam, Indonesia, and the Philippines. If you want somewhere more urbanized and modernized with a touch of prehistory, go to East Asian countries like China, Japan, Korea, and Taiwan.
Where should I go for the first time in Asia?
If you're planning to visit Asia, the first country you should visit is Thailand, where everything is inexpensive, from accommodations and food to exploring the amazing attractions in the country. More so, you can experience the best beaches and exceptionally-built Buddhist temples.
What is the most expensive country to visit in Asia?
Singapore and Hong Kong are the most expensive countries in Asia because of their strong currencies, almost as strong as the US dollar, driving up the costs of all the basics like food, housing, and transportation.